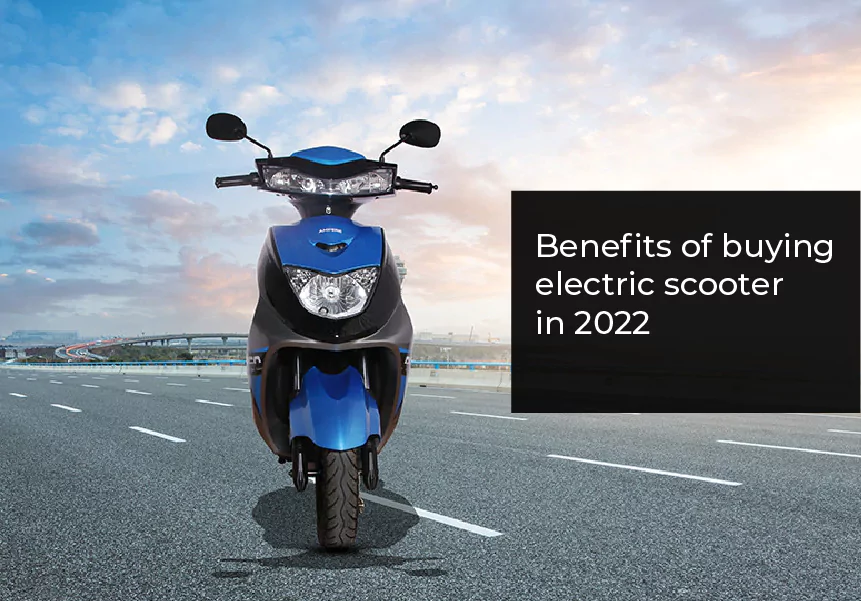 Published on : September 06, 2022
The world has undergone a significant transformation in the 21st century. Who could have imagined that we would be using electric scooters for our commute in 2022? As the world population increases, the need to protect the planet from wanton damage also grows manifold.
As responsible citizens, we would need to be more environmentally aware and adopt measures in our daily life that can give some respite to an overburdened planet. The need to switch to electric vehicles is a step in the right direction. Electric scooters come with multiple benefits which makes them a viable alternative to fuel bikes. If you have a clean, green alternative that can offer you a comfortable ride, why not switch to electric scooters as a conscientious citizen?
Here are some of the benefits of switching to electric scooters
Saving fuel costs – With fuel prices sharply spirally upwards in the recent past, using a normal scooter/bike has become an expensive proposition that cannot be stomached by a large majority of the population who use two-wheelers to reach the workplace or run their business. An electric scooter can save 90% of the fuel expenses of a conventional scooter which can amount to a hefty figure over a year.
Lower maintenance costs – Buying an electric bike works out cheaper in the long run. Electric scooters are very low maintenance compared to conventional scooters and when compared over the life of the vehicles, electric scooters work out much cheaper.
No pollution – Since electric scooters don't run on fuel, no harmful gases are released into the atmosphere. This makes electric scooters a clean alternative to conventional bikes. In addition, the electric bikes are relatively silent compared to conventional bikes thus reducing noise pollution as well.
Government Subsidies – In a bid to promote clean alternatives to fuels, the central and state governments have offered several incentives to both manufacturers and customers of electric scooters. This is a focused bid to increase the popularity of electric scooters and get more people to switch to this option.
Evolving technology – With technology advancing every day manufacturers are coming up with the latest models that have detachable batteries that you can recharge anywhere. GPS navigation, easy parking and remote locking are some of the new features that customers can look forward to.
Buying electric scooters online has become so convenient with the easy personal loans offered by various lenders. LoanTap has a special scheme for electric scooters that makes owning an electric scooter a breeze for commuters.
LoanTap offers up to 80% of the on-road price of the bike as a loan if you meet the minimum eligibility requirements. If you are wondering what the eligibility criteria are, here you go
You need to be an Indian citizen or resident
You must be over 21 years of age
Your net monthly income should be over INR 10,000
If you meet the eligibility criteria, you have passed the first step. Now you can download the LoanTap app on your mobile. You will be required to fill out an online application with the necessary information and upload the following documents.
PAN Card
Aadhaar Card
Bank statements for the last six months
Salary slips for the last three months if employed
IT Returns for the last two years
The system verifies the documents and if all are found ok, the loan is approved. Once the loan is approved, a sanction letter is issued by LoanTap. You can visit any electric bike dealer and show this sanction letter to ride away on the bike of your choice.
Features of electric bike loans from LoanTap
Decent Loan Amount – LoanTap offers high loan amounts from INR 30,000 to INR 150,000.which should be sufficient to buy the electric bike of your choice.
Quick Disbursal – LoanTap has a smooth and seamless online process that allows you to get the loan sanctioned within 24-36 hours.
Longer Tenure – You can get a loan from six to sixty months which gives considerable flexibility to decide on the optimum EMI.
Flexible Repayment Plans – LoanTap offers flexible repayment plans to borrowers. You can switch to an accelerated repayment mode after you complete six months of repayment.
Minimum Documentation- Buying an electric scooter online is convenient and hassle-free with LoanTap's app that calls for minimum documentation and paperwork.
Transparent Process- LoanTap follows a transparent process with no hidden charges other than those mentioned clearly in the agreement.
No Collateral – As personal loans are unsecured loans, there is no need to pledge any asset as collateral against the loan. This makes it easy for the younger generation who may find it difficult to pledge an asset.
LoanTap offers you a convenient online loan to meet your aspirations and buy an electric bike of your choice. The entire process is smooth, seamless and efficient so that you have a pleasant experience. You can opt for the tenure of your choice and pay off the loan in easy instalments.
Walk away with the electric bike you prefer and make a conscious decision to protect our planet for future generations. To know more about buying electric scooter online, download the LoanTap app today.