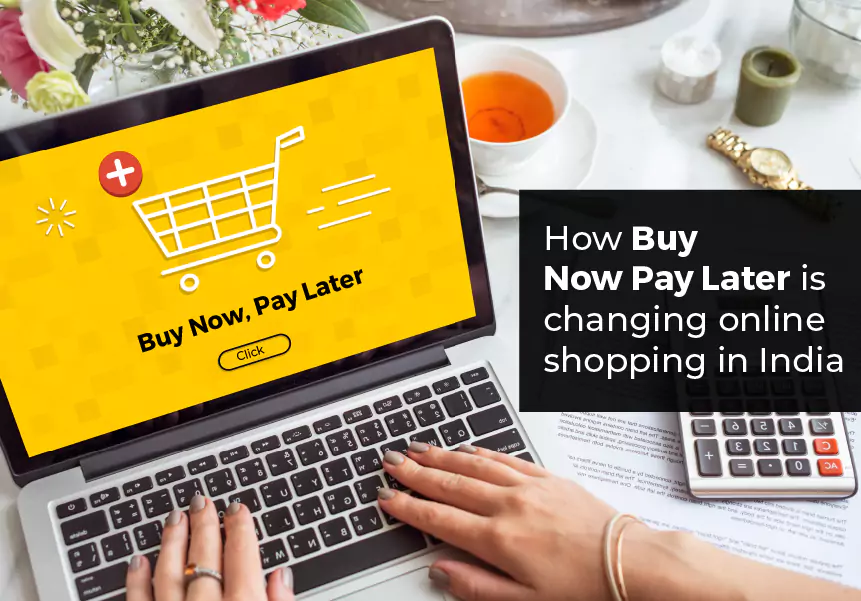 Published on : January 12, 2022
In the past few years, the online shopping landscape has undergone massive shifts thus changing the way online shopping operates in India. People have moved to online shopping even for groceries, medicines, veggies, dairy products, and small-value orders. Ecommerce is swiftly becoming their main medium of purchasing. It is in this context that 'Buy Now Pay Later (BNPL) is rapidly achieving widespread popularity as the chosen mode of payment and it is changing online shopping forever. This technology is allowing the micro-credit lending model to become the preferred payment mode around the globe in general, and in India as well.
What is buy now and pay later?
The concept behind the buy now, pay later option is quite simple: Customers can complete an online transaction and, instead of paying the money at once, they can make payments in installments over time.
It is similar to how credit cards work but the payment plan model is slightly different. It has become a very popular shopping option during the holidays when shoppers select items and pay for them later. BNPL lets their customers quite precisely buy now and pay later. Thus, buy now, pay later option also makes it easy and simple for retailers to move products swiftly out of inventory.
Stores can put forward their financing – the store-specific cards, or choose a third party like Klarna or PayPal Credit. Regardless of payment options, buy now, pay later has been gaining popularity rapidly, even with the big banks, like Chase and Citi, moving to get on board.
How Does BNPL work?
By using the buy now, pay later payment model, customers get the great option of making their purchases right now but deferring the payment to the future. This works generally by allowing the customers into a contract that obliges them to make payments of both principal and interest in the future, just like the EMI of a traditional loan.
If your business offers a buy now, pay later payment option through a third party, like PayPal Credit then you will get the upfront payment from PayPal. When a customer opts for this option, he can pay in installments while the business gets the sale value instantly. This is similar to a credit card payment mode from the perspective of your business.
It's no longer on you to track the money payable as a part of the "pay later" aspect of the transaction; that load falls to the BNPL provider in the similar way a credit card company would be held responsible for receiving the amount from users with standard credit card payments mode.
Most third-party BNPL providers do a soft credit check to circumvent giving money to people who have shown disregard for reimbursing obligations, but this isn't a universal fact. Some BNPL solutions provide one defined interest rate and another base interest rate on the purchase price. Usually, a buy now, pay later transaction option includes the possibility for something like late fees or advance fees, but how this is implemented can vary from vendor to vendor.
For companies who prefer to use their BNPL financing to circumvent the paying to the third-party service fees, buy now, pay later is similar to providing a store credit card. The burden then falls on the company offering financing services to make certain that all debts are being paid.
This can further add up a layer of obstacles and the possibility of revenue loss. But it may offer additional benefits for those who are capable enough in managing their financing and thus evade vendor fees.
Three Reasons why Retailers offer buy now, Pay Later option
Buy now, pay later option is the current new eCommerce trend, and most store owners know that customers love it. But what is the complete benefit of providing BNPL to customers, and what does it offer you?
1. Improved customer lifetime value
Your loyal customers shopping with you will continue, irrespective of the type of payment option you have to offer, but how much they are going to spend with you isn't necessarily guaranteed. These customers will continue shopping for their favourite product, and the availability of the BNPL option will impact the frequency or value of their purchases.
Even people in a stable financial position can sometimes defer purchasing products as they realize that they are expensive and move away from purchasing them.
However, buy now; pay later opportunities have enhanced the odds that customers will spend on things they like.
2. Increased conversions
Lots of customers are enthusiastic about purchasing new products until they're encountered the product price that they're going to pay which leads to cart desertion.
Although BNPL works similarly as credit cards work with no real savings option, the psychological idea behind paying later triggers the buyers to purchase the product.
On average, around two-thirds of shopping carts have been abandoned, which results in sales loss for most e-commerce companies. However, stores that add BNPL options at the checkout have witnessed a considerable drop in cart abandonment rates, leading to a significant increase in profits.
3. Better customer experience
Creating better customer experiences boost loyalty and uplift repeat business. BNPL option offers flexibility to the customers to shop and pay the way they want which increases loyalty and, ultimately sales.
Insufficient payment options result in card abandonment which reveals a lot about how much customers value a variety of ways to pay.
The Benefits of 'Buy Now Pay Later payment option to Customers
BNPL payment mode has improved customer experience by offering customers choices in terms of payment. Other benefits of Buy Now Pay Later include –
1. Interest-Free payment:
Some companies may offer interest-free schemes especially during festive seasons and promotional offers. For many customers, zero interest is the most appealing characteristic of BNPL as it allows them to spend money not only on essential products but also on aspirational purchases. The burden of high-interest rates has been eliminated and it allows them to balance their monthly expenses smoothly.
2. Instant Processing: Consumers do not have to wait for long to get approval, instead the processing of credit is immediate and hassle-free.
3. Flexibility: Payments can be paid in a flexible way irrespective of the value of the product. This enhanced flexibility in terms of both payment and mode of payment is hugely beneficial to customers who can now make purchases instead of shelving them due to credit crunch, or the lack of a credit card.
4. Transparency: BNPL payment models are more transparent regarding their charges and upfront in terms of payment than credit cards with hidden fees. This eliminated apprehension concerning the use of such lending payment modes.
5. Increased Purchasing Power: BNPL offers ease in accessibility to customers, by offering interest-free rates that enable their customers to make high purchases particularly during festival seasons. Under this payment mode, it is pretty easy for customers to purchase high-value products and gadgets as well.
Limitless Card from LoanTap
LoanTap offers limitless cards – Platinum and Platinum Plus that can be used by customers to buy now and pay in easy installments over 36 months at interest rates from 18-24% per annum.
Whether it is a furniture loan, laptop loan, mobile loan or washing machine loan, you can choose to use the limitless card to buy them instead and pay off the amount over 18 months.
Any Indian citizen or resident over the age of 21 years and earning a net monthly income of over Rs 30000 can apply for a limitless card. With the Platinum card, you get a preloaded credit limit of Rs 100000 while with the Platinum Plus you can get a credit limit of Rs 10,00,000. You get several benefits and offers.
The limitless card offers a convenient option for customers to buy whatever they want and pay comfortably over a longer tenure.
Conclusion
The 'Buy Now Pay Later' trend is still in its developing mode in India, and this gives e-commerce brands a special and unique opportunity to transform themselves from the competition. This payment method is especially valuable for brands selling their products to younger people across India. Such collaboration between the customer needs and e-commerce flexibility in terms of payment mode has become an excellent pilot that enhanced the growth of e-commerce brands.