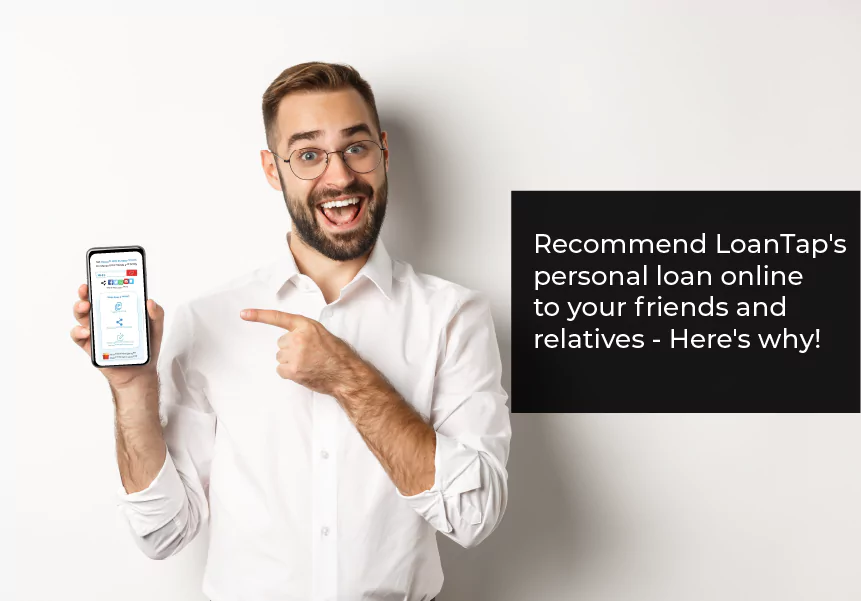 Published on : July 08, 2022
Are you looking for the best loan provider? When speaking of this, you certainly can't miss personal loans from LoanTap. Personal loans are now popular among millennials to avail immediate funds. From buying an expensive gadget to paying for medical surgeries, loans are the best financial products for salaried professionals and business owners.
Advancement in digital technology has made purchasing products easier. It is the reason why online platforms such as LoanTap deliver customized loan products quickly and efficiently involving minimal documentation. It offers flexibility and comfort to borrowers seeking instant cash online.
LoanTap is an RBI registered financial institution which provides consumer-friendly loans on the best terms. LoanTap uses innovation to tailor the loans to cater to the different needs of customers. It takes a few minutes to complete the online loan application process.
Why Should You Recommend LoanTap for Personal Loans?
Instant Personal loans help you clear all outstanding debts and personal expenses. Availing of a personal loan online takes only a few hours. Choosing LoanTap as your lender has its benefits. Look at the list of advantages that you will get with a personal loan from LoanTap.
High loan amount: LoanTap offers a reasonable loan range from INR 50000 to INR 10 lakhs which can help you meet several purposes. If your credit score is good and you have minimal documentation, you will have no problem getting a higher loan amount.
Online loan estimation: You can use a personal loan EMI calculator from LoanTap to calculate the estimated loan amount. It allows you to calculate the optimum EMI based on various interest rates, loan amounts and tenure. This can assist you in quick completion of the loan application process which in turn will help you get your loan disbursal faster.
Multiple repayment methods: The best repayment options are available for customers with a flexible solution. At LoanTap, Borrowers can choose between repayment options as per their financial capacity. They can opt for one of the four options given below.

EMI Free Loans – This option allows borrowers to pay only the interest component as EMI reducing monthly outflows by 40%. The principal can be repaid in bullet payments once in 3/6 months.
Step Up – This option offers borrowers interest holiday for the first three months post which the normal EMIs resume.
Term Loans – This is the vanilla option where borrowers pay both the principal and interest components over the agreed loan tenure.
Overdraft – In this option, borrowers can get a pre sanctioned limit out of which they can use as much as they want at a time. They will be charged interest only on the withdrawal based on time of usage.
Quick processing: Your time is valuable. Since the process is online, a borrower can expect instant disbursal and loan approval. Once the loan gets approved, you can use the funds in the bank account in just a few hours.
Flexible repayment tenure: The longer the repayment tenure, the lower the monthly payment. You will get to choose the tenure ranging between 6 months and 60 months. Borrowers are free to choose an optimum tenure according to their monthly income and tenure.
Simple application method: Applying for a personal loan is now a simpler process than in the past. You don't have to go through the paperwork to complete the process online. It is the best online platform to secure a personal loan instantly. At LoanTap, you will get a user-friendly interface for a smooth lending experience.
Collateral-free loan: Since personal loans are unsecured no pledging of assets is required for collateral against the loan amount. This feature makes personal loans popular among the younger generation.
List of Customized Personal Loans From LoanTap
Apart from this, you will get types of personal loans to fulfill all your needs. So, there is a list of the best customized personal loans to make your dream a reality.
1.EMI free loan: Paying monthly installments is hectic for borrowers. So, LoanTap brings a perfect solution to remove the burden of monthly repayment. EMI -Free Loan reduces the monthly payment by 40%. Borrowers can pay interest in monthly EMIS and the principal in the form of bullet payments once in 3/6 months. This is excellent for those who receive lumpy payments on a periodical basis.
2.Personal overdraft: You don't want to pay for the amount that you haven't spent. A personal overdraft facility offers you a credit line, where you have to pay interest only on the amount you use. This is good for those who are uncertain about the actual quantum of expenses.
3.Wedding loan: Do you need extra financial help to manage your marriage expenses? A Wedding loan from LoanTap can provide you with up to 10 lakhs with lower interest rates. You can get an interest holiday for the first three months after which you can pay the normal EMIs over the balance tenure.
4. Holiday loan: Do you want to go on the foreign trip you always dreamt of? A holiday personal loan can help you to travel the world. You can enjoy your vacation and repay the loan in easy instalments.
5.Credit card takeover: If you have a huge outstanding debt snowballing from credit cards and it becomes hard for you to pay back the high-interest instalments, a credit card takeover can help you settle your existing debt.
6.Advance salary loan: Are you facing a monthly cash crunch? Or is your salary already exhausted in other expenses?Advance salary loans can get you up to 2.5 times your net salary as loan.The amount is easy to pay back in a short tenure of up to 12 months.
7.Rental deposit loan: You are moving into a new apartment. There is a shortage of funds to pay the security deposit. Personal loans for tenants can help you pay the security deposit of a rented house. You only need to pay interest on the loan while the principal is settled directly with the landlord.
8.E-bike Loan: Electric vehicles are the future of the commute. Are you thinking of buying an e-bike for a better commute? E-bike loans can help you finance your first electric bike at affordable interest rates. Also, you may get a loan up to 100% of the on-road price of the bike.
Are you Eligible for a Personal Loan from LoanTap?
Do you think that LoanTap's loan can help you achieve short-term personal goals? You can be a step closer to your goals if you meet the eligibility criteria mentioned below-
The minimum age to apply is 21 years and the maximum age to avail of the LoanTap personal loan is 58 years.
You are an Indian citizen or resident.
You are a salaried employee working with a private or public limited company or you are self-employed earning a minimum net monthly income of INR 30,000.
Qualified borrowers can visit the LoanTap website and click on the Apply now button. It will take you to the application form. Fill out the application by entering your bank details, occupation, employment, etc. Next, you will be asked to upload the basic documents such as income proof, address proof, PAN card, etc. Once the verification is done, your loan application will be approved. Next, the amount gets disbursed directly to your bank account within 24 hours.
Closing Statement
Choosing the right lender is a confusing task. Other lenders may not guarantee loan approval instantly, but at LoanTap, any individual can get the disbursal in some hours. You can contact our Team and get financial assistance with just one click. Make sure you let your friends and relatives know the benefits of getting a tailored personal loan from LoanTap!