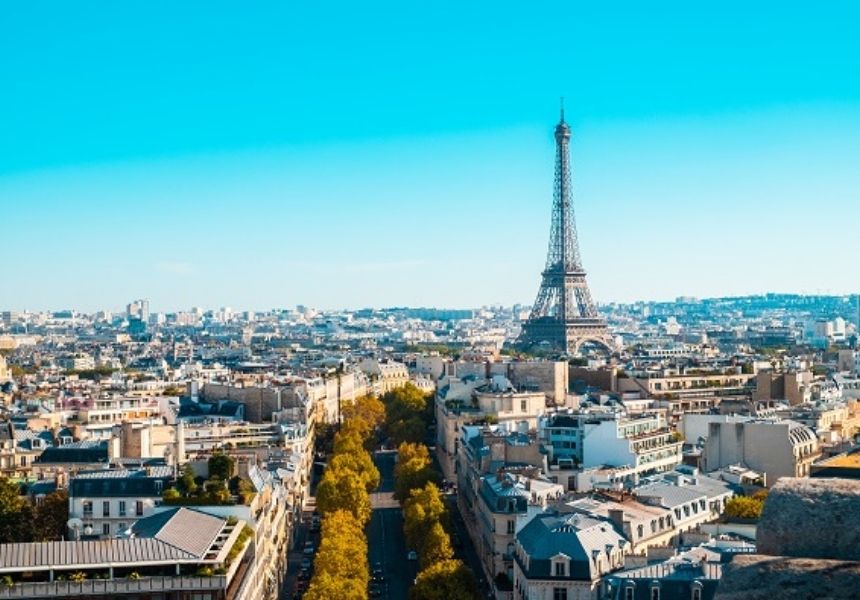 Weddings are one of the most memorable events in a person's life. Everyone would like to make it an unforgettable experience. Weddings, these days are a glitzy affair and you can find wedding planners who will help you arrange a beautiful event based on your budget. You can have a wedding for under 5 lakhs or spend in crores. There is no upper limit. It is best that you work out your budget in advance and plan accordingly. What if you added a Europe honeymoon package to the mix? Wouldn't it be a heady affair?
Let us explore some exotic Europe Honeymoon packages that could be the icing on the cake after the big fat Indian wedding.
There is no need to worry about the funds. You can depend on LoanTap to provide you with a wedding loan that you can repay in convenient installments.
LoanTap offers personal loans from Rs 50,000 to Rs 10,00,000 for tenures ranging from six months to sixty months. Interest rates start from 18%.
Europe is a beautiful destination for holidays both for family holidays as well as honeymoon celebrations. Here we list handpicked honeymoon packages to Europe for the best experience for stay as well as the activities to do on your trip.
Italy and Austria Honeymoon Package
Highlights of the package:
The first day of your holiday will begin with your arrival at Rome's airport.
The second day of the trip will begin with a tour of Vatican City, where you will get the opportunity to marvel at a variety of antique beauties.
On the third day, you'll go to Florence, which is a stunning city.
The fourth day of your journey will take you to one of Florence's most popular tourist attractions, "The Leaning Tower of Pisa."
This vacation's fifth day will take you to Mozart's birthplace.
On the sixth day of your journey, you will visit Salzburg.
On the seventh day of the tour, you will travel to Vienna.
The trip's eighth day will take you on a sightseeing tour of Vienna.
The journey will come to a conclusion on Day 9, and you will be transferred to an airport to catch a flight back home.
Thrillophilia is offering the package at INR 99,000 per person after a 20% discount.
Europe Honeymoon Package from India
Highlights of the package:
– You will spend your first day in Paris at leisure.
– On day 2 of your Europe tour, you will enjoy some romantic free time together in Paris before starting on a breathtaking sunset lighting tour. Discover the gleaming Eiffel Tower. You can always enjoy cruising together across the Seine River.
– Day 3 of the vacation will be dedicated to a full-day joyful journey to Disneyland.
– Day 4 will see you continue your journey to Amsterdam, the Netherlands' main city. Amsterdam is known for its beautiful canal network, vibrant culture, rich history, and exciting nightlife.
– Day 5, you will have a romantic leisure day with your partner, shopping on the city's most popular streets and exploring the city at your leisure.
– Day 6 will find you in Brussels.
– On day 7, you will conclude your European honeymoon trip and bid goodbye to this romantic land with lovely memories of your first tour with your sweetheart after marriage.
Thrillophilia is offering the package at INR 79,000 per person after a 18% discount.
Norway Honeymoon Package from India
Highlights of the package:
Day1 will see you arrive in Oslo, Norway's capital, after departing from India on this honeymoon vacation. It is well-known for its lush landscapes and historic institutions.
On the second day, you'll go on a food walking tour of Oslo, where you'll sample a variety of cuisines.
You will participate in the iconic Korketerkkeren activity on the third day of your Honeymoon vacation to Norway.
The following day of your Norway Honeymoon Package from India, you will attend a performance of the Norwegian National Opera and Ballet before embarking on a mini-Oslo boat trip.
The fifth day of the honeymoon packages to Norway from India is set aside for a visit to Bergen and then some relaxation time.
On the sixth day, you'll go on a sightseeing trip to Bergen City, stopping at some of the city's most popular attractions. The next day, you will go on a trip from Bergen to Stranda city.
You can unwind for a while after arriving in the new city and go on a sightseeing trip of the Geiranger Fjord, the Dalsnibba Mountain Plateau, and the Seven Sisters.
You will be packing your luggage for the onward journey back home on the 9th day of the tour, which is the last day of the vacation.
Thrillophilia is offering the package at INR 87,000 per person after a 22% discount.
Switzerland Honeymoon Package
Highlights of the package:
Spend precious moments with your loved one while admiring Switzerland's extraordinary scenery, which includes the Swiss Alps, stunning waterfalls, a rich culture, and delectable cuisines.
Enjoy a cable car and cogwheel train ride to Mount Jungfraujoch, where you may visit the Ice Palace and enjoy the magnificent ice sculptures.
Explore the Swiss Open Air Museum, which features over 100 residences and farm structures from all throughout the country.
Experience stunning views of the Alps as you rise in Titlis ROTAIR – the world's first spinning cable car – on a memorable journey to Mount Titlis.
Take a stroll down Bahnhofstrasse, one of the world's most opulent and exclusive shopping alleys.
Thrillophilia is offering the package at INR 93,000 per person after a 20% discount.
Greece Honeymoon Package
Highlights of the package:
-On the first day, you will arrive in Athens at the airport.
– On Day 2, after breakfast, you will check out of the hotel and head to Santorini, your next destination.
– Breakfast will be served at the hotel on Day 3 before departing for the Athinios Port to board a boat to the hot springs and volcano. You'll also be able to observe the lunar landscape.
– On Day 4, enjoy breakfast at the hotel before checking out and being transferred to the boat terminal. You'll take a ferry to Mykonos, the next location on your romantic Greece vacation.
– On Day 5, have breakfast at the hotel and prepare to go on a glass-bottom boat excursion to Mykonos' southern beaches.
– On Day 6, you'll have breakfast before checking out of the accommodation and heading to the boat terminal. Return to Athens by ferry.
– After breakfast on Day 7, you will finish the check-out formalities at the hotel and be taken to the Athens airport for your onward flight.
Thrillophilia is offering the package at INR 71,000 per person after a 20% discount.
Once everything is planned and budgeted, you need to figure out how to fund it. If you are planning to spend as a couple, you can take personal loans in your individual accounts.
What is a personal loan ?
A personal loan is an unsecured loan that can be taken for any purpose when in need of funds for the short term.
Who is eligible for a personal loan?
If you are an Indian citizen or resident over the age of 21 or under 60 years and earning a net monthly income of over Rs 30,000, you are eligible to apply for a personal loan.
How to apply for a personal loan?
At LoanTap, applying for a personal loan is easy. All you need to do is visit the LoanTap website or download the app on your mobile. You will need to fill up an online application with the necessary details.
The following documents will need to be uploaded –
In the case of salaried employees-
PAN Card
Aadhaar Card/Driving License/Passport
Salary slips for the last three months
Bank Statements for the last six months
eNach mandate
In the case of self employed –
PAN Card
Aadhaar Card/Driving License/Passport
Income Tax Returns for the last two years
Memorandum of Association and Articles of Association
Bank statements for last six months
eNach mandate
Once you have uploaded the documents, you need to wait for the LoanTap team to evaluate your application. If your credit score is good and you meet the eligibility criteria, your loan has a high chance of being approved. Usually, personal loans are approved within 24-36 hours of application.
You can choose a flexible repayment plan. In fact, you can pay only the interest component for the first three months and the balance in normal EMIs.
If you foreclose the loan after six months, you don't need to pay any prepayment penalty.
LoanTap understands your need to fulfil your aspirations. These dreams cannot be deferred and need to be realised immediately. That's why LoanTap has designed personal loans for every need and occasion.No matter what your requirement, LoanTap will help you by providing funds immediately. So, what are you waiting for? Make your wedding and Europe honeymoon plans. Live life kingsize. LoanTap is with you all the way.
Who doesn't want a fancy no end barred destination wedding followed by a romantic Europe Honeymoon package? If you have the funds you can easily make your fairytale dreams come true.
Marriage expenses in India can run into several lakhs for a normal wedding and if you want something fancy it can go even higher. How does a middle-class salaried person make these dreams come true?
If a young couple wants to make this the most momentous occasion of their lives, they need some external support. Here is where a LoanTap wedding loan comes in handy. Marriage loan interest rates start at 18% per annum at LoanTap while swiping your credit card could cost you 30-36% per annum. Getting a personal loan for marriage would work out much cheaper than any other source of funding.
They are quick and easy to process and you can use the funds within 24-36 hours without loads of documentation or multiple visits to the bank.
LoanTap has offices in Delhi, Mumbai, Chennai, Bangalore, Pune,Kolkata, Noida, Vadodara, Coimbatore, Bhopal, Jaipur, Lucknow, Ahmedabad, Bhubaneswar, Indore. So, no matter where you are, you can make use of the LoanTap wedding loan.
Better still the two of you can go for individual loans if you are over 21 and earning a net monthly income of over Rs 30000. Having a reasonable credit score between 680-730 will shift the odds in your favour. Getting individual loans will give you a maximum loan of Rs 10,00,000 that you can pay off over a maximum tenure of 5 years. Any prepayment after 6 months will not attract any prepayment penalty.
If all this is available at your fingertips why worry about marriage expenses? Who is topping you from splurging and creating a wonderful event with lifetime memories. Have a fancy wedding. Follow it up with a romantic honeymoon to Europe. Do everything your mind desires.
After all, you don't get married every day!