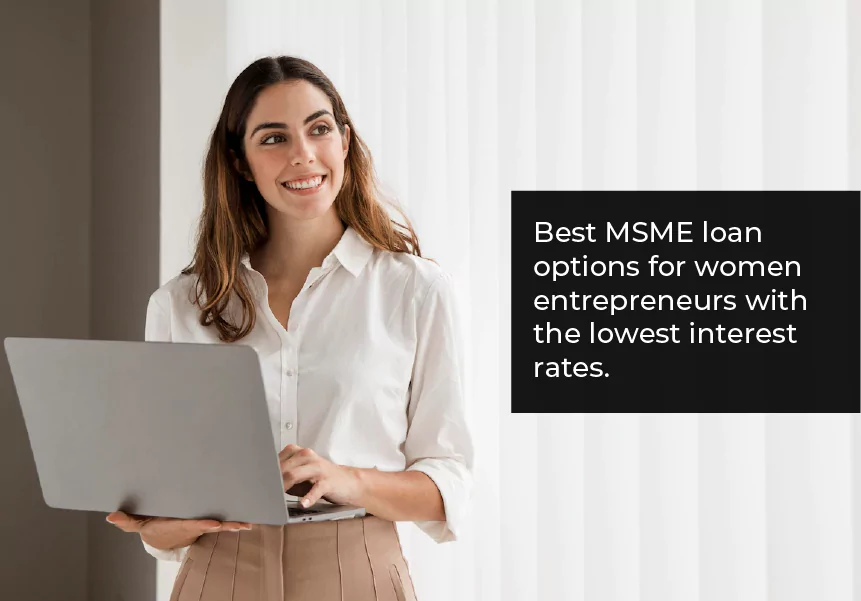 Published on : July 26, 2022
Indian women are increasingly entering the male bastion of entrepreneurship and setting up independent business ventures. In spite of the surge in recent times, we still have only a 14% representation of women entrepreneurs in India. The MSME sector is being offered several incentives to promote the growth of entrepreneurship in general and women entrepreneurship in particular.
Several banks and NBFCs offer financing schemes by offering MSME loans for new businesses. They offer various incentives, including higher amounts, longer tenure, lower rates of interest etc. Traditional banks and NBFCs follow a long process that involves significant documentation and paperwork. The time taken to disburse a loan could easily be 3-4 working days at the minimum going up to 7-10 days.
LoanTap offers personal loans to MSMEs at attractive terms. Personal loans are collateral-free loans which ensure that no assets need to be pledged to the lender. They make it easier for new women entrepreneurs to grow their businesses with confidence.
What does the LoanTap MSME loan offer?
Personal loans are unsecured loans that can be used for any purpose. LoanTap specialises in creating tailored solutions to meet specific needs. LoanTap offers MSME loans up to INR 3 lakhs for a tenure of 36 months. 
What are the MSME Loan Eligibility Requirements?
In order to meet MSME Loan eligibility criteria,
You will need to be an Indian citizen or resident
You have to be over 21 years of age
You need to have a net monthly income of over INR 30,000
Your credit score should be 630 or more
You should have filed the IncomeTax Return
How Should One Apply for the LoanTap MSME Loan?
Once you have confirmed the eligibility requirements, you must download the LoanTap app on your smartphone.
You need to fill out an online application entering the complete details of the loan required, amount, tenure etc.
You need to upload the following documents –
PAN Card
Aadhaar Card
Income Proof
Bank statement for the last six months
Once this is done, you can sit back and relax. The system will verify your application and the documents uploaded. If you are uncertain about uploading documents, you can contact LoanTap to send an executive to your residence to collect the documents.
LoanTap doesn't charge any prepayment penalty if you choose to foreclose your loan after six months.
Benefits of MSME Loan
Instant Disbursal – MSME loans are processed within 24 hours by LoanTap. This is a great advantage to women entrepreneurs who are in need of urgent funds to grow their businesses. This fund could be towards working capital, stocking inventory, adding machinery or any other business expenses.
Paperless Process – LoanTap follows a paperless process where you are not required to fill up endless forms. This makes it easier and hassle-free for borrowers.
Minimum Documentation – LoanTap seeks basic documents for confirmation of identity, address and income. No other documents are sought from applicants.
No Collateral – MSME loans, like all other personal loans, are collateral-free. There is no need to pledge any assets. This makes it easier for women entrepreneurs who are just starting off and cannot meet this requirement.
Reasonable Interest – MSME loans from LoanTap come at competitive rates. They are much cheaper compared to credit cards that charge 2.5-3% interest per month on the outstanding balance.
24/7 Availability – Unlike traditional banks and NBFCs, LoanTap MSME loans are available around the clock round the year. In case of an emergency, you can depend on LoanTap to process and disburse your loan within 24 hours.
Final Take
Women entrepreneurs who are looking for funds to grow their businesses and need a helping hand should contact LoanTap. LoanTap provides friendly MSME loans that are timely and easy to avail with minimum eligibility requirements and a seamless process that disburses loans within 24 hours. The increased participation of women entrepreneurs will help boost the Indian GDP and must be encouraged by the banking and financial sector. LoanTap has created tailored solutions to help women entrepreneurs in its own way by offering convenient MSME loans that can help them tide over short-term fund crunches and take their enterprises to the next level.
To know more, you can visit the LoanTap website or download the app today.