Personal Loan App
Use LoanTap's Instant Personal Loan App to get a personal loan from ₹50,000 to ₹10,00,000. Apply quickly with minimal paperwork and no collateral. Get your loan disbursed in 24 to 36 hours. You should have a minimum salary of ₹30,000 to be eligible for a personal loan.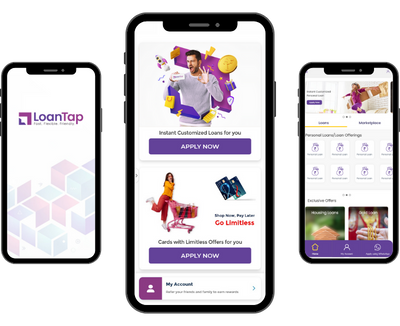 Get an Instant Personal Loan from the
LoanTap App
If you need funds quickly to meet unexpected expenses, download the LoanTap Personal Loan App now and apply for an instant personal loan.
We understand that surprises and opportunities are always lurking around the corner. It might be a medical emergency, an unexpected home or car repair, or a business opportunity you want to take advantage of. At these times, you need a reliable financial solution to help you out. That's why we built our personal loan app to provide you with an easy and convenient way to quickly get the funds you need. Our user-friendly interface makes the entire application process easy and intuitive.
At LoanTap, you can get a personal loan at competitive interest rates (starting at 12%) and with flexible repayment options. You can also get personal loans for a longer tenure of up to 60 months. In short, it is a personal loan flexible enough to meet your requirements.
Say goodbye to lengthy application processes and tedious paperwork with the LoanTap App. Install it now and get the funds you need.
Benefits

of a Personal Loan App

LoanTap provides flexible personal loans, keeping your needs in mind. Here are some of the many reasons why LoanTap is the best choice for a personal loan:
No Limitation on End Use
There are no limits on how you can use your loan amount. Borrowers have used these loans for everything from medical expenses and home renovations to starting a business or consolidating debt. You can use the loan for expenses such as weddings, travel, down payments, medical needs, rental deposits, the purchase of a two-wheeler, home renovation, or any other personal requirements while ensuring the payments are made on time.
Quick Disbursal
When you apply for a personal loan, the last thing you want is to wait around for days or even weeks to find out if you've been approved. Quick disbursal means that once your loan application has been approved, the money will be deposited into your account quickly, usually within 24 hours. This can be a huge relief if you need the money urgently for an unexpected expense.
No Collateral Required
When you apply for a personal loan, the lender doesn't require you to put up any collateral. That means you don't have to collateralize your car, house, or other assets to secure the loan. This can be helpful if you don't have any equity in your home or other valuable property to use as collateral.
Flexibility of Tenure
One of the key features of this type of loan is the flexibility it offers in terms of repayment tenure. Most loans have a tenure of 6 months to 5 years, which gives borrowers the freedom to choose a repayment plan that best suits their financial needs and repayment ability.
Fixed-Rate of Interest
You can use these unsecured loans for various purposes. The interest rate is fixed; therefore, it won't fluctuate over the loan's term. This makes them an ideal choice for borrowers who want predictable monthly payments.
How our
Personal Loan

App works

Apply for an instant personal loan in 3 quick steps:
1
Online Application
Download the app and fill out an application with your employment details, loan purpose, personal details and supporting documents (salary slips, bank statements, ITR etc).
2
e-KYC and Verification
Verify your PAN card, date of birth and mobile number for authentication.
3
Fund Transfer
Select an offer, upload the required documents, sign the eAgreement, and you're all done! You'll receive your loan amount in 24 to 36 hours.
Why take a
Personal Loan

from LoanTap?

LoanTap offers a swift and convenient option to meet all your financial obligations, such as medical bills, home improvement expenses, funding a wedding, or going on that dream vacation. Discover why LoanTap is the ideal solution for your personal loan requirements.
Instant approval & disbursal
Easy online process for loan sanction and fast disbursal within 24 to 36 hours
Flexible Repayment Option
Flexibility to switch to an EMI-free loan, enhancement, and accelerated repayment option after 6 months of disbursal
Higher Loan Amount
Flexibility to switch to an EMI-free loan, enhancement, and accelerated repayment option after 6 months of disbursal
Longer Loan Tenure
Flexibility to choose a longer loan tenure, from 6 months to 60 months, making EMIs more affordable
Minimum documents
We collect only the basic minimum documents for all our custom personal loan products
Transparent Process
No hidden charges, no pre-payment charges, and secured processes
Basic
Eligibility Criteria

for availing Loans with LoanTap
Individual must be 21 years of age or older

Applicant should have a minimum income of ₹30,000
Basic
Documents

required for availing Loans with LoanTap
PAN Card

Salary slips (of the last 3 months)

Salary account bank statement (3/6 months)

Address proof
We continuously strive to provide a
Seamless experience to our customers…
The service provided by Loan Tap is great, everything is seamless and very convenient. Its one of the very best experiences, I've had with any loan provider.
You are doing an awesome work as team. Faster service with immediate response is quite amazing. Will recommend to everyone in need, faster documents processing …….Keep up the good work
This is truly awesome service. Associates are very friendly and providing efficient service on time. After documents pickup, within 24 hours net amount was disbursed and that's what I call efforts reducing service. Thank you LoanTap Team.
Awesome and superfast Service.I have never come across so polite, professional and fast service providers for Loan. I have taken a personal loan and was disbursed within 3-4 hours in my bank account. This was just a superb feeling. Thank you so much LoanTap for a wonderful experience.
Excellent service from all team members. All are supportive. Its different from others NBFCs. Now and in future, LoanTap is my first choice for financial needs.
EMI

Calculator

Plan your instalments better.
Applicable
charges and fees
Type of fee
Applicable charges
4% + GST if foreclosed within 180 days from the date of disbursement post cooling-off period
Mandate rejection charges
Depends on participating bank
Annual maintenance charges
Broken period interest / Pre EMI-interest
Dynamic value – Depends on loan amount, date of disbursement and first EMI date
Personal Loan
Product Suite
No matter what your requirement is, use LoanTap's Personal loan to fulfil all your needs.
Flexible

Repayment options

Final instalment options for a loan will be decided based on your profile and inputs.
Term Loan
Repayment done via
Fixed Equated Monthly Installments
, where
EMI=Principal + Interest. 
Each Installment reduces both interest and Principal amount. 
Ideal when:
You know the precise Loan Amount needed and your income is consistent.
Apply Now
How to
apply for a loan

using LoanTap?
Use your favorite platform to apply for one of our personal loans and take advantage of our personal loan app's unparalleled convenience.
All you need to do is build your application, enter the required details, and process the loan within minutes.
Apply Using
Website
Apply Using
WhatsApp
Frequently Asked Questions
With LoanTap, you can avail of instant personal loans from ₹50,000 up to ₹10 lakhs. The final amount would be decided based on your eligibility and credit checks.
LoanTap provides instant loans for various purposes, like emergencies and important life events. You can use the loan to make bill payments, meet healthcare and medical expenses, pay education fees, make rental deposits, fund wedding expenses, consolidate your credit card debt, or buy a two-wheeler.
It is minimal for a short-term personal loan. For instance, the difference between EMIs at 14% and 18% interest rates for a personal loan of Rs 1 lakh with a 60-month term is roughly Rs 213. For more information, use our personal loan EMI calculator.
Before applying for a personal loan, you must pay attention to the following:
Avoid upfront payments: Stay away from lenders requesting upfront payments or fees, as this could indicate a scam. Trust lenders with high customer ratings (above 4 stars) and many reviews.
Eligibility: Ensure you meet the income and credit score requirements for better loan terms. Otherwise, your application has every chance of being rejected, which could harm your credit score. To get a personal loan from LoanTap, you need to be at least 21 years old with a minimum salary of ₹30,000
Turnaround Time: Opt for instant personal loans with quick sanctions and approvals. The faster your loan is disbursed, the better you'll be able to meet your urgent financial needs. At LoanTap, we ensure to disburse all loans within 24 to 36 hours.
Affordability: Make sure you are getting your personal loan on terms that are affordable. As a general rule of thumb, look for the lowest possible interest rate, and if you can't get that, look for a longer tenure so that you can make the monthly payments more affordable.
Repayment Tenures: Verify the repayment tenure before using a personal loan app. LoanTap offers terms of up to 60 months for convenient repayment.
Apply During Business Hours: Submit your application on a working day before 5 PM to expedite processing and receive quicker sanctions.
Prepare Documents: Keep essential documents ready, including PAN card, salary slips (last 3 months), salary account bank statement (3/6 months), and address proof, for a smoother application process.
LoanTap offers different loan repayment plans to suit your needs:
Step-up Repayment Plan: Begin with interest-only payments for the initial three months, followed by fixed EMIs, giving you more liquidity upfront, like a loan to cover medical expenses.
Term Repayment Plan (Reducing Interest Rate): EMI is calculated using the reducing interest rate method, where interest is charged on decreasing principal, reducing both interest and principal outstanding over time.
EMI-free Repayment Plan: Pay only interest monthly, with partial bullet payments towards principal every 3-6 months, effectively reducing interest through principal repayments.
Overdraft Repayment Plan: Similar to a credit line, make multiple withdrawals within a set limit, paying interest only on the withdrawn amount, offering flexibility akin to a credit card. LoanTap provides the most flexible repayment terms, providing various options for managing your loan repayment. This lets you choose the option that best suits your financial circumstances.
Applying for a personal loan is a huge decision as it may include borrowing a big amount of money. Here are a few things to note before applying for a personal loan:
Avoid lenders who want upfront payments.
Any personal loan application that requests upfront payments or membership fees without valid proofs should be avoided. Many of these apps are simply frauds. Once you pay them, they will stop communicating with you and vanish. Therefore, it is advised to stay away, regardless of how alluring the loan offer may seem.
Customer ratings.
The top immediate personal loan applications will be well-rated. Only lenders with ratings greater than 4 stars should be trusted. The amount of people who have submitted ratings is another thing you must consider.
Eligibility
Certain loans have appealing personal loan interest rates, larger loan amounts, and longer terms—but only if you meet their minimal income and credit score requirements. In fact, some lenders will only approve applicants with credit scores of at least 700 and monthly incomes of at least Rs. 50,000. With our personal loan app, you need to be 21 years and above and have a minimum salary of Rs. 30,000.
Fast turnaround.
A sudden need for money necessitates rapid financial solutions. So keep in mind to search for an instant personal loan with prompt sanctions and approvals. Would you want to wait for several hours or even days to acquire the money you require? With LoanTap, you needn't worry about this, though! We provide quick sanctions with fast approvals. This enables you to address your financial needs quickly.
Affordable.
Always verify the interest rate before applying for an instant personal loan online! You don't want the loan to drain your bank account. By doing this, you can be sure that the loan won't empty your bank account.
Repayment tenures.
Before installing and using a personal loan app, you must double-check the repayment tenure. Although some lenders will supply you with the finest financing option, they may only give you limited months to repay the loan. Financially, this might be very problematic! Therefore, it is wise to seek lenders who offer convenient terms and repayment periods for loans. This is why our quick personal loans have terms of up to 60 months; this makes it so that repaying the loan is just as simple as obtaining it.
Are you considering applying for a personal loan online?  Well, you'll discover that using LoanTap makes the entire procedure a piece of cake! However, you would be wise to heed these 3 straightforward suggestions if you want things to proceed more quickly and smoothly. Apply during business hours: Do you need money instantly? Then it is ideal that you submit your loan application during regular business hours on a working day. We can process your application more quickly and issue sanctions a lot more quickly if you submit it before 5 PM on a business day. Keep your documents ready. Before starting the online process of applying for a personal loan, ensure to keep your documents ready. Keeping your documents ready may aid you in a quicker application process. With LoanTap, all you need is your PAN card, Salary slips (Of the last 3 months), Salary account bank statement (3/6 months), and address proof.
Using our loan app, you will have fixed equated monthly instalments used for repayment; an EMI = the principal + interest. Each instalment lowers the principal as well as the interest. Ideal when: Your income is reliable, and you are aware of the exact loan amount required.