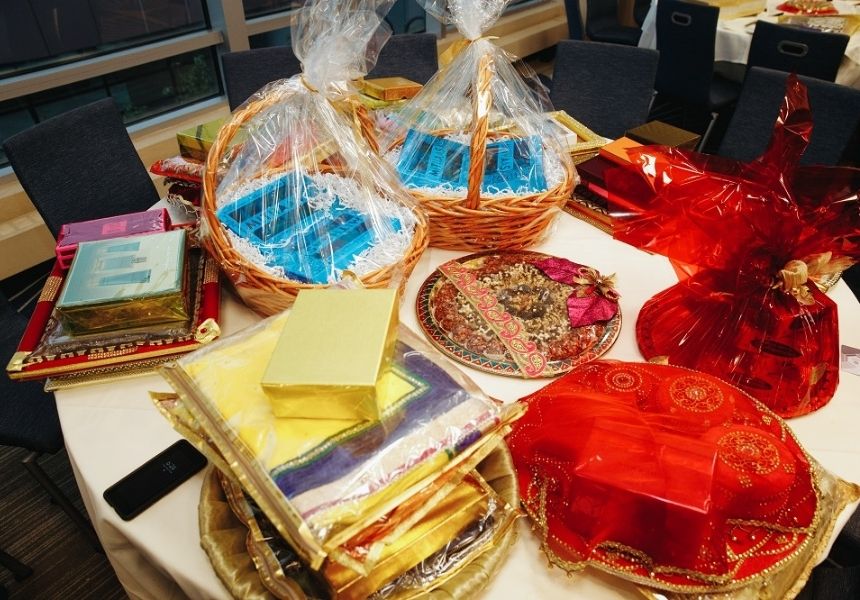 Who wouldn't want their wedding day to be a glamorous and glitzy affair? So what if it costs an arm and a leg? After all, a marriage is a once in a lifetime affair. Surely there would be ways to cover the gap between funds needed for a dream wedding and funds available. LoanTap offers marriage loans so that you do not need to give up on your dreams.
How to get a Marriage Loan from LoanTap?
LoanTap understands your need for funds when it comes to a once in a lifetime event like a marriage. The entire marriage loan process has been made so simple and seamless that anyone can apply for a loan easily. Personal loans are usually in proportion to your income level. Loan Tap offers marriage loans up to Rs 10 lakhs at interest rates starting from 18%. The loan can be repaid in convenient EMIs over 6 months to 60 months depending on the tenure you choose. You can maximise your loan by ensuring that you do not have any other debts running at the time of the loan application.
Factors that help in faster approval
Maintaining a good credit score, preferably over 750, can get your loan approved faster in 95% cases.
Having a steady income as evidenced by your salary slips and bank statements is another tick in your favour.
Working with a reputable organisation can work in your favour as it would reflect a better capacity to repay the loan.
Why should you go for a LoanTap Marriage Loan?
No collateral loan – Like any other personal loan, it requires no assets to be pledged which makes it convenient for young people who are planning to get married.
Minimal paperwork – The LoanTap process is very simple and requires minimal paperwork. All you need to do is to fill up an online application and upload the following documents

PAN Card
Aadhaar Card
Salary slips or Income Details for the last three months
Bank Statement of the Salary/Income Account for the last six months
Seamless processing – Once the application is submitted, it is evaluated by the LoanTap team against the prescribed parameters. If everything is perfect and the credit score is good, the loan gets approved.
Quick disbursal within 24-36 hours – The entire process at LoanTap is very quick, From the online application to the time of disbursement, it takes only around 24-36 hours.
No prepayment penalty after 6 months – Once the loan is serviced for six months, the loan can be foreclosed without any prepayment penalty.
Cheaper than a credit card – While credit cards charge anywhere between 24-36% per annum, LoanTap charges 18% for marriage loans which makes it much cheaper.
Interest-only EMI for the first 3 months -LoanTap understands the stress on married couples as they embark on their new life together. Hence it offers interest-only EMIs for the first three months after which the normal EMIs can be started.
A destination wedding in India can set you back by several lakhs. No matter how early you have started saving for the wedding, there will always be a little extra for which you may fall short. Take for example, Wedding photography packages and the now trending pre-wedding shoot packages. People are spending exorbitant amounts of money on making their wedding pictures memorable. As this skill is in great demand, the rates are also sky-high.
A combination of photography and videography can cost anywhere from Rs 30,000 – Rs 100,000 per day at the minimum and can exceed Rs 2,00,000 in the case of top-notch professionals.
The pre-wedding shoot that is becoming the latest fad is becoming an event in itself that is separate from the wedding. Couples are choosing exotic locales for their pre-wedding shoots and try to make it as quirky as possible. Some of the most popular locations for pre-wedding shoots include –
Taj Falaknuma Palace – The Nizam Palace can provide a perfect backdrop for the pre-wedding shoot. The cool interiors steeped in history combined with green lawns and fountains will give you multiple vantage points for breathtaking pictures.
Taj Mahal – The timeless ode to love, the Taj Mahal with the Yamuna flowing in the vicinity provides a majestic background that is a celebration of everything ethereal. Conducting your pre-wedding shoot here would be the most romantic getaway you could dream of.
Lodhi Gardens – Delhi has no scarcity of excellent historical spots that can offer breathtaking views. Lodhi Gardens with its breathtaking green vistas and perfectly manicured gardens can provide a beautiful setting for a pre-wedding shoot nestled in nature's beauty.
Pondicherry – The French colonies in Pondicherry with their quaint architecture and the pristine blue beaches can provide a tranquil setting that is simply out of this world.
Solang Valley, Manali – You can try the Solang Valley in Manali if you wish to capture your candid photographs against the majestic Himalayas. If you are the kind who enjoys adventure sports like paragliding, you can try this location for sure.It can be a romantic getaway for the two of you.
Sonamarg in Jammu and Kashmir -Sonamarg with its green expanse, clear blue skies and the snow capped Himalayas make a heady concoction. This background will give you postcard like pictures that will make for cherished memories for decades to come.
Rushikonda Beach in Vishakapatnam -If you are a water baby, the placid beaches in Vishakapatnam would provide you with the right locale for your pre-wedding shoot. The beaches are clean and pristine and there is not much crowd around which will give you sufficient privacy to complete the shoot.
Panna Meena ka Kund, Jaipur – If you want something unique for your pre-wedding shoot , you can try the Panna Meena ka Kund in Jaipur. Jaipur is a beautiful city steeped in history and colour. The Panna Meena ka Kund, an intricately designed stepwell in the 16th century, can provide unique backdrops for the photoshoot.
Park Hyatt Goa – If you are looking for a tropical lagoon-like background for the pre-wedding shoot, look no further. The Park Hyatt, Goa abounds in greenery with a clear view of the sea. What more could you ask for if you are looking for a combination of the two which can give you awe-inspiring views.
Oberoi Rajvilas, Udaipur – Udaipur with its smattering of royal palaces, the magnificent Aravallis in the background and the rich, vibrant culture of Rajasthan can be a photographer's delight. Especially the Oberoi Rajvilas,Udaipur, which is a regal setting for you- the royal couple.
Of course, you can also fly off to any overseas destination of your choice for the pre-wedding shoot with your photographer in tow, if you have money to splurge. Based on your choice of location, the photographer will suggest the colour scheme of clothes to paint the right picture against the selected background.
Candid wedding photography has become a fad that has caught on with the younger generation. Nobody wants the staid looking prim and proper wedding pictures of yesteryears. They want the little things to be encapsulated in frames that last forever. They want priceless moments to be captured on film so that they can be relived again and again for a long time to come.
Wedding photography does not come cheap but it is one expense that you cannot ignore. With modern technology, especially the use of drones, wedding cinematography has become a piece of art and everyone wants a slice of it. Nobody wants to hand this responsibility to a friend or relative anymore. They prefer an expert lensman with loads of experience to capture their moods during their special days.
It doesn't take much to be eligible for a personal loan at LoanTap. If you are an Indian citizen or resident of India over the age of 21 years and earning a net monthly income of over Rs 30,000 per month, you can apply for marriage loan.
There are multiple expenses associated with marriages like the venue, decor, lighting, photography, catering, wedding trousseau, jewellery and so on. A marriage loan can contribute towards any of these expenses depending on the shortfall you have.
The secret to having a great wedding is to plan in advance and get your priorities right. Once you have done that, half the battle is won. Now you need to draw up a budget for each head of expenditure and try to negotiate with vendors to keep it within the budget. Adding to the expenses without any control on the budget will leave you in tears by the time the event is over and neck-deep in debt.
It is best to take stock of your savings and your liquid investments that you may have planned to spend on your wedding. It is always good to start saving very early for your wedding if you have some dreams in mind to avoid feeling disappointed later. Once you know the funds you have in hand, you can try and apply for the maximum marriage loan possible.
Once the budget and the funds are ready, you will need to exercise loads of self-control to ensure that you stick to your budget and do not overshoot it no matter what the temptation. The wedding will be over in a couple of days and the guests will return home but indiscriminate spending will leave you holding the debt baby for a long time to come.
Plan our wedding and wed to a plan to keep the finances in check and the smile steady on your face. A little bit of prudence and smart planning will help you get the best deals from every vendor and these drops can add up to quite a lot when it comes to a big event like a wedding. Never be ashamed of asking for a  discount. Everyone has margins to play around with but unless you ask, nobody is going to offer you a better deal on a silver platter. So whether it is the venue or the food or the decor or the photographer or DJ, make sure you drive a hard bargain. It will release funds that can be better used elsewhere.
LoanTap is here to help you with your last-mile funding whenever you fall short. If you are managing your wedding as a couple, you can make separate applications for marriage loans and you could get double the amount. Just make sure that all expenses are absolutely required and that the best deals have been struck. Paying off the wedding loan will not be that difficult if you keep the tenure at a maximum of 5 years. If you come into money earlier, you can always foreclose after 6 months without any prepayment penalty.
Go ahead , start planning for that dream wedding. We, at Loan Tap, are with you all the way!