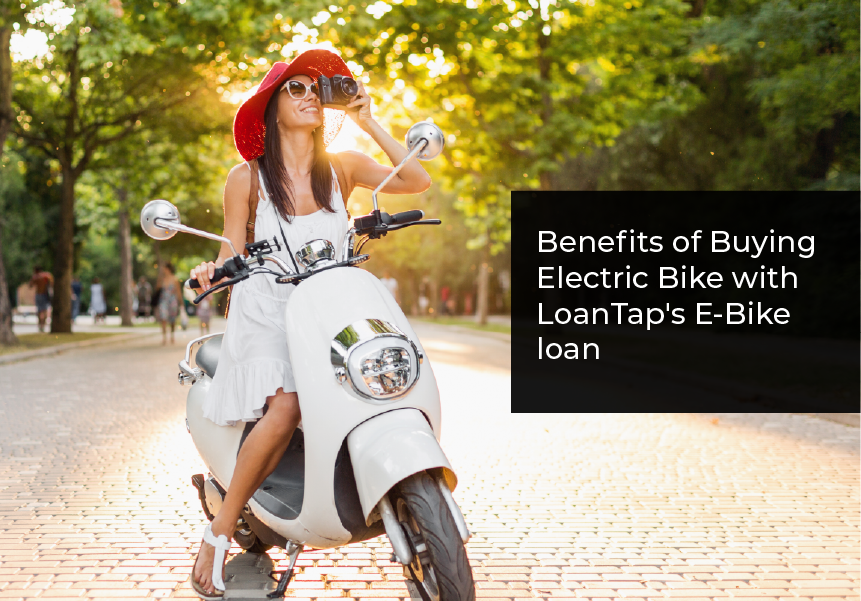 Published on : March 01, 2023
Electric bikes are an eco-friendly commute that are increasingly being preferred by the younger generation. In a world where carbon emissions are threatening to reduce air quality on a daily basis, it is essential to look for alternatives that are conducive to the environment. With the support provided by the central and state governments in the form of subsidies and tax breaks, the electric bike in India is becoming the preferred choice for many.
Popular brands like Bajaj, Hero, Ampere, Revolt, Ather and many others offer several electric bike models. Make sure you do your own research before deciding on one of them. It is prudent to consider the electric bike price, speed, battery life, range, maintenance, after-sales support and warranty to make an informed decision.
Finally, it all boils down to your budget and how you plan to finance your electric bike. If you are falling short of funds or plan to take a loan to buy an electric bike, LoanTap is the perfect partner for you.LoanTap offers electric bike loans from INR 20,000 to INR 2,00,000 for tenures from 12-36 months at interest rates from 13-15%p.a.
So, can anyone apply for an E-bike loan?
No. You will need to fulfill some basic eligibility requirements to be eligible for an electric bike loan from LoanTap. You will need to-
Be an Indian citizen or resident
Be over 21 years of age
Earn a net monthly income of over INR 10,000
Preferably have a credit score above 630
If you meet these conditions, you can go ahead and apply for the electric bike loan.
How do you Process the E-Bike Loan from LoanTap?
The process is quite simple and can be explained in a few steps-
Step 1 – Download the LoanTap app on your smartphone.
Step 2 – Fill out an online application with the requisite details.
Step 3 – Upload the basic documents –
PAN Card
Aadhaar Card
Salary slip of the last month
Bank Statement for the last three months
Step 4- The system will verify your details. If everything is found correct, the loan will be approved. You can get up to 80% of the on-road price of the bike you choose.
Step 5 – The loan will be credited to your bank account within 24 hours of your application.
Step 6 – Now that you have the loan, you can repay it in EMIs over the agreed loan tenure. You can foreclose the loan after six months without any prepayment penalty.
Benefits Of Buying an Electric Bike With a Loan From LoanTap
Finance your eco-friendly commute – Since electric bikes are more expensive than their fuel counterparts, you may need a helping hand to finance the purchase. Instead of opting for a cheaper fuel bike, it is prudent to stick to your choice of an electric bike. LoanTap offers friendly loans to help you in the right decision-making.
Instant Disbursement – LoanTap disburses electric bike loans within 24 hours from the time of application. This is more convenient than the days wasted on traditional loans.
24/7 availability – You can apply for the electric bike loan anytime, anywhere, without being limited by working hours, weekends or holidays.
No physical paperwork – Apart from the online application, you are not required to fill up any forms, which is an excellent convenience for borrowers who usually get hassled by forms.
Minimal documentation – Very few mandatory documents are required to complete the loan process. This makes the process less time-consuming compared to traditional loans.
Cheaper than credit cards – Credit cards charge 2.5-3% per month on the outstanding balance, which works out to 30-36% annually. E-bike loans from LoanTap are available for 13-15% interest, making it a very prudent choice.
Ease of processing – The loan process is so simple and convenient that it is a delightful customer experience. It is quick and efficient, and completely digital.
Dedicated marketplace – LoanTap offers an online marketplace where you can check out the various models of electric bikes and choose the one you want. We have partnered with various top brands like Hero, Ampere, Bajaj, Revolt, etc.
Conclusion
Buying your first electric bike can be an exciting experience, and LoanTap will make the complete process stress free by offering you an electric bike loan online. LoanTap offers customized loans that can delight you and help you to finance your electric bike comfortably. Why get hassled if you are falling short of funds? You have LoanTap to help you foot your electric bike bill upfront, and you can repay the same in convenient instalments over the agreed tenure. What are you waiting for? Download the LoanTap app today!