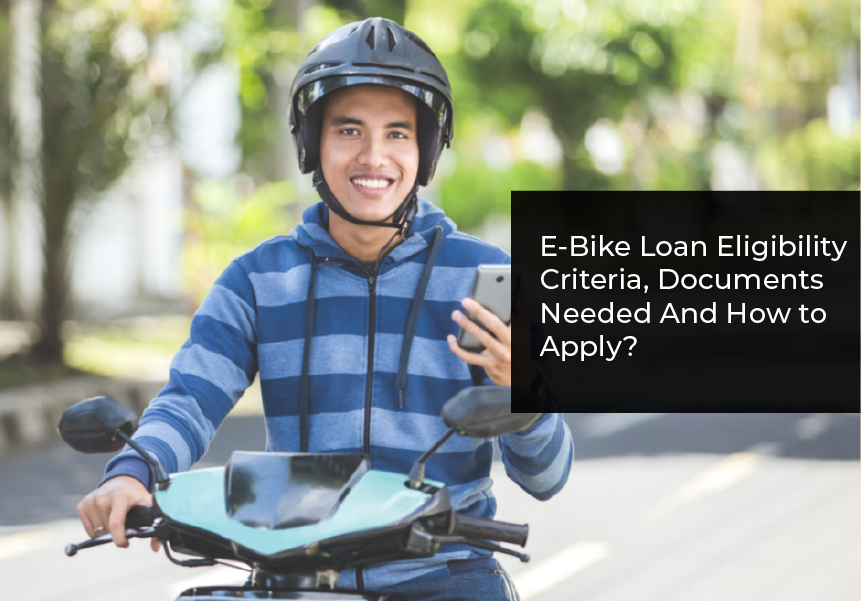 Published on : March 02, 2023
With the recent emphasis on the environment and the large-scale adoption of several eco-friendly practices, it is no surprise that electric vehicles, in general, have become very popular amongst the younger generation, who are very keen on doing their bit for the planet. Getting an electric bike for your daily commute is an excellent way to show your commitment to the environment. These bikes are clean and green, releasing zero carbon emissions and not adding to the noise pollution as well. You may be wondering how much they cost and whether you can afford them. Well, they do cost a tad bit more than the fuel equivalents, but they deliver more in terms of running costs. In fact, they result in decent cost savings over the life of the vehicle. You can stop worrying if the higher electric bike price is a cause for concern since LoanTap has the perfect solution for you.

LoanTap offers user-friendly electric bike loans that are readily available within 24 hours of application. You can get between INR 20,000 to INR 2,00,000 to buy the electric bike of your choice. You can repay the same over 12-36 months at interest rates between 13-15% p.a. You can foreclose the loan after six months without any prepayment penalty.
Who is Eligible for an Electric Bike Loan?
LoanTap specifies some eligibility conditions that need to be fulfilled before you can apply for an electric bike loan.
You can qualify for an electric bike loan application if you can answer the following questions in the affirmative.
Are you an Indian citizen or resident?
Are you over the age of 21 years?
Do you earn a net monthly income of INR 10,000?
Is your credit score over 630?
If you answered yes to all of the above questions, you qualify to apply for an electric bike loan.
How do you Apply for an Electric Bike Loan?
LoanTap has created a digital loan process that is extremely convenient for borrowers. It is designed to make your borrowing experience pleasant and stress-free.
Here is how you can apply for an electric bike loan from LoanTap
Step 1 – Visit the LoanTap online marketplace and explore the various models of electric bikes on offer.
Step 2 – After comparing all the features, cost, battery life, warranty, after-sales service and network of charging stations, you can narrow down to the model of your choice.
Step 3 – You can choose to visit a dealer near you to examine the bike physically before you finalize your purchase.
Step 4 – Download the LoanTap app on your smartphone
Step 5 – Fill out an online application with the required details and Upload the following documents –
PAN Card
Aadhaar Card
Bank Statement for the last 3 months
Salary slip for the last month
Step 6 – Now sit back and relax while the system evaluates your application.
If all the documents are correct, your loan application will be approved.
Step 7 – The loan will be credited to your account within 24 hours. If you are finalizing the bike through the online marketplace, the amount will be directly deposited in the dealer's account while you will receive the sanction letter.
Enjoy the LoanTap Advantage
LoanTap provides customized loans that are designed to provide a superior customer experience.
Instant approval – The loans are approved instantly and disbursed within 24 hours, unlike traditional loans, which can take up to a week for disbursement.
24/7 availability – Since the process is digital, it is not limited by working hours, weekends or holidays. You can apply for a loan according to your own convenience.
Cheaper option – If you compare the electric bike loan with personal loans or credit cards, you will realize that it is a cost-effective option at 13-15% compared to 18%+ charged on personal loans and 30-36% on credit cards.
No hassles – There is no paperwork involved, and you need to upload only the mandatory documents for processing the loan.
Convenience – You can complete the process sitting at home with no visits to the bank. This gives you peace of mind, and you can relax while applying for the loan.
Conclusion
Congratulations to you if you have made up your mind to purchase an electric bike as your contribution towards a cleaner and greener future for the country. LoanTap will help you meet your aspirations by offering you a friendly electric bike loan instantly. Use the digital app to get your loan processed and credited within 24 hours and ride away on your brand new bike!