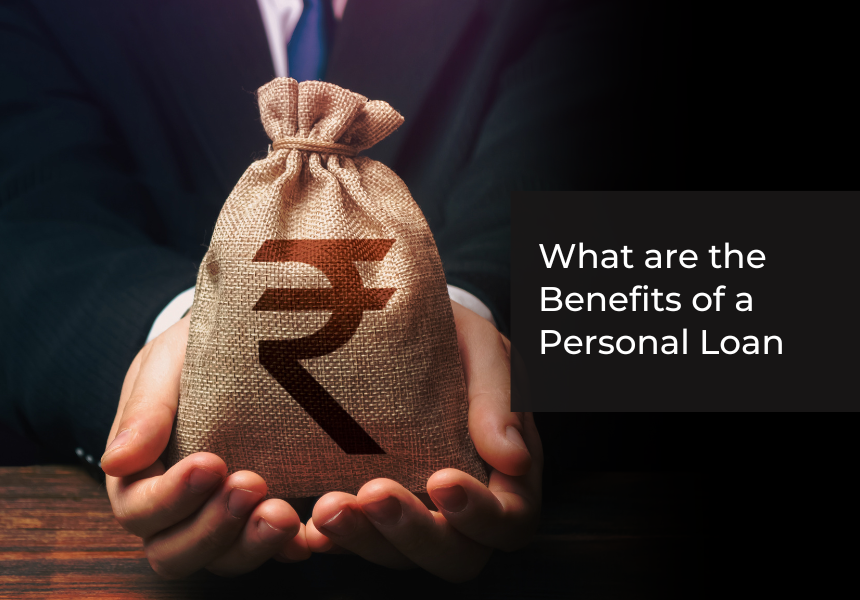 Published on : June 27, 2023
There are many benefits of personal loans that make them a highly convenient choice for those who need money urgently without any hassle. Whether you are dealing with a medical emergency or wedding expenses, travelling abroad, or financing a home renovation, personal loans are an ideal option to consider over other forms of debt, such as credit cards. In this article, we will discuss the various benefits that you get when choosing to take a personal loan.
Benefits of Personal Loan
A personal loan is an unsecured loan with a number of additional advantages. Here are a few benefits of a personal loan.
Hassle-Free
The fact that a personal loan requires little documentation is one of its main advantages. You just need basic documents, and you can apply for the loan easily. Additionally, applying for personal loans online is simple and requires no paperwork.
Consolidate High-Interest Debt
Any type of debt, including credit card debt, may require you to pay exorbitant interest rates each month. Multiple interest rates can complicate things and lead to a debt trap. However, you can take control of your debt by getting a personal loan. To pay off your debt, you can take out a personal loan to borrow money. This way, you can manage your debt more effectively and simplify your financial situation.
No Collateral Required
A personal loan is a type of loan where you don't have to pledge collateral as a guarantee in case of non-repayment of the loan. This makes personal loans available to everyone.
Flexible Tenure
Another advantage of a personal loan is its flexible schedule. A personal loan has a repayment duration that might last somewhere between 12 months and 7 years. This implies that you are free to choose the loan term that best suits your requirements and situation. You can choose the loan tenure that is most suitable and convenient for you.
Borrow Large Amount
Generally, credit cards have a low monthly spending limit. Because of this, using your credit card for major purchases may be challenging. However, personal loans are the perfect solution for you. With personal loans, you can borrow more money than other borrowing options. This allows you to finance substantial expenses more easily and conveniently.
Build Credit Score
Your credit mix (the multiple types of credit you have), the duration of your credit history, and your credit utilisation ratio are all factors that personal loans might positively affect. But it's essential to be cautious. You might not be qualified for a personal loan with a low-interest rate if your credit history is bad. You may struggle to repay the loan due to high annual percentage rates (APR) and costs, which could lower your credit score.
Reasons To Get a Personal Loan
A personal loan is a fantastic choice for various reasons. Here are a few of the things you might need to borrow money for.
Conclusion
Personal loans offer several benefits that can help individuals manage their finances more effectively. These loans provide accessibility to a wide range of people since they don't require collateral. The flexibility in loan tenure allows borrowers to choose a repayment schedule that suits their needs. Personal loans also enable financing of larger amounts, making them ideal for significant purchases. However, it is crucial to approach personal loans cautiously and ensure affordability to avoid potential negative impacts on credit and financial well-being.