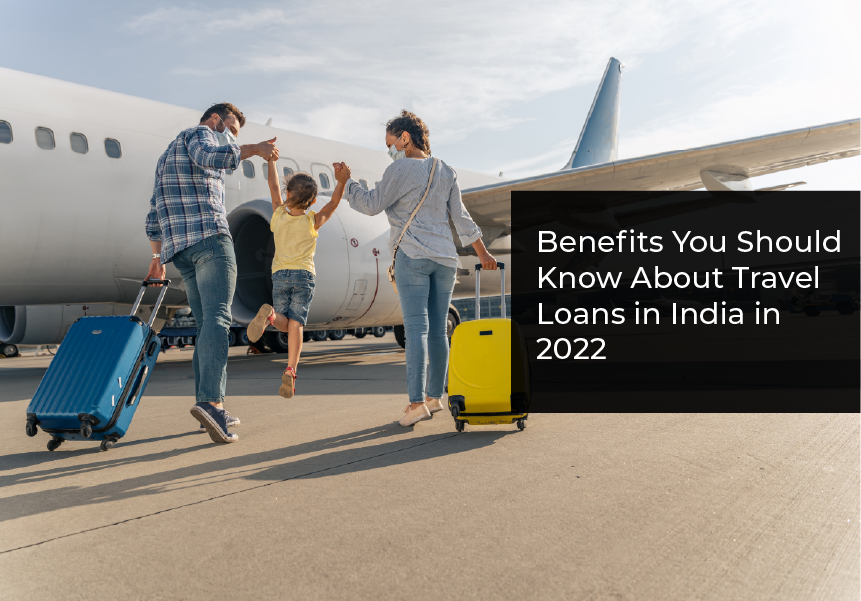 Published on : March 01, 2023
Holidays are a great stress buster and taking at least one quality holiday annually is highly recommended. Enjoying a holiday with your family is a thrilling experience and you should try and make it unforgettable.
Preparing For Trips Can Be Fun.
Shortlist the places for vacation and decide on your final destination.
Now, check out the flight plans and the hotel bookings.
You can look out for great holiday offers from tour operators and holiday planners.
Next, check out the things to do during your holiday and draw up an itinerary.
Now work out your budget after taking into account all possible expenses.
A holiday loan can come in handy when you have extensive plans to go on an exotic holiday and want to make sure that you don't run out of funds. You can take a personal loan for travel and enjoy everything you planned without changing any of your plans.
What are travel loans?
Travel loans are unsecured personal loans that can be used when you want to go on a trip. They are easy to process and require no security to be provided. You can pay off the loan in easy installments over the tenure that you select. You can even foreclose the loan after six months without any prepayment penalty.
Who is eligible for a travel loan?
LoanTap offers holiday loans if you are an Indian citizen or resident and are over the age of 21 years and earn a net monthly income of over INR 30000. It is preferable that you have a credit score of more than 630. If you meet these requirements, you qualify to apply for a travel loan from LoanTap.
How do you apply for a travel loan?
Applying for a travel loan from LoanTap is pretty simple. You need to download the LoanTap app on your smartphone. Open the app and fill in all the required details.
Now, you will need to upload the following documents as proof of your identification and address-
PAN Card
Aadhaar Card
Salary Slips for the last three months/Income Proof
Bank Statements for the last six months
The system will now verify the application along with the documents submitted. If everything is found to be correct, the loan application will be approved. The loan amount will be credited to your account thereafter. The entire process will not take more than 24-36 hours.
Flexible Repayment Plans
LoanTap offers flexible repayment plans for the convenience of borrowers based on their cash flows and they can choose the one best suited for them.
Term Loans – This option is the normal plan where you pay the principal and interest components on a monthly basis via an equated monthly installment. This works for most people who earn a regular salary.
Step up Loan – This allows you to pay only the interest component for the first three months after which the normal EMIs will start. This is convenient when you come back to normal life after a holiday and need some time to start repaying the loan.
EMI free Loan- Under this plan, you can pay only the interest component on a monthly basis as EMI while the principal can be repaid in bullet payments on a quarterly or half-yearly basis. This is perfect for those who get incentives or bonuses on a periodical basis.
Overdraft Loan – Since you are not sure of how much you will actually need, you may choose to get a pre-approved loan. You will be charged interest based on actual usage. This is ideal when the total expense is uncertain and the payments may happen on a staggered basis.
What are the benefits of a travel loan?
Travel loans in India are a convenient way to fund your vacation. They are quick and efficient and easy to process. Being online loans, you have access to them around the clock and you are not limited by working hours, weekends and holidays. There is minimal paperwork involved.  There is no need to provide security in the form of assets as it is an unsecured loan. Travel loans work out much cheaper compared to credit cards. Credit cards charge 2.5-3% per month on outstanding balances while travel loans are available at half the cost. There are no visits to the bank, no filling of endless forms and no standing in queues. You can get the cash in your account within 24-36 hours of applying for the loan.
Conclusion
Enjoy your travel and forget about the worry of insufficient funds. After all, holidays are meant to help you unwind and lift your spirits. Leave the holiday funding to LoanTap. Enjoy the comfort of getting a hassle-free travel loan in India that you can use to make the most of your vacation. You can pay it off after you return over the agreed loan tenure. If you come into some surplus funds you can clear the loan after six months without any prepayment penalty. What are you waiting for? If you want to enjoy a stress-free vacation download the LoanTap app today and fly down to your dream getaway!!