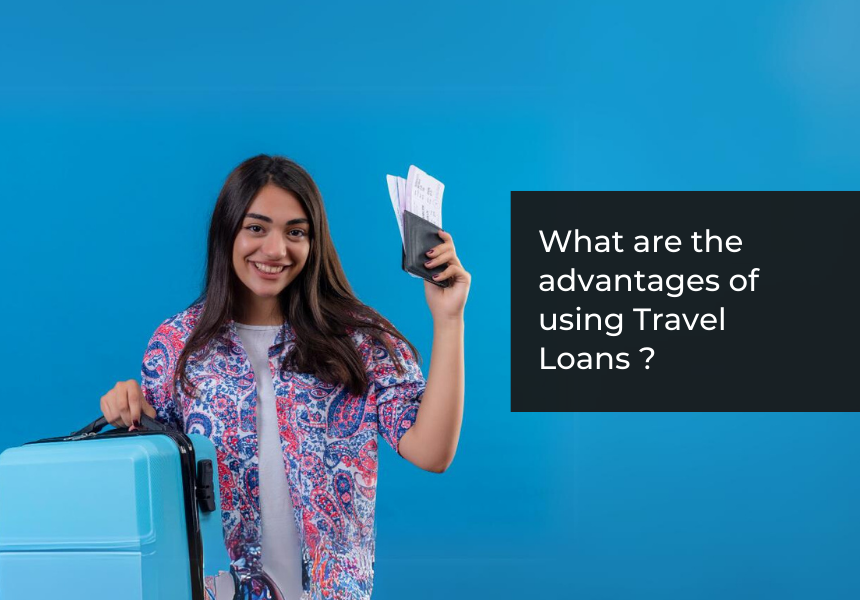 Published on : October 09, 2023
While travelling can be exciting and fun, it can also be costly. That's where travel loans come in handy. You can depend on travel loans for all the expenses to make your dream vacation a reality. With a travel loan, you can visit new places without affecting your savings. Whether you want to go on a road trip, explore a different country, or take a cruise, travel loans can help you do it without worrying too much about money. So, let's find out how these loans can make your travel adventures easier and more enjoyable.
What is a Travel Loan
A travel loan is a type of personal loan created specifically to finance your travels . It's like borrowing money to go on a vacation or explore new places. With a holiday loan, you can cover expenses like airfare, accommodations, and activities without having to use your savings. You'll typically repay the loan in instalments, making it easier to manage your travel expenses. It's a convenient way to turn your wanderlust dreams into reality, whether you're planning a road trip, an international getaway, or any other travel experience.
Advantages of Travel Loans
Here are the advantages of a travel loan:
Instant Approval & Disbursal
Travel loans often come with quick approval and fund disbursement, allowing you to choose last-minute travel opportunities or plan your dream vacation with minimal waiting time.
Flexible Repayment Options
Travel loans typically offer flexible repayment plans, letting you choose a schedule that suits your financial situation, making it easier to manage your loan.
Higher Loan Amount
Travel loans often provide higher loan amounts compared to other types of unsecured loans, ensuring that you have sufficient funds for your travel plans.
Longer Loan Tenure
Travel loans can come with longer loan tenures, spreading out your repayments over a more extended period and reducing the monthly financial strain.
Minimum Documents
The documentation required for travel loans is usually minimal, simplifying the application process and saving you time and hassle.
Transparent Process
Travel loan applications typically follow a transparent and straightforward process, ensuring you understand the terms and conditions of your loan, providing peace of mind throughout your travel financing journey.
These advantages make travel loans an attractive option for financing your vacations and travel adventures.
Eligibility Criteria for Holiday Loan
| | |
| --- | --- |
| Nationality | Indian Citizen |
| Employment criteria | Applicant must be a salaried individual employed with a reputable private or public firm or a self-employed professional |
| Age | The minimum age of the applicant should be 21 years but should not exceed the age limit of 58 years |
| Income | The applicant's monthly salary must be at least Rs. 30,000 |
| Credit Score | Credit score should be 750 or above |
Documents Required for Travel Loan
| | |
| --- | --- |
| ID Proof | PAN Card/ Aadhaar Card/ Passport/ Driving Licence/ Voter ID |
| Proof of Residence | Passport/Driving License/Electricity Bill/ Telephone Bill/ Aadhaar Card/ Voter ID |
| Income Proof | Salary slip for last 3 months/ Bank Statement |
| Photograph | 2 passport-size photographs |
How To Apply for a Holiday Loan
Visit the official website of LoanTap or download the official app.
On the home page, click on the 'Apply Now' Tab to apply for a Holiday Loan.
Select your employment profile. Select if you are a business owner, an employee, or a self-employed person.
Select "Travel Loan" for the purpose of the personal loan and click on the 'Continue' button.
Type in your email address and current location.
Enter all additional information, including monthly income, active loans (if any), and type of current residence.
Upload the necessary paperwork, such as bank statements, salary slips, and property ownership papers, etc.
Enter your PAN Card number and birthdate.
After entering all the required details, the lender will verify, and after the approval, your loan amount will be sanctioned immediately.
Conclusion
The advantages of using travel loans are appealing, offering a way to fulfil your wanderlust dreams with financial ease. Holiday loans provide instant access to funds, flexibility in repayments, higher loan amounts, and extended tenures to accommodate your unique needs. The minimal documentation and transparent process simplify the application, saving you valuable time and effort. LoanTap is a dependable partner for anyone looking for a trustworthy source for travel loans because it provides flexible repayment terms and reasonable interest rates for travel loans.
Apply Using WhatsApp