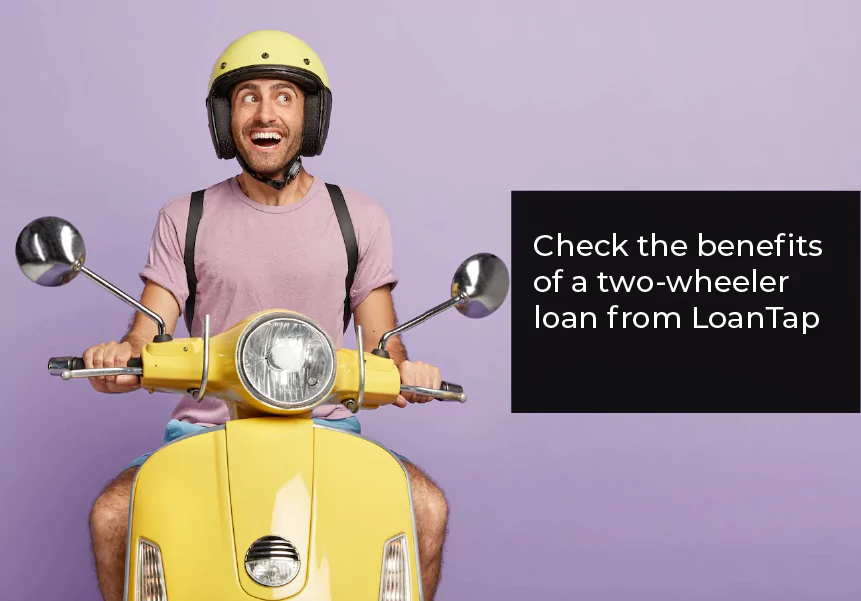 Published on : July 22, 2022
Two-wheelers are an easy and convenient commute and the mainstay of the majority of the population. Getting a two-wheeler is an aspiration for the younger generation. It is an economical option that helps people reach their workplace on time and manage their daily activities without any hassle. However, getting a two-wheeler can be an aspiration for several people due to fund shortages. Two-wheelers are the go-to option for millions in the country and LoanTap is reaching out to these borrowers with its customised loans.
LoanTap has come up with tailored solutions that allow people to give wings to their dreams and ride away in the two-wheeler of their choice. They offer instant personal loans at attractive interest rates which can be repaid over an agreed tenure. Make sure you read on till the end to know how you can avail of the benefits of two-wheeler loans.
Who Can Apply for Two Wheeler Loan?
If you want to apply for two wheeler loan from LoanTap, you will need to meet the following requirements. They are simple so don't get worked up.
You are an Indian citizen or resident
You are over the age of 21 years
You have a net monthly income of over INR 10,000
If you meet these requirements, you are ready to move on to the next step.
What Documents are Required to Apply for Two Wheeler Loan?
LoanTap has ensured a process that is not cumbersome and offers a great experience to borrowers. The documentation is kept to a minimum. You will need to upload the following documents –
PAN Card
Aadhaar Card
Latest Salary slips 
Bank statements for the last 3 months
How Do You Apply for a Two-Wheeler Loan?
Once you have met the eligibility criteria and kept the necessary documents ready, applying for a two-wheeler loan from LoanTap is like saying 1-2-3.
All you need to do is download the LoanTap app on your smartphone. You can fill out the online application with the necessary details.
You will need to upload the identification, address and income proof along with the bank details.
Wait for a while for the system to complete the verification of the documents and run the background check.Once this is complete, you will receive intimation from LoanTap that the loan verification has been completed and the loan is approved.
You can use the LoanTap sanction letter to buy the two-wheeler from the showroom closest to you and LoanTap will manage your funding for 80% of the on-road price.
There you go. Getting your two-wheeler is so easy. Go ahead and drive away with the two-wheeler you always wanted.
Benefits of LoanTap Two-Wheeler Loans 
LoanTap offers pre-approved two-wheeler loans which enable borrowers to buy two-wheeler of their choice. LoanTap two-wheeler loans extend to both new and used vehicles. A maximum of 80% of the on-road price is offered as a loan. Two-wheeler loans can be repaid in easy instalments over 12-36 months. LoanTap offers loans from INR 50,000 to INR 10,00,000 which can help you get any bike of your liking.
Reasonable interest rates – Two-wheeler loan interest rates at LoanTap are reasonable and help borrowers fulfill their dreams at pocket friendly terms.
Instant loan disbursement – Two-wheeler loans are processed and disbursed within 24-36 hours which makes it extremely convenient for you to make your purchase whenever you want. You can pick up the two-wheeler you always wanted at the time and place of your liking.
Cheaper than credit cards -Two-wheeler loans from LoanTap are much cheaper than credit cards that charge 2.5-3% per month on the outstanding balance. This makes personal loans more reasonable for new borrowers who don't want to incur heavy interest charges and want to pay off over a reasonable tenure.
Simple hassle-free process – The LoanTap process is simple and convenient, designed to make the user experience pleasant. There is no paperwork except an online form to be filled out. A few documents as mentioned above need to be uploaded. The idea is to keep the process easy and the app easy to navigate.
No hidden charges – LoanTap believes in following a transparent process and all charges are stated upfront. There are no additional charges except those mentioned in the agreement.
Switch to a longer tenure -If you want lower EMIs, you have the flexibility to opt for a longer tenure. You can choose a tenure up to 60 months if you so wish to. This will allow you to pay off the loan in smaller instalments that won't stress your monthly budget.
Flexible repayment options – After six months of disbursal, you can opt for accelerated repayment options. You will be able to tweak your repayment options and foreclose the account if you wish without any prepayment penalties.
Wrap Up 
LoanTap endeavours to provide you with easy to utilise two-wheeler loans that can help you meet your aspirational goals. LoanTap has offices across the country and has tied up with premium two-wheeler brands. Whether you need a brand new bike, a premium top-end bike, a used two-wheeler or an Electric bike, LoanTap is ready to fund you to help you realise your dream.
LoanTap will help you move ahead and resolve the problem of your daily commute. An instant loan can ease so many issues that may burden you and stop you from progressing. Borrowing from friends and family or depending on usurious moneylenders is no longer a necessity. When friendly and safe options are available at the touch of your fingertips, why go for awkward alternatives?
Enjoy the ease of availing of a pocket-friendly personal loan from LoanTap and rewrite your loan-taking experience.
What are you waiting for? Download the LoanTap app today.