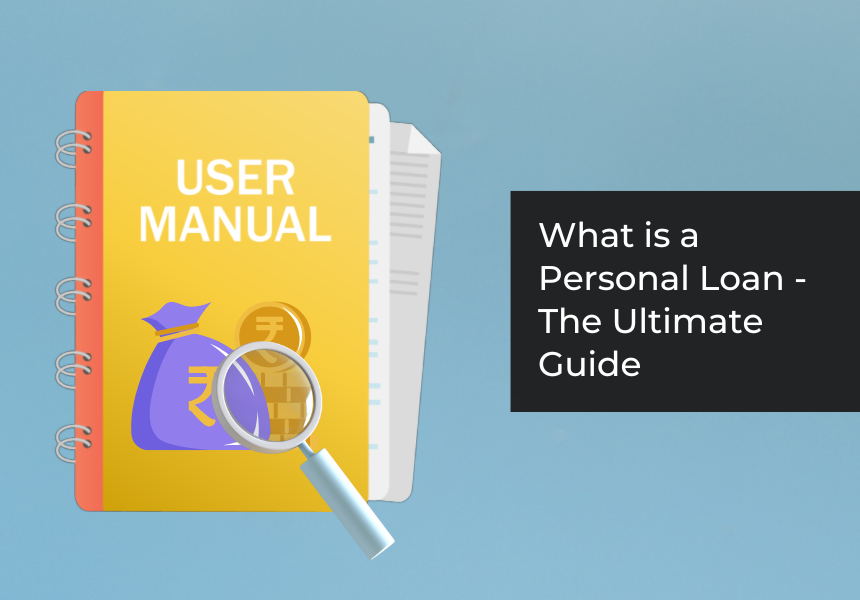 Published on : June 28, 2023
Irrespective of how efficiently you manage your finances, in today's world of uncertainty, the need for finances can occur at any time. In such cases, personal loans can be a great solution. With a personal loan, you can fulfil your financial obligation without any collateral or security. Here is the comprehensive guide for personal loans.
What is a Personal Loan
A personal loan is an unsecured form of financial tool that can give you funds in a lump sum to help you in times of emergency. Personal loans can be used for various things, including debt consolidation, house improvements, or emergency needs, in contrast to specific-purpose loans. These loans are repaid in instalments over a fixed period, and the interest rates can vary based on factors like the borrower's creditworthiness. Personal loans offer flexibility and can be a useful tool for individuals seeking funds for personal needs without having to provide collateral.
How Does Personal Loan Work
To get a personal loan, you will have to apply online or by visiting a lender and submitting the required document; the lender will verify your details and approve the loan. Once approved, the borrower receives a loan agreement that specifies the loan amount, interest rate, and repayment terms. The amount will be deposited right into the account. The borrower will have to pay the loan in EMIs over a predetermined tenure. It's crucial to carefully read and understand the loan agreement before accepting the terms.
What is a Personal Loan Used For?
A personal loan can be used for various purposes, providing flexibility to borrowers. Common uses include consolidating high-interest debts, covering unexpected medical expenses, financing home improvements or repairs, funding a wedding, paying for education, or even taking a vacation. Unlike specific loans like home loans or mortgage loans, personal loans do not have restrictions on how the funds are utilised. It is essential to use personal loans responsibly and within your means to avoid unnecessary debt burdens.
Benefits And Features of Personal Loan
Here are some of the benefits of Personal Loans
Convenient
Personal loans can be used for various purposes like weddings, medical emergencies, holiday loans, etc. This makes personal loans a flexible option for borrowers.
Competitive Interest Rates
Personal loans have competitive interest rates that can save you money on the overall borrowing cost.
Flexible Repayment Terms
LoanTap offers flexible repayment terms for personal loans, which makes it easier for borrowers to budget for their monthly payments.
Easy To Avail
A personal loan needs minimal documentation and has a simple online application process.
Quick Approval
Personal loans are approved on the basis of the income statement / salary statement and the credit score of the customer; this makes the approval process quick and hassle-free.
Things To Keep In Mind Before Applying For a Personal Loan
Here are some important points to keep in mind before applying for a personal loan.
Understand Your Needs
Knowing how much money you'll need is essential before you apply for a personal loan. The assessment will vary depending on whether you need money for a holiday or a medical emergency. As a result, it's important to understand your particular financial needs and select the personal loan amount appropriately.
Minimum and Maximum Funding Available
Your personal loan application is evaluated by the bank or lending organisation, which then approves the loan amount. Lenders will check monthly income, profession and your credit score before approving the personal loan. If you are a Business owner, lenders will check the profit and loss statement before approving the loan. Therefore, it is advisable to always examine the maximum and minimum funding amounts for personal loans.
Compare Different Interest Rates
Every lender levies different interest rates on personal loans. Personal loans typically have annual interest rates between 10% and 26%. Your personal loan repayment burden will increase as the interest rate rises. It is important to check the interest rate across different lenders and choose the minimum one available.
Processing Fee
The lender is responsible for paying some administrative fees while processing the personal loan. Even if the sum is minimal, it is charged separately in the form of a processing fee rather than being included in the personal loan amount. Processing fees are assessed differently by each lender. So it makes sense to compare processing fees across lenders before applying for a personal loan from the one with the lowest rate.
Credibility Of Loan Provider
When applying for a personal loan, select a lender with a good reputation in the market. Make sure to assess the credibility and reliability of the lender before taking the loan. By selecting a trustworthy lender, you can be assured that you won't face any legal or financial difficulties during the loan term.
Personal Loan Eligibility
To apply for a personal loan, applicants will have to fulfil the following eligibility criteria and requirements.
The applicant should be a citizen of India
Applicant should be self-employed or must have a regular salary
Applicant must have a minimum salary of ₹30,000
Applicant must be working for at least 2 years in the current organisation
Applicant must be at least 21 years of age
Documents Required
While applying for a personal loan, lenders ask for documents to verify the information. Below is the list of documents required for the loan application process.
Identity Proof – Aadhar Card/Pan Card/Passport/Voter ID/ Driving Licence
Address Proof – Aadhar Card/Pan Card/Utility Bill/ Passbook or bank account statement
Employment Proof – Last 3 Month Salary Slip/Appointment Letter, Statement of Account for the last 6 months.
Passport size photograph
Best Place To Get Personal Loan In India
LoanTap is one of the best platforms to obtain a personal loan in India. With its user-friendly interface and streamlined processes, LoanTap offers a hassle-free experience to borrowers. They provide flexible loan options tailored to individual needs, including wedding loans, medical loans, and travel loans. LoanTap stands out for its quick loan disbursal, often within 24-36 hours, making it an ideal choice for urgent financial requirements. Additionally, their competitive interest rates and transparent terms make LoanTap a trusted and reliable option for personal loans in India.
Do's and Don'ts When Applying For Personal Loan
Do's When Applying For a Loan
Before you apply for a personal loan, check the interest rates. The interest rates on a secured and unsecured loan might differ slightly.
Check fees, such as processing fees and prepayment fees, as they can add up to a significant amount. Also, make sure to check if the lender has any hidden charges.
Determine whether you will receive the funds in time to fulfil your requirements by checking the bank's turnaround time for loan approval and disbursement.
Check the eligibility requirements, such as the minimum income threshold and the relevant papers, to ensure that your loan is approved and sanctioned quickly.
For immediate disbursement, see if you are pre-approved for a personal loan.
Don'ts When Applying For a Loan
Don't let your loan EMIs exceed 40% of your net income, as it will create a burden on your monthly budget.
Don't take a personal loan with a higher interest rate if your credit score is too low. Your finances will be under pressure, as a result, making it difficult for you to repay the debt.
Don't delay the payment as your loan is unsecured; otherwise, It will be harder for you to obtain credit in the future due to the negative impact on your credit history and credit score.
When you want to apply for a personal loan, there are some things that you should do and things that you should not.
How To Get Approved For Personal Loan
To increase your chances of getting approved for a personal loan, make sure to check your credit score and ensure it is in good standing, as lenders evaluate this to assess your creditworthiness. Next, gather all necessary documents, such as income proof, bank statements, and identification, to show your financial stability. To get the best terms and interest rates, it's crucial to compare loan offers from multiple lenders. Additionally, try to lower your debt-to-income ratio by paying off existing debts or increasing your income. Lastly, provide accurate and complete information on your loan application and be prepared to answer any additional queries from the lender promptly.
Read More: Factors that Determine Personal Loan Approval for Self-Employed.
Fees For Personal Loan
| | |
| --- | --- |
| Max Loan Amount | Rs. 10 Lakh |
| Max Loan Tenure | Up to 60 Months |
| Interest Rate | Starting from 11% |
| Processing Fees | Up to 2.50% of the loan amount plus applicable taxes |
| Prepayment Charges | 5% of principal outstanding plus applicable taxes if paid within 6 months of loan disbursal |
| Charges for Late Payment | 24% per annum plus applicable taxes |
Interest Rate and Repayment Tenure For Personal Loan
The interest rate and repayment tenure for a personal loan can vary depending on several factors. Generally, personal loan interest rates are determined based on the borrower's creditworthiness, income, and loan amount. The repayment tenure typically ranges from a few months to several years, allowing borrowers to choose a timeframe that suits their financial capabilities.
LoanTap offers competitive interest rates for personal loans, ranging from 11% to 24%. This ensures that borrowers can access funds at affordable rates based on their credit profile. Moreover, LoanTap provides flexibility in repayment tenure, allowing borrowers to choose between 6 months to 60 months to comfortably repay their loan amount, depending on their financial situation and repayment capacity.
Here are some more Tips and Tricks to choose the perfect personal loan tenure
What is the Maximum Amount You Can Borrow
The maximum amount of personal loan you can borrow depends on various factors such as your credit score, income, repayment capacity, and the lending institution's policies. Generally, lenders offer personal loans ranging from a few thousand to several lakhs of rupees. The loan amount is determined based on your eligibility and the lender's assessment of your financial profile.
In the case of LoanTap, you can take a personal loan ranging between ₹50,000 to ₹10 lakhs. This gives borrowers the flexibility to choose a loan amount that meets their specific financial needs, whether it's for a small expense or a larger financial requirement. LoanTap's wide range of loan amounts ensures that borrowers can access the necessary funds to address their financial goals effectively.
Is It Possible To Apply For a Joint Personal Loan
Many lenders allow individuals to take a personal loan with a co-borrower. Applying for a joint personal loan can be beneficial as it combines the income and creditworthiness of both borrowers, increasing the chances of loan approval and potentially securing a higher loan amount. Having a co-borrower can also help in obtaining more favourable interest rates and flexible repayment terms. It's important for both borrowers to understand the responsibility and obligations associated with a joint loan and ensure clear communication and financial planning.
Read More: How to apply for a personal loan with a co-borrower?
Common Mistakes While Taking a Personal Loan
When taking a personal loan, it's crucial to avoid certain common mistakes. Here are some mistakes to avoid:
Borrowing More Than you Need
It's important to assess your actual financial requirements and borrow only the necessary amount, as taking a larger loan can lead to unnecessary debt.
Neglecting to Compare Lenders
Failing to research and compare different lenders can result in missing out on better interest rates and loan terms. Be sure to explore multiple options before finalising a loan.
Overlooking the Fine Print
Read the loan agreement thoroughly, understanding the interest rates, fees, repayment terms, and any hidden charges. Ignoring the fine print may lead to unexpected financial burdens.
Not Considering the Affordability,
Assess your monthly budget and ensure you can comfortably repay the loan without straining your finances. Overlooking affordability may lead to missed payments or financial stress.
Ignoring Credit Score Improvement
Higher interest rates may be the result of a lower credit score. Before you apply for a personal loan, work on raising your credit score to get better terms and interest rates.
Applying With Multiple Lenders Simultaneously
Submitting multiple loan applications at the same time can negatively impact your credit score and make you appear credit-hungry to lenders. It's best to apply selectively and thoughtfully.
Missing or Late Payments
Timely repayments are crucial to maintaining a good credit history. Missing payments or paying late can result in penalties and increased interest rates and negatively affect your credit score.
FAQs on Personal Loan
Can I take multiple personal loans?
Ans. Yes, you can take multiple personal loans, provided you fulfil the eligibility criteria, are not a defaulter, and pay all the EMIs on time.
What is the CIBIL score required to be eligible for a personal loan?
Ans. The minimum CIBIL score for a personal loan is 720.
Can I get an instant approval for LoanTap Personal Loan?
Ans. LoanTap has an easy online process for loan sanction and fast disbursal within 24-36 hours.
What is the minimum age to apply for a LoanTap personal loan?
Ans. To apply for a personal loan, the applicant must be at least 21 years old.
How can I check the EMI amount for a personal loan?
Ans. To check the EMI amount, use the LoanTap EMI calculator to know the exact amount that you will have to pay monthly for loan repayment.
Apply Using WhatsApp