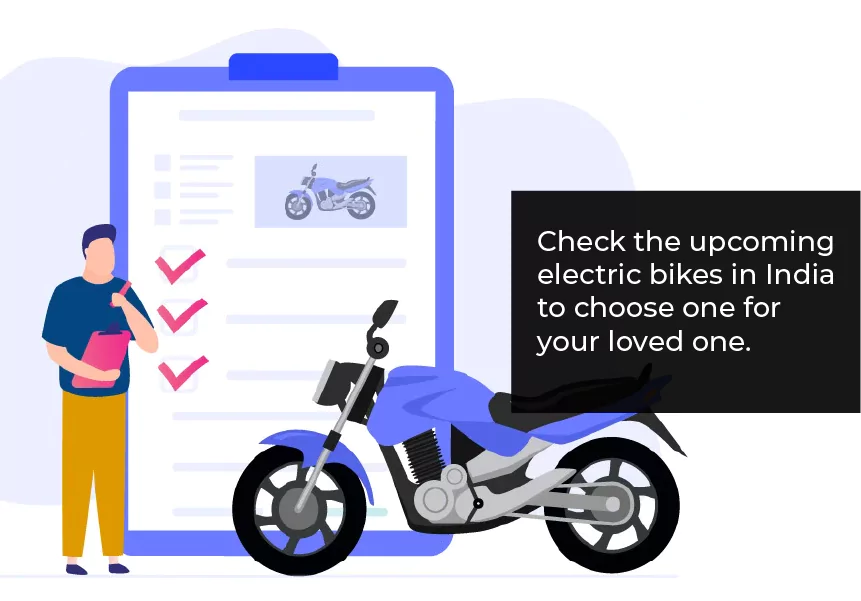 Published on : September 26, 2022
Electric bikes are the future of personal mobility and a whole range of new electric bike models are set to be on the market in the near future. Given their cost effectiveness and eco-friendly nature, it is a given that more and more consumers will opt for these bikes as they offer a clean and green ride with low maintenance. If you are looking for a new electric bike in India for your loved one, here is a compilation that you can refer to for making an informed decision.
Bajaj Chetak – It comes from the house of Bajaj with a sleek, seamless design and steel body panels that can last for years. You can locate your bike, and receive notifications and updates on your Chetak app. It has a steel gear direct drive transmission with no belt. Bajaj Chetak is available in over 40 cities and has an ex-showroom price of INR 1,40,000 in Pune
Honda Activa Electric – It is expected to be launched later this year at an expected price of INR 1,10,000. With its smart design and long-life batteries, it is expected to be a steal at this price. They have tied up with HPCL to have battery swapping stations across the country.
Hero Electric AE-29 – This model comes under the Comfort series of Hero. It is a sharp and angular e-scooter with a sleek design, powered by a 1000W motor and a 48V3.5kWh lithium-ion battery. It can travel 80 km on a single charge. It is expected to launch soon at an expected price of INR 85000.
Hero Electric AE-3 – This is expected to launch by the end of 2022 at an expected price of INR 1,50,000. This new electric bike has a gyroscope-enabled auto balance parking feature that allows the bike to stay upright when not in motion. This model includes several advanced features like a digital instrument cluster, mobile charger, walk assist, reverse assist, app connectivity, real-time tracking and geo-fencing plus a 5.5W electric motor and a 4kWh lithium-ion battery pack. It can go up to 100 km on a single charge. It takes around 5 hours to charge the battery pack fully. It is the best bike in its class in the country.
Hero Electric AE-47 – This new variant from Hero is expected to be on the road by December 2022 at an expected price of INR 125000-INR 150000. It is a compact model with a round LED headlamp with a body-coloured bezel and a tiny visor on top. It is stylish with a sporty character. It has inverted telescopic forks and a mono-shock along with disc brakes at both ends. It is powered by a 4kW hub motor delivering a top speed of 85kmph and has a 3.5kWh lithium-ion battery that can be fully charged in 4 hours. It also has fancy features like a fully digital instrument cluster with Bluetooth connectivity with full-LED lighting, GPS and support for SIM cards, cruise control, geofencing and more.
Suzuki Burgman Electric – This model is expected to be launched next year at an expected price of INR 120000. Details of the model are not available right now.
TVS Creon – The TVS Creon from the TVS Motors stable is expected to launch in December at an estimated price of INR 120000. It has sharp features and an angular design with a segment-first perimeter frame. It boasts of a fully digital instrument console and LED lights. It has three lithium-ion batteries along with an electric motor with 16.31 PS of peak power. It can deliver 80km on a single charge. What's more, the battery can be recharged up to 80% within an hour. Regenerative braking is also available. Advanced features like cloud connectivity, multiple riding modes, GPS, park assist, safety and anti-theft.
Okinawa Cruiser – The Okinawa cruiser is expected to be launched in March 2023 at a price of INR 90000-INR1,00,000.It is a stylish maxi scooter with a bold front apron holding a large LED headlamp and turn indicators. It has a spacious stepped seat, a pulled-back handlebar and cruiser-like foot rest which promise a comfortable ride. It can do up to 120 km on a single charge. It has a 4kWh lithium-ion battery which powers a 3kW motor. It has fancy features like anti-theft alarm, keyless ignition system, geo mapping, mobile charging, USB port and motor walking assistance.
Financing from LoanTap
Buying a new electric bike is so easy when funds are available. LoanTap offers convenient electric bike loans up to INR 2,00,000 that can be repaid in instalments over a period of twelve to thirty six months. If you are an Indian citizen or resident over the age of 21 years and earn a net monthly income of over INR 30,000, you can apply for a loan from LoanTap.
All you need to do is download the LoanTap app on your mobile and fill out an online application with the required information. You will need to upload the following documents-
PAN Card
Aadhaar Card
Salary slips for latest month
Bank statements for the last three months
Once you do this, the system will process your application. If all documents are good, the loan will be approved and the sanction letter issued within 24 hours. You can use this to buy the electric bike of your choice at the showroom near you.
Conclusion
Electric bikes are the future of mobility in India. You have a plethora of options to choose from. You can pick any of the bikes mentioned above when they are available and not regret your choice. LoanTap offers a fully digital and seamless process that goes from start to finish in 24 hours. If you get easy financing that can be repaid over the agreed tenure, isn't it prudent to go for the latest models that will soon be available so that your loved one can enjoy a premium riding experience that doesn't harm the environment? Why wait? Download the LoanTap app today. Switch to a new electric scooter today.