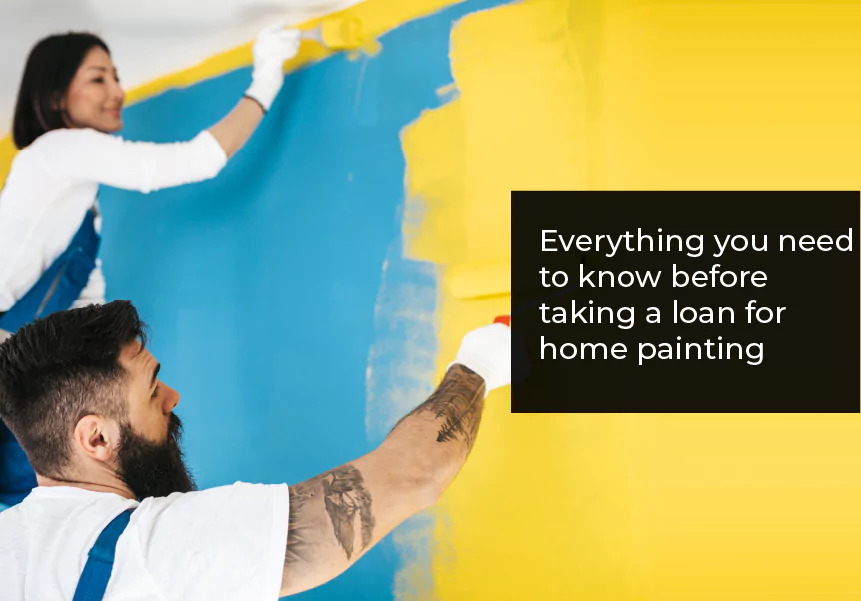 Published on : October 03, 2022
Painting involves a lot of painstaking work and can run into a couple of months. However, it is an activity that people undertake every couple of years. It gives the house a new look and makes it bright and cheerful. People prefer to have their homes painted during festivals or when there is a special occasion in the family. It can be an extensive task and depending on the size of your home, it can cost you a pretty penny. Sometimes you may need to get the work done due to an important occasion coming up but you may be short of funds. Under such circumstances, a tailored loan can be arranged from LoanTap that can solve your problem immediately.
LoanTap offers online personal loans for home painting from INR 50,000 to INR 10,00,000 for tenures ranging from six months to sixty months at competitive rates. So what are these personal loans that everyone is talking about?
What are personal loans for home painting?
Personal loans are unsecured loans which means you don't need to pledge any assets as collateral. You can take the loan for your short-term needs and repay it over the agreed tenure.
Can anyone apply for a personal loan?
To apply for a personal loan, you need to meet certain eligibility criteria-
You need to be an Indian citizen or resident
You must be over the age of 21 years
You should have a minimum net monthly income of over INR 30,000
If these conditions are met, you have crossed the threshold to apply for the personal loan from LoanTap.
What is the process to apply for a LoanTap loan?
The process is very simple. All you have to do is download the LoanTap app on your smartphone and fill out an online application. You will need to upload the following documents
PAN Card
Aadhaar Card
Bank Statement for the last six months
Salary Slips for the last three months
Once this is done, you can relax while the system processes your application. If your documents are in order, your loan is approved and your funds will be credited to your bank account. The entire process will not take more than 24-36 hours.
You can pay off the entire loan after six months without any prepayment penalty. You can choose from one of the following flexible payment options for your EMIs-
EMI Free Loan – This option allows you to pay only the interest component of your loan as EMI while the principal amount can be paid in bullet payments on a quarterly or half-yearly basis. This helps to reduce the cash outflow by 40%. This is ideal for those who receive bonuses or variable incentives on a periodical basis.
Term Loan – This is ideal if you earn a regular salary. You can pay both principal and interest as EMI. This is the normal payment option chosen by most borrowers who prefer a uniform outgo every month.
Step -Up Loan – You can use this option if you wish to have a reduced burden in the initial months. You can pay only the principal component for the first three months after which normal EMIs can commence.This is ideal if you need some breathing space while undertaking a home painting project.
Overdraft Loan – When the total amount of expense is uncertain and it is incurred on a staggered basis, it makes sense to choose an overdraft loan so that you can pay interest based on actual withdrawal and usage.
Benefits of a personal loan
Seamless process – The process of getting an online personal loan is digital and seamless. It is so simple that anyone who is eligible can complete the process and get a personal loan easily.
Cheaper than credit card – It is cheaper to opt for a personal loan instead of using a credit card as the interest rates are very high at 2.5-3% per month.
No paperwork – There is no paperwork required as the process is digital. Apart from an online application nothing else is required.
Instant disbursement – Online personal loans are disbursed within 24-36 hours unlike traditional loans which may take over a week.
24/7 availability – Online app-based loans can be processed around the clock as it is fully automated. This is a clear advantage over traditional loans which are bound by limitations of weekends and public holidays.
Wrap Up
Getting your home painted can be a big project involving time, effort and money. Reduce the burden of arranging funds by leaving it to LoanTap. LoanTap offers tailored loans that are perfect for your requirement. What's more, you get the money in your account within 24-36 hours without moving from your comfortable recliner. Gone are the days when you had to stand in queues, fill up multiple forms and pay numerous visits to the bank and the photocopier before you got your funds within a week or ten days. The entire process is now available literally in the palm of your hand. Download the app today.