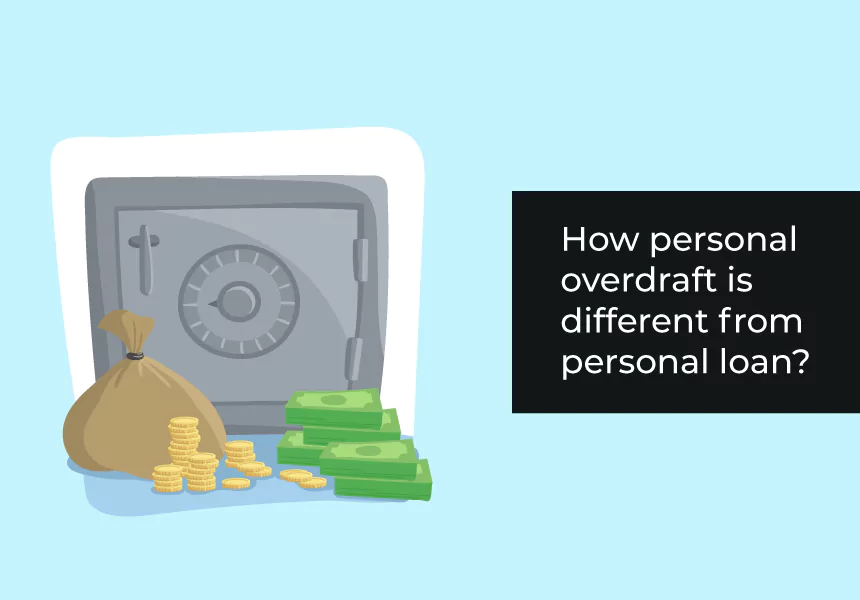 Published on : February 16, 2022
You may have heard both terms personal loan and personal overdraft being used in short term financing and wondered if they are the same or different. Honestly, while both are financing options, the similarity ends there. They are as different from each other as chalk and cheese. Let us delve into the similarities and differences.
What is a personal loan?
A personal loan is an unsecured collateral-free loan that is offered by lenders to borrowers who meet the minimum eligibility criteria and have a reasonable credit score. This can be used for any legal purpose that need not be defined and can be repaid in fixed EMIs over the agreed tenure.
What is a personal overdraft?
A personal overdraft is a credit line facility offered to you by the lender for a predetermined amount which can be withdrawn in full or in part as and when required. Depending on your need you can utilize the amount needed and payback with interest for the actual period of utilization.
How are personal loans and personal overdrafts similar?
Personal loans and personal overdrafts are short term financing options. You get a predetermined amount defined by your financial profile in both cases. Both need to be repaid with interest. LoanTap offers both personal loans and personal overdrafts with no collateral.
Then why can't we use the terms interchangeably? Let's find out.
Repayment in EMI
While personal loans are repaid in equated monthly installments over the agreed tenure of the loan, personal overdrafts have no EMIs. In the case of a personal overdraft, the amount withdrawn has to be repaid with interest for the utilized period.
No Fixed Repayment Tenure
A personal loan comes with a fixed tenure that needs to be adhered to. A personal overdraft is an agreement for a predetermined amount without any defined tenure. So personal loans need to be repaid on a monthly basis while an overdraft can be repaid whenever a withdrawal is made.
Convenience
In the case of some expenses like house renovation or working capital expenses, you may not need the entire amount at once. In such situations, you are better off taking an overdraft facility. This will help you to withdraw based on your immediate requirement and pay interest only on the amount utilized. It doesn't make sense to withdraw the entire sanctioned amount and pay interest on it while utilizing a fraction at a time.
Ready access to Funds
With a personal overdraft, you have ready access to funds whenever you need them without being tied down to an EMI. This builds a sense of financial discipline as you will spend only as per your requirement and withdraw as needed. You won't have to apply for a loan on multiple occasions. Whenever you have an emergency, you can just withdraw money from the sanctioned overdraft.
How can we get a personal loan or personal overdraft from LoanTap?
Getting a personal loan or personal overdraft from LoanTap is fairly simple. The process followed is identical.
To get either facility you will need to meet the minimum requirements-
You are a citizen or resident of India
You are between 21-60 years of age
You have a net monthly income of over Rs 30,000
You have a reasonable credit score of at least 680-730
If you meet the above criteria, you can move on to the next level. Download the LoanTap app on your smartphone and fill out the application. You will need to provide details about your employment, income, loan /overdraft amount required etc. The identification and income proof documents will need to be uploaded. These include –
PAN Card
Aadhaar Card
Bank statement for the last six months
Salary slips for the last three months
IT Returns for last 2 years if self-employed
Once you complete this process, you can relax while the LoanTap team examines your application. If your documents are authentic and you have a decent credit score, your loan/overdraft will be approved. The entire process should not take more than 24-36 hours.
LoanTap offers personal loans /overdrafts from Rs 50,000- Rs 10,00,000 over a tenure of 6 months – 5 years. If you opt for the loan, you will need to withdraw the entire amount and pay it off in EMIs over the agreed tenure. In the case of an overdraft, you have the flexibility to withdraw as required and pay interest on the amount utilized for the actual period.
Getting short term finance is easy but it is up to you to determine what suits your need and choose accordingly. A personal overdraft will ensure some discipline as you will withdraw only as per need. In an emergency, both personal loans and overdrafts will serve the same purpose.
Short term financing removes the stress of being short of funds when you need them. It could be for various purposes such as-
Medical emergency
Dream vacation
House Renovation
Course fees
Fancy gadgets
Electric vehicle
Working capital needs
Credit card debt consolidation
Use the personal finance tools as a friend in need and you can resolve short term funding issues easily. They work out much better than credit cards. A personal overdraft facility is as good as a credit card at half the interest rate. This will help you to meet your needs on time without having to pay monthly interest at 2.5-3%.
To know more about these smart products that are available in a quick, efficient and paperless mode, you can download the LoanTap app today or visit https://loantap.in/ .