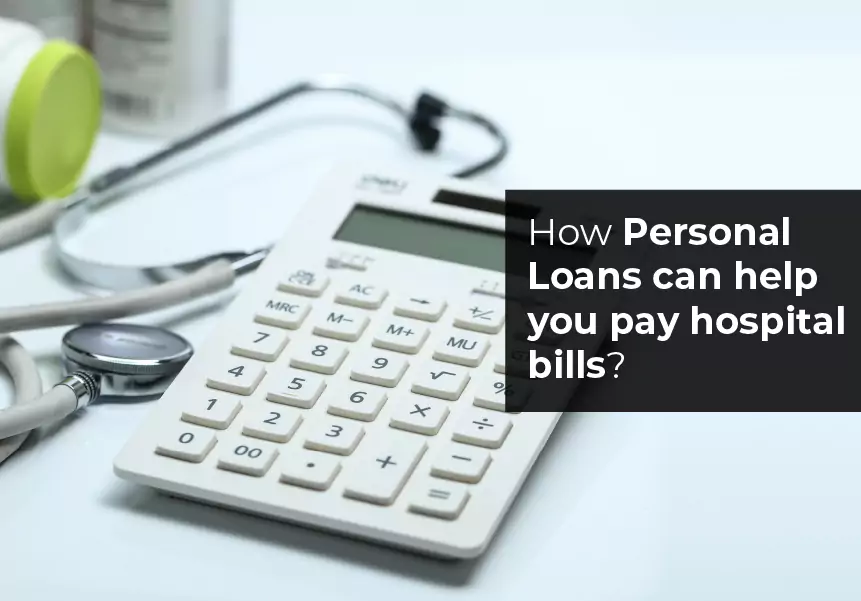 Published on : July 09, 2021
Life is full of surprises, both pleasant and unpleasant. While we look forward to spending money on interesting things, like buying a new gadget, booking a dream vacation or making that valuable investment, life can spring a nasty surprise by presenting us with a medical emergency. It could be you or anyone in the family but it does come as an unwelcome event that you cannot avoid.
Apart from the mental stress, an unexpected medical emergency also creates a financial emergency. What if it is the end of the month or you have just had major expenses that have exhausted your savings? How do you go about arranging the funds on short notice? These are expenses that cannot be procrastinated. How do you deal with the mental stress such a situation creates? Not everyone has medical insurance and not all procedures are covered by it, either.
Under such circumstances,
It is important to stay calm and think through carefully
Do a reality check of your current finances
Figure out approximately how much fund you would need
Resist the temptation to swipe the credit card
Check out a few lenders on the internet
Go for a medical personal loan
If you are wondering how a medical personal loan can help, we will explore the option in detail.
What is a personal loan?
A personal loan is an unsecured loan provided by lenders which means you do not need any collateral. This makes it extremely convenient for a lot of people to avail of loans. The simple eligibility criteria demands you to be an Indian citizen and resident over twenty-one years earning a monthly income over Rs 30,000.
What are the features of a medical personal loan?
Well, at LoanTap, we understand the unpleasant time you are going through along with your family. We try to make things very simple for you. All you need to do is
Fill up an online application form
Upload the following documents

PAN Card
Aadhaar Card/ Driving Licence/Passport
Salary slips of the last three months
Bank Statement of Salary Account for the last six month
The welcoming team at LoanTap will evaluate your application. If everything is found in order and you have a decent credit score, you can expect the loan to be disbursed within twenty-four hours. Yes, you got that right ! You can actually get the entire process completed in a day.
At LoanTap, we give you personal loans from Rs 50,000 to Rs 10,00,000 for a tenure of six months to sixty months. Interest rates start at 18% per annum. We are offering special features on our medical loan. Borrowers are allowed to pay the interest component only for the first three months and they can pay the normal EMIs from the fourth month onwards. This gives you some breathing time before you settle down into the normal EMI routine.
What are the benefits of taking a medical personal loan?
The benefits of availing of a medical personal loan can be discussed under the following heads –
Instant approval
Cheaper than credit cards
A monthly budget can be planned
Interest-only EMI for the first three months
No hidden charges
No prepayment penalty after six months
Instant approval
Medical personal loans can be processed really quickly. From start to finish the process takes only twenty-four hours. This is the reason why this personal loan product is so popular. It is becoming a very viable alternative to credit cards.
Cheaper than credit cards
Credit cards are useful only if you can repay the amount in full within the standard credit period which is around a month. After this grace period interest is charged at over 2-2.5% per month which works out to 24-36% on an annual basis. Compared to this, a personal loan is more affordable, at 18% per annum.
A monthly budget can be planned
Unlike a credit card that needs to be repaid as soon as possible, you can pre-decide the tenure within which you will repay the personal loan. This will help you fix your monthly budget according to your EMI.
Interest-only EMI for the first three months
LoanTap offers interest-only EMI for the first three months for a medical personal loan. This allows borrowers to get a breather before they start paying the normal EMIs.
No hidden charges
What you see on the website is what you get. There are no additional charges or fees at LoanTap other than what is mentioned. We believe in a transparent policy and ensure that our customers know what they are getting into.
No prepayment penalty after six months
At LoanTap, we include a foreclosure clause which states that if you service the loan for six months, you can prepay the loan thereafter in whole or in part without any prepayment penalty.
Life can be unpredictable but we should learn to handle the situation prudently. It is very easy to get into a financial muddle but quite difficult to get out of it. So, it is important to employ the right option at the right time. Staying calm in such a situation and finding the right solution to your cash crunch is very important. At LoanTap, we understand your situation and your need for a quick and friendly solution. Reach out to us and we will help you pay your hospital bills without any hassle!
Related Article – How personal loans can help you fight financially against covid treatment costs?