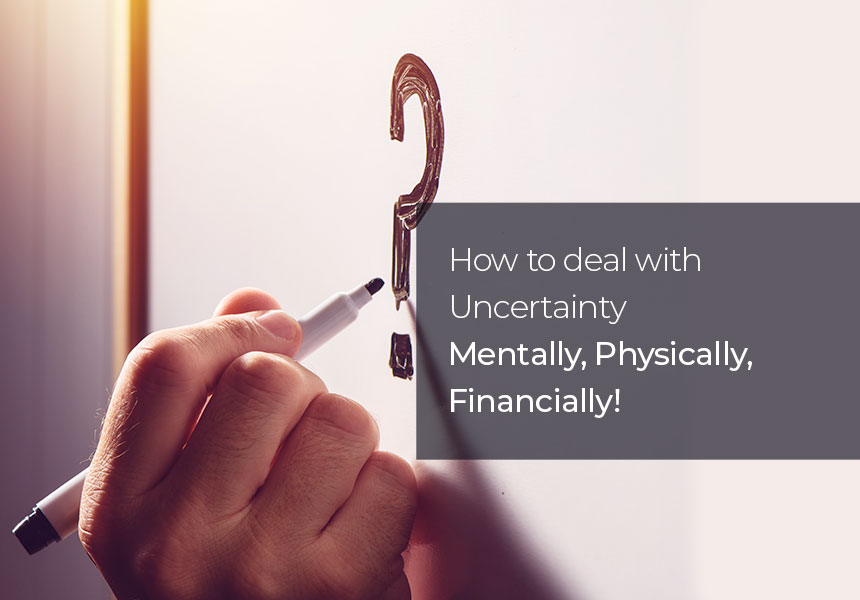 Published on : April 14, 2020
As the pandemic, COVID-19 has cautioned everyone to stay back home, it has led to a total lockdown affecting not only the economy but also our emotional and mental health, which may make us feel a little less in control.
While we juggle with the dual responsibilities of managing home and work from home, we may, at times, feel less productive and often directionless. Also, the pressure and uncertainty with regards to job safety and financial stability may take a toll on us, which can have severe psychological effects as well.
Thus, it is important to lift ourselves out of the gloom and help ourselves be mentally and physically fit. During this period, it is vital for us to use time constructively and engage in activities which lead to a more productive and fruitful environment inducing positive thoughts. It is also essential to stay calm and act wisely taking necessary actions at the right time. While most of us have already set some t routines in place, let us see what we can do further to make our time worth the while and make the most of the #StayHomeStaySafe scenario without letting it consume you.
Here's how you can do so –
Stability and Consistency
This is basically following a set routine like waking up at a certain time, eating at a certain time and so on. It refers to concentrating on our routine and rituals to help us feel that we have things under our control despite the uncertainty around us giving us an impression that things are spinning out of control. Not to forget, a fixed routine will ensure ample time for work, hobbies and leisure.
Accept Feelings
Embracing feelings is another major way to feel positive. It is okay to have a negative feeling crop up, such as stress or worry in times of trouble like these. Well, we should all remember that no one is in this alone, we are all in it together, sailing in the same boat. If you're find it hard to accept this scenario and it's taking a toll on your mental health, here's how you can cope up with it. It is recommended not to watch live news all the time which can be taxing. It is good to be updated with the current affairs; spending a maximum of half an hour watching or listening to live news should be sufficient to grasp the know how's you need. On the other hand, spending too much time on social media isn't a good idea either. As we are aware there could be rumours prevailing all around in such sensitive situations, which would only add to the despair. Afterall, the less unnecessary content you consume, the better this will be on your mental well being.
Exercise
In regular days, we have a list of excuses lined up to not burn that excess fat and get in shape. Most of us spend time travelling to work and working at office of course; and the remaining time we spend sharing your experiences during the day with your loved ones, often during meals and then you call it a day. We see this monotony prevail from dusk to dawn and we ignore the things we find less important. Exercise not only helps us get physically fit but also prevents many health problems and boosts immunity, mood and mental health. The best part here would be, you cannot excuse away as you know you are home and so adopting a healthy habit would prove to be your best bet.
In case any of you are wondering what fitness regime to follow without the guidance of a professional trainer, this is not even close to be a hindrance. There are multiple fitness influencers online that have shared their expertise in form of a video, that too free of cost. You may pick out basic cardio lessons or yoga and meditation. Dedicating as less as 30 minutes of your morning to fitness will enhance your productivity and you are all set for the day!
Pursue your Hobbies
Amid all the despair, you'll realise you've been given the gift of time, giving you an opportunity to pick up those hobbies or skills which you don't perform due to work load on regular working days. We often prioritise work, leisure, outings and hobbies leave the forefront of your routine. Pursuing our hobbies not only helps in keeping ourselves occupied but also to touch aspects of creativity that we don't get to revisit when we are engrossed in our daily routine. Art forms like painting, playing an instrument, cooking definitely lead to positivity and joy in our lives. So, pick up a new hobby or revisit an old one to engage yourself in a creative manner.
Encourage psychological wellbeing
Introspection – According to psychological terminology, this refers to examining and observing your own thoughts and feelings both mentally and emotionally. Ways to go about this would be – by writing down what's troubling you and what you can do to improve the situation, practising self-care activities, allowing yourself to take a break from what's bothering you and practising positive self-talk.
Catharsis – Another such term, it refers to venting out your feelings or an emotional release. It could be a feeling of happiness, grief, excitement or any other such emotion. This can be achieved by either talking to someone about it, writing it down or by meditating. This process helps make peace with your thoughts.
Upskilling
Working out what our strengths are, and then playing to them, can give us more confidence in times of uncertainty. Upskilling means to learn an additional skill. These can be ones that even complement your career or even those skills that support your hobbies. Many online websites offer courses both certificated and non-certificated at minimum or free costs. Why not utilise this time to upgrade to 2.0 version of yourself!
Financial Planning
What we often neglect is keeping our finances in order all through-out the year. As the economists point out, the economy could witness a further down trend. Amidst this entire scenario, it would be wise to align our finances and prepare to withstand the forecasted situations without letting it dent our pockets.
Here are a few ways to deal with financial uncertainty:
In light of the current economic scenario, it is a wise thing to take account of your cashflows. You must plan a budget keeping in mind all the necessary expenses that you may incur in the upcoming weeks or months. Chalk out how you would dispense funds towards these necessary events.
Avoid making any purchases or expenses towards any luxurious commodities. You must try as far as possible to keep funds available for the need-based requirements. The priority, in terms of expenses, must remain on food, clothing, shelter and the debts that are backing up the security of such essentials.
You must save whatever bit you can to be ready for any medical emergencies that may arise.
In case you have any on-going loans, it is advisable to service them at priority. With RBI's announcement (27th March, 2020) of the 3-month moratorium on EMI payments against the debts, most of us might want to reap the benefits despite of having less or no financial stress. However, despite of being befitted with the leeway of the moratorium not impacting the CIBIL score, if you choose to defer your EMI payments for 3 months, you would have to pay a cumulative payment of 3 months interest along with the respective month's outstanding instalment. That would result in a huge sum to be paid and could be difficult to afford in such uncertain conditions. Also, if you end up defaulting in the 4th month, it would surely impact you credit score to a major extent. Thus, you must pay your debts every month so as to not bear the brunt in the 4th

If you seem to ne uncertain about your upcoming pay check and have insufficient funds to meet the ends, you must consider looking for additional sources of income. Having a look out for opportunities online for tutoring subjects of your expertise or a musical instrument or even things like blogging for third party firm. Other opportunities may also include fitness training or freelancing based on your skills. This would provide an additional income so as to sail through the month and meet the needs of your loved ones.
All in all, we must deal with such uncertain scenarios with a positive mind. We should believe in the phrase – Whatever happens, happens for the best and look forward to better times.