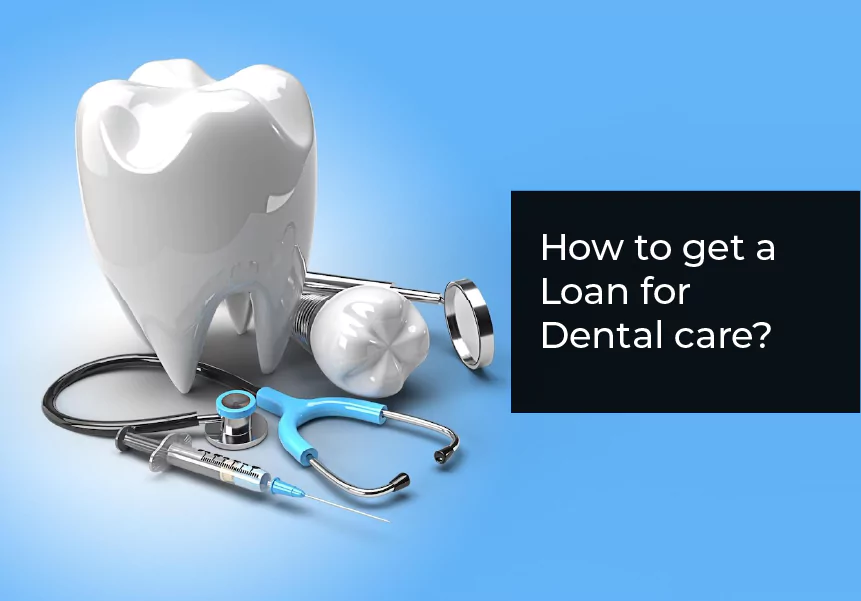 Published on : October 01, 2022
Need braces? Root canal treatment? Cosmetic dentistry? Dental expenses can cost a bomb and what's more, a toothache is simply unbearable and treatment cannot be put off for later. Dental issues cannot be delayed and they can definitely be a drain on your wallet. The best solution under such circumstances is to opt for a personal loan for dental care and pay it off in EMIs over the agreed tenure of the loan. If you are wondering who offers loans for dental care, LoanTap is ready to provide you with tailored dental care loans that can help you take care of your pearlies comfortably.
What is a dental care loan?
A dental care loan is a personal loan offered for the short term to manage dental expenses. It requires no collateral i.e. no assets need to be pledged against the loan. This makes it a convenient choice if you are going in for expensive dental treatment. It would be way better than swiping your piece of plastic. So, let's look at what makes a dental care loan from LoanTap a sensible option.
Who can get a Dental Care Loan from LoanTap?
To get a dental care loan from LoanTap, you will need to meet some eligibility conditions –
You need to be an Indian citizen or resident
You must be over the age of 21 years
Your minimum net monthly income should be at least INR 30,000
If you meet these criteria, pat yourself on the back as you are a step forward to getting a dental care loan from LoanTap.
What is the process for getting a Dental Care Loan?
It's very simple to get a dental care loan from LoanTap, way easier than having your tooth removed!! All you have to do is download the LoanTap app on your smartphone and fill out an online application with the required information.
Now you will need to upload the following documents-
PAN Card
Aadhaar Card
Bank Statement for 3 months
Salary slips for 3 months
Once this is done, you can sit back and relax while the system processes your application. If all your documents are in order, your loan will be approved and the funds transferred to your mandated bank account. The entire process will be completed within 24 hours.
Flexible Repayment Options
LoanTap offers loans from INR 15,000 to upwards of a INR 2,00,000 or more which can be repaid over the agreed tenure between 6 months to 60 months at competitive rates. You can repay the same using any of the flexible repayment options mentioned below-
EMI Free Loan – You can use this option if your dental care expenses are in excess of INR 70,000. This gives you the flexibility of paying only the interest component on a monthly basis as EMI while the principal can be paid in bullet payments every 3/6 months. This reduces the monthly cash outflow by 40% and gives you better control over your monthly budget. This is ideal if you receive variable payments or incentives on a periodic basis.
Term Loan – This option is perfect if you are incurring dental expenses between INR 45,000-INR 70,000. You can pay the EMIs as a combination of principal and interest on a monthly basis. This is perfect if you have a regular income and prefer uniform outflows every month.
Step Up Loan – This is ideal if you have several members of your family undergoing treatment at once. You can get an interest holiday for the first three months after which normal EMIs can commence. You can get higher liquidity in the initial months which may help you with your budget.
Advance Salary Loan – This is an excellent option if you are going to incur dental expenses between INR 15000- INR 45000 but cannot wait for your salary to be credited. This is best in case of an emergency as you can pay it off over the next 6-12 months without any stress.
Benefits of an Online Dental Care Loan
An online dental care loan can solve most of your funding issues in a jiffy. Check out the benefits of this personal loan for dental care.
Instant disbursal – LoanTap disburses online dental care loans in less than 24 hours. Compare this to traditional loans. First of all, it is difficult to get tailored personal loans for specific needs. Even if they are offered, the turnaround time would be a week at least. Quick disbursal makes it very easy for borrowers.
24/7 availability– Online loans are available around the clock, unlike traditional loans which are limited by weekends and holidays. This makes it so convenient if you need a loan on the weekend.
Cheaper than credit cards – Of course, it is simple to swipe your rectangular piece of plastic at the dentist but be prepared to shell out 2.5-3% interest per month on the outstanding balance. It is much cheaper to avail of a dental care personal loan. So make a prudent decision if you are in need of funds.
No collateral – No assets need to be pledged to get a personal loan for dental care. This makes it very convenient for borrowers to get a loan easily.
No paperwork – Online personal loans don't require any paperwork. A simple online application will suffice. This is so different from the mountain of forms that you are used to filling up for a traditional loan.
Minimum Documentation – A traditional loan may require a lot of documents to be submitted while an online dental care loan simply requires a few documents(as above) to be uploaded.
Wrapping Up
LoanTap offers customised dental care loans for you to handle your fund shortage easily. When you are hurting from a toothache and can't think straight, it is best to opt for a tailored dental care loan from LoanTap on easy terms. You can pay it off in easy EMIs using one of the flexible repayment options. Next time you have a dental issue, don't put off the treatment because of the cost involved. Just download the LoanTap app today and say goodbye to your toothache.