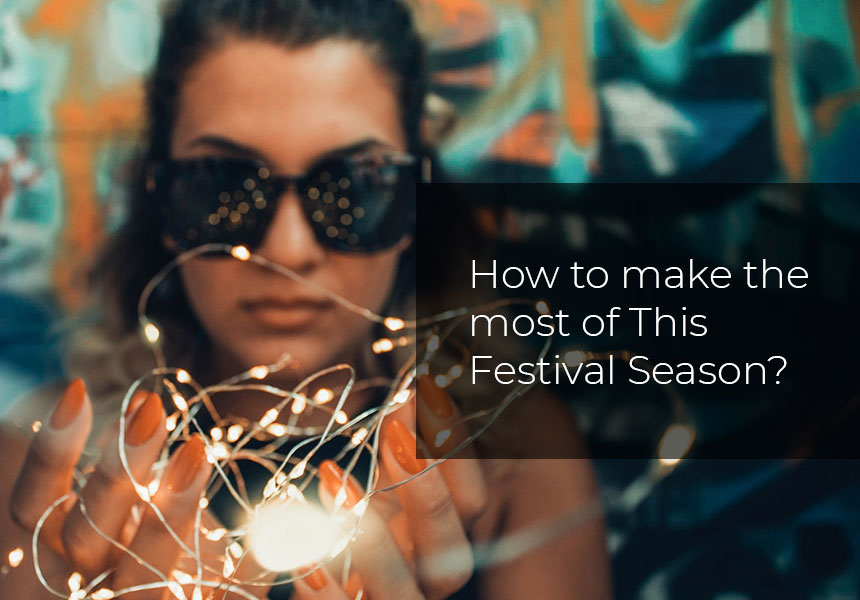 Published on : October 14, 2020
With the festive season being around the corner, the monotone of life seems to be coming to an end. Soon, in no time, we are going to be surrounded by lights, music, decorations, festive delicacies and other forms of celebrations.

Most of us have different plans for this time of the year, like home improvements, big purchases, vacation and more. Keeping that in mind, we have formulated some tips for you to ensure you get what you want without any stress. So, go ahead, make the most of this festive season!

1. Plan your Purchases
Most of us are looking out for offers during such occasions because we push all the purchases arising in the year for festive times and holidays. So all that's in your wishlist can come to reality now! Be it buying the best furniture, car or that gadget you much awaited, make a clear plan with items, defined budgets, priority for all your purchases beforehand. This will help you sync up your wishlist with the offers in a structured and timely manner.

2. Avoid spending with Credit cards
While obviously, we all are tempted to swipe our credit cards to fuel our dream purchases, that's probably not the ideal thing to do. While you may not want to dip into our savings for a big purchase, you certainly do not want to exploit your credit cards. Paying the minimum amount due on a Credit Card would invite high interest rates on unpaid amounts, which would unsettle your budgets in the coming months. The last thing we want is to get piled up with outstanding bills post the festive spends! You can instead go for a better option with lower interest rates, such as a short term loan to fund your purchases.

3. Celebrate with Family
Many of us are away from home the year round for work or business. You must take a few days out from your schedule and plan the celebrations with family. Shower them with love and surprise them with gifts this festive season. There are special loans like Holiday Loan which are suitable for covering all your expenses, be it flight, shopping or that special gaming console your little brother is looking forward to. These loans often come with a Step-Up repayment plan, where you need to pay smaller amounts in initial few months, followed by fixed EMIs. This way, you can keep your savings intact as well as have a good time with your family, without worrying about high EMIs.

4. Give your Home a Makeover
Be it giving your home a new colour or renovating that one cozy corner that you always dreamed of, this is the right time to refurbish your home into a dream home. You can check out various home improvement ideas and plan a makeover with a combination of DIYs as well as new purchases. This will certainly ignite the spirits of the festival ! And if you are worried about how to fit everything into a budget, a House Owner Loan can come to your rescue and help you paint your house in the color of your dreams.

5. Say No to Fireworks
Instead of spending your hard earned money on firecrackers that blow up in fractions of seconds, choose a surreal type of celebration this year. Opt for soft lights in and around your homes or use candles or diyas as a part of your decor. These certainly add to the elegance of your decor without any unpleasant sound and pollution of course! Go green this Festive season!

'Happiness doesn't result from what we get, but from what we give' This holds true even more so, during festivals! While we all await this time of the year to gift happiness to our loved ones, here are a few gifts that you can take home for you and your family!
List of Things you can gift your loved ones this festive season

Gadgets
You can choose from a variety of gadgets like Laptops, smartphones, Television/Home theatre, Gaming console etc., depending on who you choose to make the purchase for. There are a plethora of new gadgets that suit the needs of people regardless of the age.

Vehicle
If you have been waiting for an auspicious occasion to make this big purchase, this is the right time! You can gift yourself or your loved ones the luxury of a new vehicle. Be it a four wheeler car, an upgraded SUV or a brand new two wheeler, a vehicle is the best gift for your family. In case you want a unique gift for the millennials in your family, you must certainly go for an affordable e-bike. What is better than planning a purchase that fuels your future savings!

Kitchen appliances
Appliances for the Kitchen are one of the most used commodities in every home. You can purchase a new microwave oven, a dishwasher or even a smart refrigerator! With a variety of appliances available in the market, you can gift your loved ones the comfort and means to enhance their cooking and dining experiences.

Property
With the onset of such auspicious occasions it is the right time to purchase that home you had an eye on! You could also choose to invest in a plot or a commercial premise as an additional investment for the financial security of your loved ones.

Others
If you have a list of people you want to send gifts to, you can opt for various accessories, like watches, jewelry, holiday packages, work from home setup etc. It is a tradition to purchase Gold on certain occasions in the festive season too!
How to fuel your festive spends without straining your pockets?
While you have a list of purchases lined up, you certainly do not want to dent your savings in the process of fulfilling your wishlists! We are all on the lookout for offers and big saving budgets! However, despite the offers, the total invoice may not be too pocket-friendly.. So, how should you make these purchases without compromising on your budgets and leaving your savings untouched?

Once you know the total cost of all the expenses and purchases lined up for the festive season, you can avail a personal loan for the said amount! Using a personal loan to fuel your purchases is a better deal than using credit cards. How? Well, Interest rates on Personal loans are almost half of what is charged generally by credit card companies or banks. Also, you have the option to choose from the variety of repayment plans so as to incorporate the EMI amount that suits your pocket.

LoanTap's personal loans come loaded with features such as – an easy online process and minimum documentation. We also provide various offers that help you choose the repayment plan that best suits your monthly cash flows. This way, you needn't compromise on your festive purchases but also enjoy half the interest rates and No hidden charges! Happy Festive Season to you !

Apply for Instant Personal loan Now!