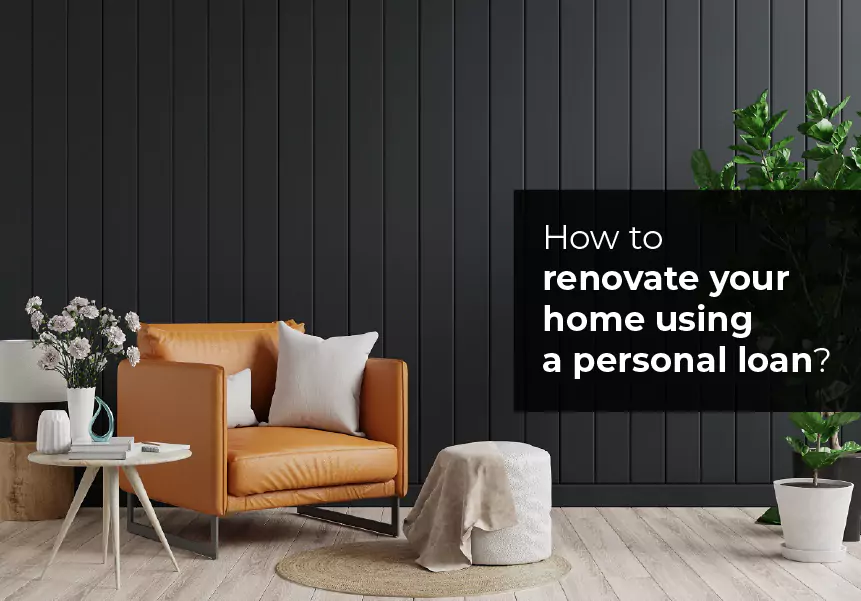 Published on : July 14, 2021
You have bought a new home or you are looking to renovate the existing one. You do not want to dip into your savings. What is the best solution for you? There is no need to fret at all. Several lenders like LoanTap understand your needs and have created tailored products to meet your requirements. Renovating your home is a good expense that gives you value and satisfaction over a long period of time. What would be the best way to use a personal loan for home renovation? What pointers do you need to keep in mind?
Here are some points to consider before you avail of a personal loan for home renovation –
Draw up a complete plan
Compare prices and go for the best offers
Tighten your monthly budget
Use the personal loan EMI calculator
Apply for the personal loan
It is important to bear in mind the above factors to make the most of a personal loan. Taking a personal loan is easy. Optimising a personal loan to meet your needs requires discipline and prudence.
Draw up a complete plan
When you are doing up your home, it is best to have a complete plan at the start of the project. Else you will end up exceeding your budget. Have a list of what changes you need to make and the approximate cost.
Compare prices and go for the best offers
In today's data-driven world, all the information you want is readily available at your fingertips. Check the offers available and figure out the best prices at which you can get everything you need.
Tighten your monthly budget
When you are working on home renovation and planning on taking a personal loan, it would be prudent to tighten your monthly budget and cut down on unnecessary expenses. When you cut out the discretionary spending, you will be surprised at the amount of cash you can release. This would help you to fit in the monthly EMI on account of the personal loan.
Use the Personal Loan EMI calculator
Before you decide to go for a personal loan, you should use a personal loan EMI calculator. Based on the plan you have drawn up, you have a fair idea of the amount of loan you need. The interest rate is determined by the lender. At LoanTap, interest rates start at 18% per annum.
What remains is the tenure of the loan. You can adjust the tenure of the loan on the calculator to work out the optimum EMI that works best for you and fits your monthly budget. You are better off picking the longest tenure available as it will reduce the size of the monthly EMI. You can prepay the loan after six months when prepayment penalties are no longer applicable.
Apply for the Personal Loan
Once you have completed the steps mentioned above, you are ready to apply for a personal loan. The eligibility criteria for personal loans are very simple. If you are an Indian citizen or resident over the age of twenty-one years with a net monthly income of over Rs 30,000, you are eligible to apply for a personal loan.
All you need to do is to visit the LoanTap website and fill up a simple online application and upload the following documents –
PAN Card
Aadhaar card/Driving license/Passport for proof of residence
Salary slips for the last three months
Bank Statement of the Salary Account for the last six months
The friendly folks at LoanTap will evaluate your application, check the documents, obtain your credit score and check other parameters. Once everything is found in order, your loan will be approved and disbursed. The entire process is completed within a day.
LoanTap offers loans from Rs 50,000 to Rs 10,00,000 for a period of six months to five years.
Why is a personal loan so popular?
A personal loan has several positives going for it –
No collateral
Personal loans are unsecured loans and that is the most attractive feature. This makes personal loans accessible for those who are just starting off on a career and do not have assets to put up as collateral.
Instant approval
Unlike other loans, personal loans are processed within 24-36 hours which makes it an extremely convenient finance option. In case of an emergency personal loans are a better alternative compared to swiping a credit card.
Cheaper than credit cards
Credit cards charge over 2-2.5% per month on outstanding balances which works out to a whopping 24-36% on an annual basis. Compare this to a personal loan that is around 18% annually and you will see how much money you can save.
No prepayment penalty after six months
Once you have serviced the loan for six months, you can prepay the loan in part or in full without any prepayment penalty. You can check this clause in the loan agreement before you sign it. You can use any surplus funds, a bonus or a salary increment to prepay the loan and reduce your interest outgo.
Long tenure
You can choose a tenure between six months to five years. It gives you sufficient flexibility to plan your EMI at your convenience. Once you have paid the EMI for six months, you can use any additional funds that you may come into to pay off the loan without any charges.
No hidden charges
At LoanTap, what you see is what you pay. The process is extremely transparent and there are no extra charges.
As you can see, you can use a home renovation loan quite conveniently to finance your home renovation project. Planning ahead will help you to get more out of your personal loan and maximize your advantage. Exercising financial prudence is important to get the best bang for your buck. Whatever be your need, we are just a few taps away. So, what are you waiting for? Give your house a brand new look by using a LoanTap tailored personal loan.