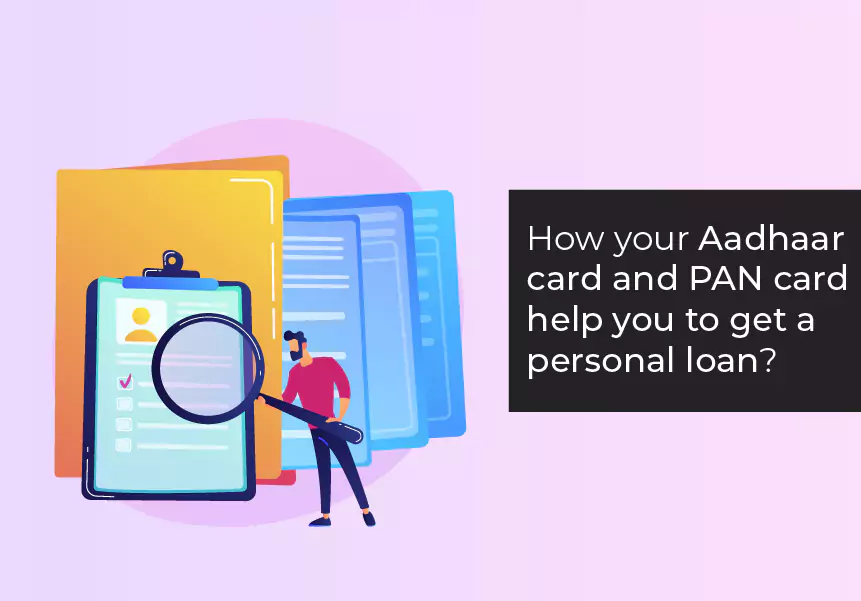 Published on : July 06, 2021
How many times have you looked at some gadget and wished you owned it? Or looked at that dream vacation package and wondered when you would get a chance? It could be a medical emergency or education expenses that need to be paid immediately. If you face a cash crunch, you need an instant solution. Well, a personal loan is indeed a panacea for short term financial problems. It can provide you with a stop-gap arrangement while you get your things in order.
The need for funds is universal. It could be for any reason but you may be in urgent need of funds. You may not be having any assets to pledge as collateral. You may not be in possession of a credit card, either. Don't fret. If you have a PAN card and an Aadhaar card, you may still be able to get a personal loan. So, hang in there and explore the options available.
A personal loan is an unsecured loan which makes it most attractive to young borrowers who are just a year into their jobs. All they need is a regular job with a consistent salary. The convenience of a personal loan is in the ease of the process and the speed of execution. The documentation required is minimal and the eligibility criteria are basic.
Who is eligible for a personal loan?
At LoanTap, any Indian Citizen or resident over the age of twenty-one and earning a monthly income of over Rs 30,000 is eligible to apply for a personal loan.
What are the documents required?
You will need to fill in the online application and upload the following documents –
PAN Card
Aadhaar Card/ Driving Licence/Passport
Salary slips for the last three months
Bank Statement of salary account for the last six months
What is the significance of PAN and the Aadhaar Card?
As you can see both the PAN card and the Aadhaar card play an important role in a personal loan application. The PAN card is needed to track all financial transactions while the Aadhaar card serves as proof of identity and residential address. The alternatives to the Aadhaar card are a passport and a driving licence. While not everyone would be having a passport or driving licence, having an Aadhaar card is mandatory. If you are in the possession of a valid PAN and Aadhaar card, applying for a personal loan is extremely simple.
In today's world, getting a PAN card and an Aadhaar card when you start earning is mandatory. It opens the avenues for credit to you. A credit score starts getting calculated once you complete six months. Without a PAN and Aadhaar card, you will not be able to –
Open a Bank Account
Open a Demat/Trading Account
Get an Insurance Policy
Apply for a credit card
Apply for any loan
Execute high-value transactions
What are the benefits of a personal loan?
At Loan Tap we offer short term loans from Rs 50,000- Rs 10,00,000 for a period of six months to five years. Interest rates start at 18% per annum.
You do not need a specific purpose
A personal loan can be taken for any purpose as opposed to a vehicle loan or a home loan. It has been kept that way so that borrowers have the flexibility to use it for any purpose they want.
You can choose your tenure
Once you have decided on the amount of loan and check out the best rate available, you can decide on the tenure to adjust the EMI you are most comfortable with. The longer the tenure, the lower the EMI but you will have a higher interest outgo. You can pick the EMI that is best suited to your monthly budget and cash outflow.
You can prepay after six months
At LoanTap, you have the flexibility to foreclose the loan without any prepayment penalty after you service the loan for six months. This ensures that you can opt for a longer tenure in the beginning and pay off after six months if you come into extra money somehow.
Flexible Repayment Options
You can choose a repayment plan that is more convenient for you. You can opt for an interest-only EMI where you repay the principal in bullet payments. You can choose a step-up repayment plan where you pay only the interest for the first three months and the balance in fixed EMIs. This is convenient if you are going for a wedding or medical loan.
Whatever be your financial need, you can always apply for a personal loan if you have a PAN Card and an Aadhaar Card. Ensure that you have these two cards and the world of credit will be open for you. The process is simple and it is really quick. The entire process takes 24-36 hours which is awesome.
Next time you see that great sale going on or the perfect house has come up for rent and you need to put down a deposit, you can just visit the LoanTap website.
You can do the same if a wedding is in the offing or you need to renovate your home or you have a sudden medical emergency.
Life comes with unexpected twists and you may not always be fully prepared for it. Whatever be your need, we are just a few clicks away! Go ahead, grab your PAN card and Aadhaar card and find a solution to resolve your cash crunch. Tide over the temporary situation and repay the loan over the agreed tenure in convenient EMIs. We are with you all the way!