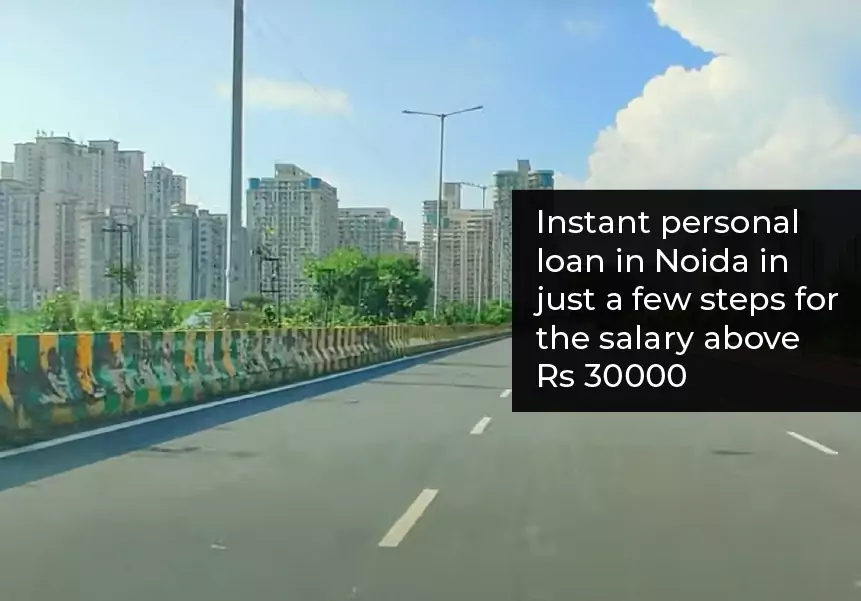 Published on : May 13, 2022
Noida is popularly known as an industrial hub. It is ‌situated in Delhi/NCR. It is home to manufacturing and IT companies. Like other cities, this metropolitan city comprises salaried professionals and self-employed. The cost of living in Noida is now rising.
Having a decent salary is not enough to tackle financial emergencies. An unexpected situation may arise ‌for anyone. That situation can be a child's admission, medical emergency, consolidation of the existing debt, and wedding expenses. Here, a personal loan can help you ‌cover all these expenses.
What is a Personal Loan?
Some expenses occur without warning while you have little balance in your bank account. This may leave you with a temporary fund crunch. If you need a huge amount of money, apply for a personal loan now.
You can get the loan sanctioned in a few hours if found eligible. You will get the amount ranging from Rs. 50,000 to Rs. 10,00,000 over a tenure of 6 months to 60 months.
Eligibility Criteria of Personal Loans
You must check if you are eligible for the personal loan application process. Usually, applicants are required to meet the following criteria to get instant funds in the account:
1. You should be an Indian citizen or a resident.
2. Applicant's age should be between 21-58 years.
3. Salaried, self-employed, or business owners should have a steady net monthly income of INR 30,000/-.
4. You should have stable employment.
5. Your credit history should be decent, and your CIBIL score must be 580-630 or above.
Suppose you have applied for an instant personal loan without fulfilling the eligibility criteria. You might have to face unwanted delays. Your loan application will be approved on time if you meet all the requirements.
Documents Required For Availing of Personal Loan
Whatever your reason is, you can apply for a quick personal loan. The documents that you need to upload along with your application are given below.
Identification Proof: Applicants should have a Voter ID / Passport / Driving License / Aadhaar Card
Address Proof: Applicants should have a Ration Card / Electricity Bill / Passport.
Income proof: As a salaried person should have at least three months' salary slips. You will need to provide proof of income for three or six months if you are self-employed.
Advantages of Choosing Personal Loans in Noida
LoanTap is the best financial institution that offers various benefits with a personal loan. To know what benefits you will get with the personal loans in Noida, check the list below:
Easy loan application process: At LoanTap, a personal loan provides a quick and hassle-free loan application procedure. Even newbies can complete the online application while relaxing at home. The wait is over.
Instant approval and disbursal: You can apply for personal loans online in Noida in just a few minutes. If you have a good credit score and the required documents, your application will be sanctioned within hours. After the approval of the loan, the loan amount will be credited to the account.
No need to submit collateral: Personal loans are essentially unsecured loans. Most financial lenders will never ask you to provide assets or collateral as a mortgage against a personal loan.
Freedom to use Amount: The loan amount you ‌get that can be spent on any purpose. You don't need to give the record of every transaction to the bank or NBFC. Borrowers can use the money for home renovation, wedding, education, vacation, debt consolidation, and other personal reasons.
Minimal documentation required: Online loan procedure has eliminated the hustle and bustle of going through paperwork. A few documents are needed to get the quick business loan in Noida.
Flexible Repayment Terms: As a lender, it is a job for them to understand the needs of the borrowers. LoanTap offers customized repayment options to choose for the borrower. So, they can pay the loan amount as per convenience.
With the financial products, you will get the complete financial help from LoanTap. During the process, try to maintain your credit score. Borrowers can avail the loan with lower interest rates. That gives them a relaxation at the time of emergencies when they struggle to pay off.
Steps to Get Personal Loan with Salary of INR 30,000
A personal loan would help you ‌fulfill your wishes, such as a lavish wedding, pursuing higher education, or renovating your house. With a proper set of documents, you can get the loan in just a few steps. Look at the steps you need to follow to complete the loan process.
Step 1: Visit https://loantap.in/or install the LoanTap app from the Google play store.
Step 2: Create your profile by entering the required details, such as professional, company name, and type of occupation.
Step 3: Once you have filled out the application form, upload the required documents to verify your profile.
Step 4: Once the KYC is done, wait for the response from the LoanTap team.
Step 5: With the application verification, your loan will be approved on the same day and credited to your account.
Once your form is successfully submitted, our experts at LoanTap will assess your application. If an individual is eligible for the personal loan, we would sanction the loan and disburse it immediately.
Tips to Increase Chances of Getting A Personal Loan
If you are thinking of applying for an instant personal loan ‌ soon, you must try to improve your chances of getting the loan application approved. Here's how you can do it.
Maintain a High Credit Score
A credit score is crucial to get approval for the loan. It reflects your credit history and repayment behavior. A credit score should be 600 or above. If your credit score is at least 600, it shows that you have paid all debts. A well-maintained credit score gives you an immense advantage in getting a loan. It also increases the chances of same-day loan approval.
Pay All Your Debts
Outstanding credit card bills will delay the process of your loan application approval. So, try to repay the loan debts and credit card bills before applying for instant online loans. Multiple debts increase the value of debt and make it difficult for an individual to repay them on time. So, make sure that your monthly EMIs are not over 50% of your salary. Also, it is best to clear all your repayment history before proceeding with a new personal loan.
Keep Income Proof Intact
You should submit your income proofs and bank statements while processing the loan. It will help lenders to evaluate your financial capacity. These documents will give the idea that you can pay off the loan. So, if you have multiple sources of income, ‌mention them.
In Conclusion
Personal Loans can cover all your unexpected expenses at one go. LoanTap offers quality financial products and assists clients in every financial matter. If you are still in a dilemma on whether to choose personal loans from LoanTap, visit the website and check out the list of products we offer. LoanTap is your friend in need when you face temporary fund crunches. Download the app today.