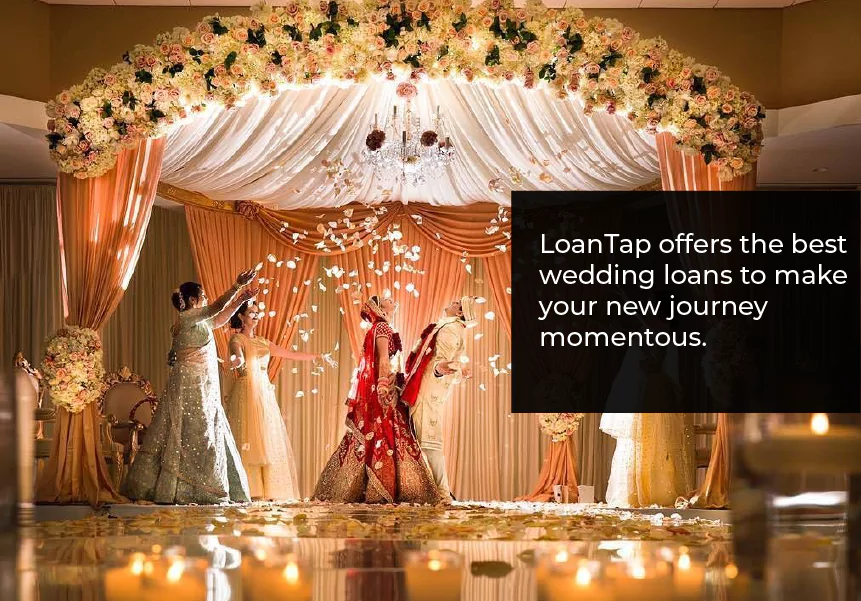 Published on : July 18, 2022
Weddings are new beginnings and herald the beginning of a new life together as a couple. Indian weddings are big fat events spread over a few days and covering multiple rituals. The grandeur, the merriment and the sheer scale of arrangements make the wedding a grand event to remember. Most Indians save up for their kids as soon as they are born to manage the wedding expenses. A little bit of planning and some discipline can go a long way in creating a momentous occasion that could create memories for a lifetime.
However, there is a twist in the happy tale. What if you suddenly fall short of funds and need cash to meet unexpected expenses? Here is where LoanTap jumps into the equation with a convenient solution that can help you manage unexpected expenses and not shortchange yourself on your dream occasion.
What is a Wedding Loan?
A wedding loan is a personal loan that can be used to meet wedding expenses under any head. It is an unsecured loan that doesn't require any assets to be pledged. This feature makes the wedding loan very popular among the younger generation.
How much can You Get as a Wedding Loan?
LoanTap offers personal loans for weddings from INR 50,000 to INR 10,00,000 for tenures ranging from six months to sixty months. As a couple, you can apply for the loan individually if both of your meet the eligibility criteria. That way, you can get up to INR 20,00,000 which can be a sizeable amount to manage wedding expenses. 
Which Boxes Do You Need to Tick to Apply for a Wedding Loan?
You will need to meet the following conditions before you can apply for a wedding loan –
Indian citizen or Resident
Between the age of 21 years and 60 years
Earn a net monthly income of over INR 30,000
Have a credit score of 630 or above
What is the Process to Apply for a Wedding Loan?
Applying for a wedding loan is no rocket science. Especially, when you are using the LoanTap app, it feels like a walk in the park. It is so easy to navigate that even a child can do it. All you need to do is to follow the steps given below –
Step 1 – Download the LoanTap app on your smartphone.
Step 2 – Fill out the online application with the necessary information filling up the purpose as wedding expenses. Mention the amount and the tenure you need it for.
Step 3- Upload the necessary documents required for proof of identification and address and Relax and sip your favourite beverage.
Step 4- The system will check your application and verify the credentials provided.
Step 5 – Once the credentials are verified, the loan application is approved. The amount of the loan is disbursed to the account details provided.
The entire process is completed within 24-36 hours from the start of the application to the credit in your account. You can repay the loan over the agreed tenure. Early repayment after 6 months is possible without any prepayment penalty.
What are the Flexible Repayment Options Available?
LoanTap believes in offering you a very convenient range of repayment options to choose from. Based on your requirements, you can choose from one of the following-
Term Loan – Choosing this option will require you to pay the interest and principal components as EMI on a monthly basis over the tenure of the loan.
Step Up – Under this option, you get a three-month interest holiday and you can pay only the principal component. From the fourth month onwards, normal EMI inclusive of interest will resume.
EMI Free Loan – This option is good for those who receive lump sum payments at periodic intervals. You can pay only the interest component as EMI over the tenure of the loan. The principal can be repaid in bullet payments once every 3/6 months.
Overdraft Loan – If you are not sure about the actual amount of expenses or expect to incur them over a period of time, this option may be good for you. You can get a preapproved amount as an overdraft and withdraw the money according to your need. You will need to pay interest on the amount actually utilised and not on the sanctioned amount.
Why Choose LoanTap?
LoanTap is a trustworthy platform that operates using cutting-edge technology. It is authorised by RBI and specialises in offering tailored loans that can meet all requirements. The features of an instant wedding loan from LoanTap include –
No collateral – As already explained, wedding loans are unsecured loans and are offered collateral-free. There is no requirement to pledge assets against this loan which makes it an attractive funding option, especially for youngsters.
Quick process – The process is seamless and automated, not taking more than 24-36 hours from start to finish, This feature makes it ideal as an emergency solution to meet unexpected expenses that may crop up without warning.
Minimal Documentation – The online loan process has gotten rid of the need for multiple documents. With LoanTap, you just need to submit the following documents-
PAN Card
Aadhaar Card
Payslips for the last three months
Bank Statement for the last six months
Safety of personal information – The LoanTap app is perfectly safe to use, and there is no compromise of personal information. Borrowers can trust the app and use it with confidence to apply for a wedding loan.
Cheaper than credit cards – Swiping the plastic rectangle is the easiest thing to do when you fall short of funds, but it comes at a cost. You need to shell out 2.5-3% per month to pay the interest on the outstanding amount. Wedding loans from LoanTap are much cheaper, starting at 18%.
Available 24/7 – Instant loans are available around the clock and not constrained by working hours or bank holidays. This makes them very popular for short-term funding needs.
Wrap Up
LoanTap has been helping individuals across the country meet their funding requirements for various purposes with their thoughtfully designed tailored loans. Wedding loans from LoanTap can help you manage the expenses of the wedding comfortably and repay comfortably over the agreed tenure. You can relax and manage the wedding preparations without the burden of fund shortage playing with the peace of your mind. Make your new journey momentous with our wedding loans that are thoughtfully designed to make your life easier.
You focus on your big day and let us handle the issue of funds. Choose the repayment option of your choice and pay it off in easy instalments. Download the app today!