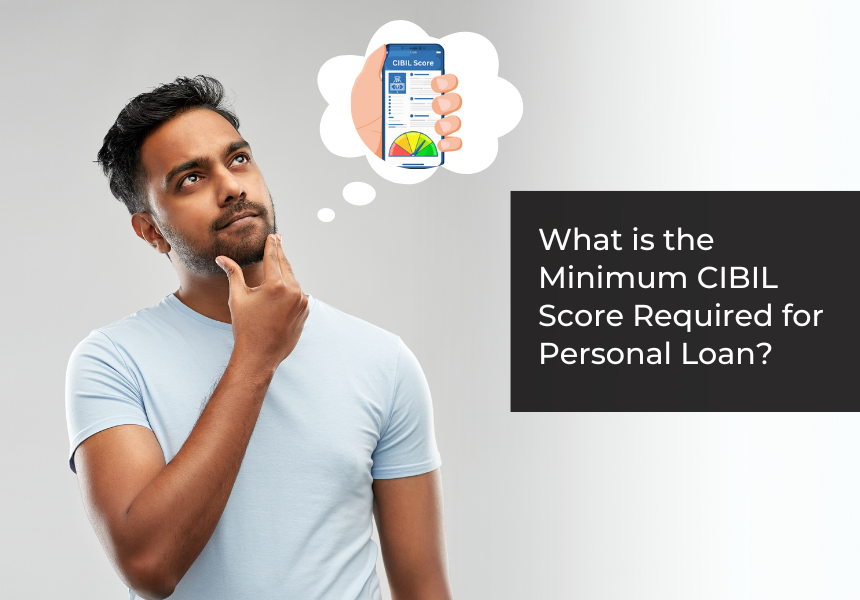 Published on : July 10, 2023
If you want to opt for a personal loan, your credit score plays an important role in determining your financial health and eligibility for the personal loan. CIBIL (Credit Information Bureau India Limited) is a credit rating agency that assigns numerical scores to individuals based on their credit history. This score serves as a measure of your creditworthiness and reflects your ability to repay debts.
Minimum CIBIL Score Required For Personal Loan
The minimum CIBIL score required for a personal loan is between 720 and 750. A score of 750 or above signifies a creditworthy individual capable of meeting loan obligations as per the payment terms. If your CIBIL score ranges from 651 to 750, you may still obtain a loan but expect a higher interest rate and shorter repayment tenure. However, a score below 650 is considered poor, so there is a higher chance of your personal loan application getting rejected. But don't worry, read our guide to things you can do if your personal loan application is rejected.
How To Maintain a Healthy CIBIL Score
Below are some useful tips that applicants can follow to maintain a healthy CIBIL score.
Make sure to pay bills and EMI payments
Avoid late bill payments
Maintain a favourable credit utilisation ratio
Do not deactivate an unused credit card
Avoid applying for many loans or credit cards simultaneously
The ratio of secured to unsecured loans should be maintained
Review Your Credit Report regularly and correct any discrepancies
Avoid making multiple credit inquiries
Monitor your co-signed, guaranteed, and joint account monthly
Probability For Loan Approval According To CIBIL Score
| | |
| --- | --- |
| CIBIL Score Range | Loan Approval Probability |
| 750-900 | The probability of getting the loan is very high. A score in this range means that you have great financial discipline and can make timely repayments. |
| 600-750 | You can get a personal loan. Although the CIBIL score in this range is not ideal, most lenders can still give you a loan. However, with this CIBIL score, you can get a loan with a higher interest rate, shorter repayment tenure, or both. |
| 300-599 | The chance of getting a personal loan is very low. A CIBIL score in this range is considered by lenders as a cautionary sign; It is considered to be credit risk and poor financial management. It is possible that your loan application might get rejected. |
Conclusion
The minimum CIBIL score required for a personal loan varies from lender to lender. A CIBIL score of 750 or higher is typically regarded as good and raises the probability that a loan will be approved. At LoanTap, we approve more than 95% of loan applications where the applicant's CIBIL score is 750 or higher. Of course, that does not mean that applications with a CIBIL score lower than 750 are rejected.
Read More: Eligibility Criteria for Personal Loans
When assessing a loan application, lenders take into account a variety of factors, including the CIBIL score. Other elements, including income, work history, and outstanding debts, also have a big impact. Therefore, to increase their chances of getting a personal loan with favourable conditions, it is advised that people keep a strong credit score and a sound financial profile.
Apply Using WhatsApp