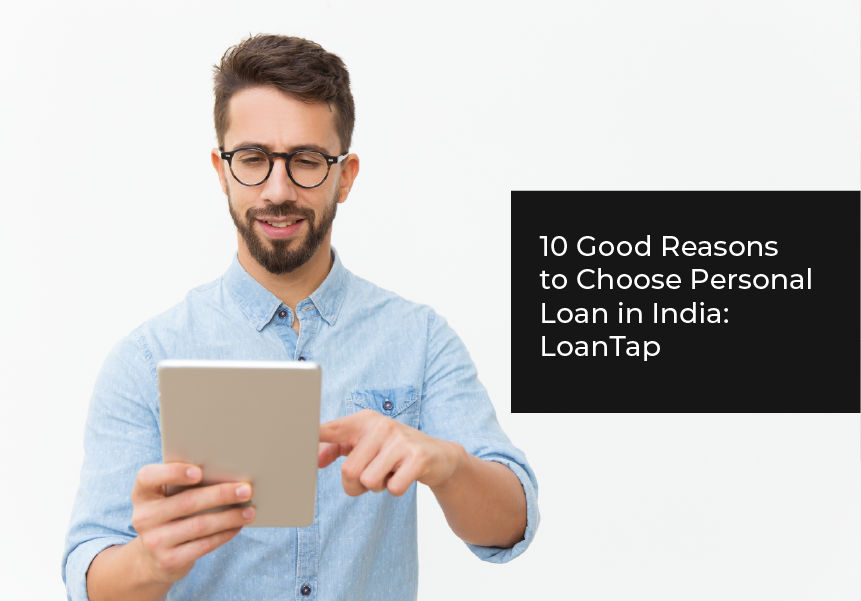 Published on : March 01, 2023
Money is an undeniable necessity for meeting both our needs and wants. It is imperative for all our basic essentials and luxuries that add comfort to our lives. We need funds for all the special occasions, emergencies, and any other reason for which you may need a loan. LoanTap understands that one size cannot fit all. That is why we offer a bouquet of customised personal loans that can cater to all the possible needs an individual may have for short-term funding. Before we get into the top reasons for taking personal loans in India, let us understand what personal loans are and how they work.
Personal loans – what do they mean to the borrower?
Personal loans are unsecured loans that can be used for any purpose without the need to specify them to the lender. No assets need to be pledged as collateral since they are unsecured loans. Online personal loans are easily available in India. The entire process is digital and involves no paperwork and minimal documentation.
LoanTap offers personal loans from INR 50,000-10,00,000 for tenures ranging from 6 to 60 months at attractive interest rates. They offer flexible repayment options to make the EMI burden lighter on the borrower. You can foreclose the loan at any time after 6 months without any prepayment penalty.
Reasons People Choose Personal Loans
Now that you know what a personal loan is and how it works, let us look at the top 10 reasons why personal loans are taken in India.
Home Renovation – All Homeowners have a steady stream of expenses related to their homes and the big ticket expenses like painting, remodelling, renovation, modular kitchen, changing the furniture, which can cost a bomb. This can be one of the reasons why people opt for a personal loan. A home renovation comes with a step-up loan option where you can pay only the interest for the first three months while regular EMIs start subsequently. This can reduce cash outflow by over 40% during the first three months giving you a breather.
Buying an expensive phone – Flashing the latest phone is a fad that most people have, and this is easily one of the top reasons why people go for a personal loan. Credit cards charge 2.5-3% per month on outstanding balances, while personal loans can serve the same purpose at half the cost. Is it any wonder why the younger generation takes a personal loan to buy the latest iPhone?
Holiday/Vacation – You want to go on a vacation with your family to an exotic destination. The tour operators have come up with an irresistible package and the offer gets over in the next few days. Your fixed deposit will mature 6 months later. What do you do? Well, you just avail of a personal loan and go on that holiday. You can pay off the EMIs comfortably. You can even foreclose the loan after six months when your FD matures without any prepayment penalty. That'a win-win solution, isn't it?
Wedding – Your wedding is coming up, and there is nothing wrong with planning big ceremonies. However, it does cost big bucks. A personal loan can come in handy for this special once in a lifetime occasion. You can easily pay it off over the tenure of the loan, and it serves you the awkwardness of borrowing from friends/family. This is another reason why people go for personal loans.
Purchase of bikes – Having a snazzy bike can be a big thrill for a youngster. Using a personal loan to fund the purchase is a sensible idea. You can pay it off over the tenure of the loan and it will give you mobility. You can even use it to buy an electric bike and do your bit for the environment.
Purchase of laptop – A laptop is no longer a luxury. It has become a necessity as the world has moved to the digital age where everything happens online. With remote working and work from home gaining precedence and the increase in online education and freelancing opportunities, a laptop is a need. This is yet another big ticket expense for which people choose personal loans.
Medical emergency – Emergencies don't come with warnings. When you are faced with a medical emergency and need to raise funds immediately, you can trust an online personal loan to come to the rescue. Since these loans are credited within 24 hours, you can tide over your personal crisis comfortably. You even get flexibility of paying only the principal component for the first three months as the normal EMIs commence after that period.
Rental Deposit – Relocating to a new city and finding a rented premises to live in can be a tricky proposition. Homeowners charge 6-12 months rent as security deposit and it may be a lot to handle. Rental deposit loans can come to the rescue. They are available for tenures of 11, 22 or 33 months and are paid directly to the owner. You need to pay only the interest over the tenure of the loan at the end of which the amount will be directly refunded to LoanTap by the homeowner.
Debt consolidation – If you have taken multiple loans and are bogged down by multiple EMIs and high interest rates which are pushing you into a debt trap, you can use the debt consolidation loan to find respite. This personal loan will help you switch from multiple expensive credit card debts and move to a cheaper personal loan. Personal loans will help you to get out of the vicious cycle of credit card debts and help you manage one loan at a time. Proper repayment of this loan will also assist you in improving your credit score. This is another reason why people caught in the circle of debt opt for personal loans.
Education expenses – Paying for education expenses is important and cannot be put off. Getting your child to a coaching institute or higher universities can cost a lot of money. If funding is an issue, you can choose a personal loan to manage your finances. It can be repaid comfortably over the tenure of the loan while your child can benefit from good education. This also ranks among one of the top reasons for availing of a personal loan.
Conclusion
There can be numerous other reasons for availing of a personal loan. LoanTap merely facilitates the process by providing a quick, efficient, paperless, hassle-free and convenient method of accessing funds in times of need. If you are an Indian citizen or resident over the age of 21 years and earn a net monthly income of over INR 30,000, you are eligible to avail of a personal loan from LoanTap. Download the app, fill out an online application and upload the basic documents like PAN Card, Aadhaar Card, Salary slips / Income Proof and Bank Statements and you are done. The system will process the loan and credit your account in 24-36 hours. So what are you waiting for? Whatever be your reason for a personal loan, download the LoanTap app today!!