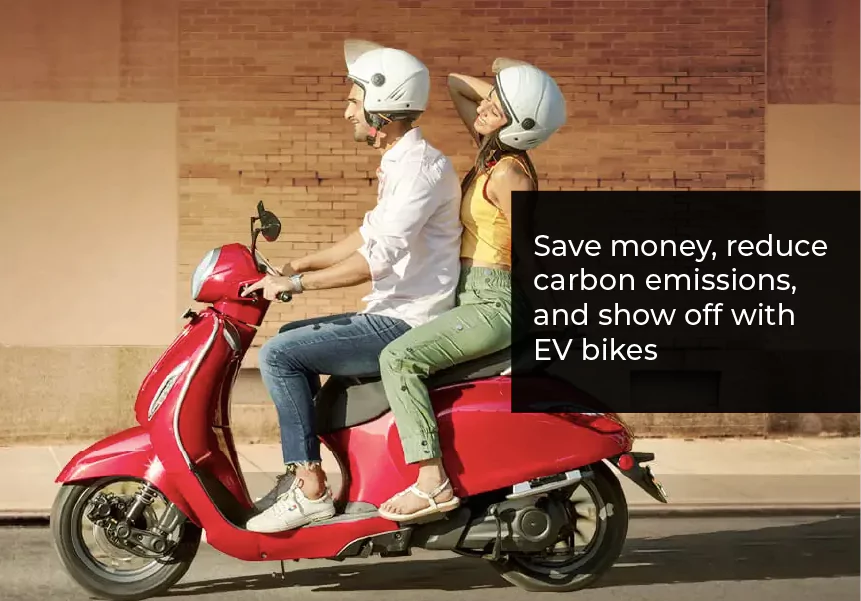 Published on : July 25, 2022
EV bikes in India have transformed the face of the middle-class commute. They offer a clean, green mode of transportation. Electric motorbikes offer an economical way to move which is easy on the pocket and good for the environment too. Various brands have come up with eye-catching designs for electric mopeds that combine functionality with aesthetic elegance. The idea is to create value for money and make this mode of transportation popular among the commuters in the country.
EV bikes in India have the following advantages –
Save money – Electric motorbikes are wallet-friendly options as they work out 40% cheaper over the life of the vehicle compared to fuel bikes. There are several variants to choose from and a wide price range so you can always find the perfect one that fits the bill.
Reduce carbon emissions – EV bikes in India are becoming the preferred mode of transport among environmentally conscious consumers as they reduce carbon emissions and improve the quality of air.
People in metros and tier 1 cities who are facing health issues due to the depleting quality of air are actively switching to cleaner and greener options like electric mopeds.
Reduction in noise pollution – People who live close to the main roads have suffered from noise pollution as vehicles zip past creating air and noise pollution. Electric bikes are known to make less noise compared to fuel alternatives.
Subsidies and Tax breaks – The central and state governments in their bid to improve the environment are offering subsidies to make EV bikes in India popular. Both manufacturers and consumers are being offered attractive incentives to popularise this mode of commute.
Low maintenance – Electric mopeds are low maintenance vehicles compared to fuel alternatives. The only cost involved is the replacement of batteries after 2-5 years.
Smart features – New electric bike manufacturers are adding smart features regularly to improve the quality of the ride using the latest technology. With navigation facilities, geo trackers, remote control, burglar alarm, easy parking, charging stations and detachable batteries, EV bikes in India are fast becoming the future of commuting.
So how can you buy an EV bike in India?
There are several easy financing options available to buy an EV bike in India. LoanTap offers convenient personal loans to buy electric vehicles. They can finance up to 80% of the on-road price of the electric bike. LoanTap offers e-bike loans from INR 20,000 to INR 2,00,000 for tenures up to 36 months.
You can get the loan using an online hassle-free process
It involves minimum documentation and no paperwork required
You can opt for an accelerated repayment plan after 6 months
The process to be followed is very simple. You will need to check if you meet the eligibility criteria for electric vehicles.
To get an EV bike loan from LoanTap –
You need to be an Indian citizen or resident
You need to be over 21 years of age
You need to have a net monthly income of over INR 10,000
Your credit score must be 630 or more
If you meet the above criteria, you have crossed the threshold and are ready to apply for the loan.
Download the LoanTap app on your smartphone
Fill out the online application with the necessary information
Upload the following documents for proof of identity, address and income

PAN Card
Aadhaar Card
Salary slips for the last three months
Bank statement for the last six months
Once this is done the system will process your application and complete the verification process
Once the loan is approved, you will receive the sanction letter from LoanTap which you can use to buy the electric moped of your choice from any showroom.
LoanTap does not charge any prepayment penalty if you foreclose the loan after six months. You can choose from one of the flexible repayment plans –
Term Loan – This is the normal mode where the payments are made via EMI which includes both the interest and principal components
Step up – This mode offers an interest-free EMI for the first three months after which the normal EMIs resume.
EMI-Free – This is an interesting option that can offer up to a 40% reduction in monthly cash outflow as you pay the EMI only for the interest component while the principal  is repaid in bullet payments on a quarterly or half-yearly basis.
Wrap Up 
LoanTap offers customised solutions to those who need finance to meet their aspirations of owning an electric vehicle. There are tie-ups with various electric vehicle brands and dealers to choose from. Electric bikes are the commute of the future. Given the spiralling fuel prices, it makes perfect sense to go for a new electric bike. Electric bikes are environmentally friendly. They reduce carbon emissions and help to heal the planet. As the number of people who care for the planet goes up, it is to be expected that clean and green modes of transport will find a preference. LoanTap supports the cause and will help people meet their noble aspirations of caring for the environment and their pocket by providing smart financing options. Download the app today and drive an electric bike away. Show the planet, you care!