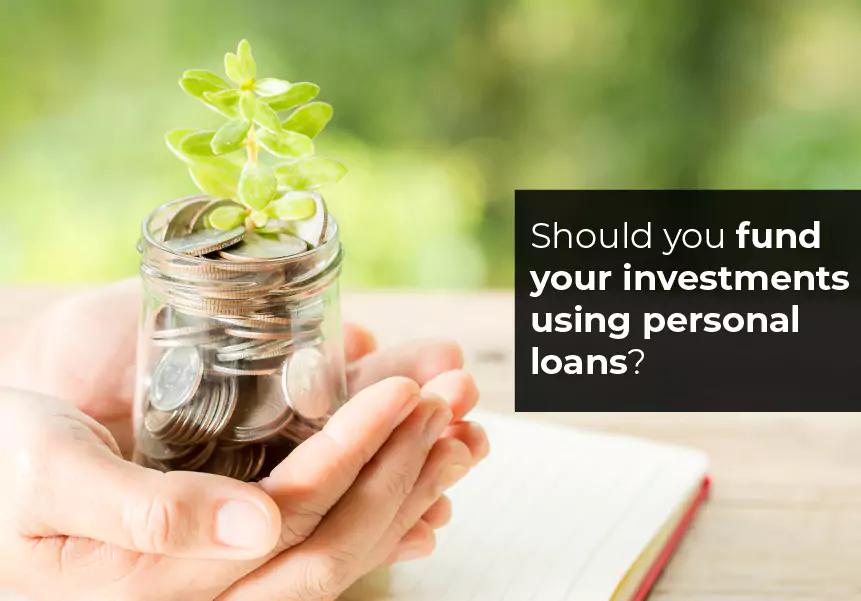 Published on : June 19, 2021
Why do people prefer personal loans when in times of a cash crunch? The reason is simple. Personal loans are quick to process. They are unsecured loans, hence collateral-free. You can avail a personal loan to meet any fund requirement. If you are eligible, you can easily get a personal loan.
Coming to the question of funding your investments using personal loans, is it a good idea? Suppose you have information of a good IPO or you expect some stock to go up in the near future you wouldn't want to miss out on this investment opportunity. If you do not have the cash to invest at the moment but the opportunity is too good to miss, you can definitely take a personal loan to make the investment. You can pay it off over the tenure of the loan.
What are the benefits of funding your investment through personal loans?
Let us examine if there are any benefits of funding your investments through personal loans. We can explore the benefits under the following heads –
Making the most of immediate opportunity
ROI higher than the interest rate
Making the most of immediate opportunity
A good investment opportunity cannot be put off for later. Suppose a great company comes out with an IPO. It makes a lot of sense to invest in it immediately. Or take the example of tax savings schemes at the end of the year. Financial investments come with a deadline. It is now or never. If you think the opportunity is too good to pass, you can definitely look at a personal loan to meet your immediate requirement. You can pay off the personal loan over the agreed tenure. In case your investment is short term and you encash the gains early, you can choose to prepay the loan after six months or reinvest the money in the next opportunity.
ROI higher than the interest rate
Since the personal loan comes at a cost of 18% per annum, it is better to ensure that your investment yields higher than that rate for the arrangement to be beneficial. Once you find a high yielding investment, it makes absolute sense to go for a personal loan to fund the investment.
Quick processing
A personal loan can be processed within 24-36 hours. This means that you have sufficient time to receive the funds before the investment deadline closes. The investment need not necessarily be finance related. It could relate to commodities, house property etc as well. Whenever you feel that a good investment opportunity is being missed only due to an immediate lack of funds, it makes a lot of sense to avail of a personal loan for investment.
Easy access to funds
Availing a personal loan is a very simple process. If you are an Indian citizen/resident over twenty-one years of age and earning over Rs 30,000 a month, you are eligible for a personal loan. You can visit the LoanTap website or download the App and fill in the online application. You will need to upload the following documents –
PAN Card
Aadhaar Card/Passport/Driving Licence
Last three months salary slips
Bank statement of salary account for the last six months
Our team will evaluate your application. If you meet the loan eligibility parameters and your credit score is good, your loan will be disbursed to your account. The entire process will take 24-36 hours.
You can get a loan of Rs 50,000- Rs 10,00,000 for a period of six months to sixty months at an annual interest rate of around 18%.
If you prepay or foreclose the loan after six months, no penalty will be applicable. As you can see, the process of getting a personal loan is very simple.
Conclusion
Keeping in mind the convenience of accessing a personal loan, it makes immense sense to use a personal loan if interesting and profitable investment opportunities are available. Of course, you have to apply your prudence and choose the right investment options that ensure that you earn a positive return on investment after paying the interest.
What are you waiting for? Personal loans are the most flexible financing options available in the market. They are hassle-free, convenient and user friendly with simple eligibility criteria. Why lose an opportunity when you can easily access funds? Think before you say no to the next golden opportunity because you have a cash crunch.
You can always take advantage of a personal loan and fulfil your investment dreams.
If you are planning to use your funds wisely to generate additional income, it makes a lot of sense to access a personal loan. Go ahead and check out the LoanTap website. You can be prepared to make the most of the next investment opportunity comes knocking!