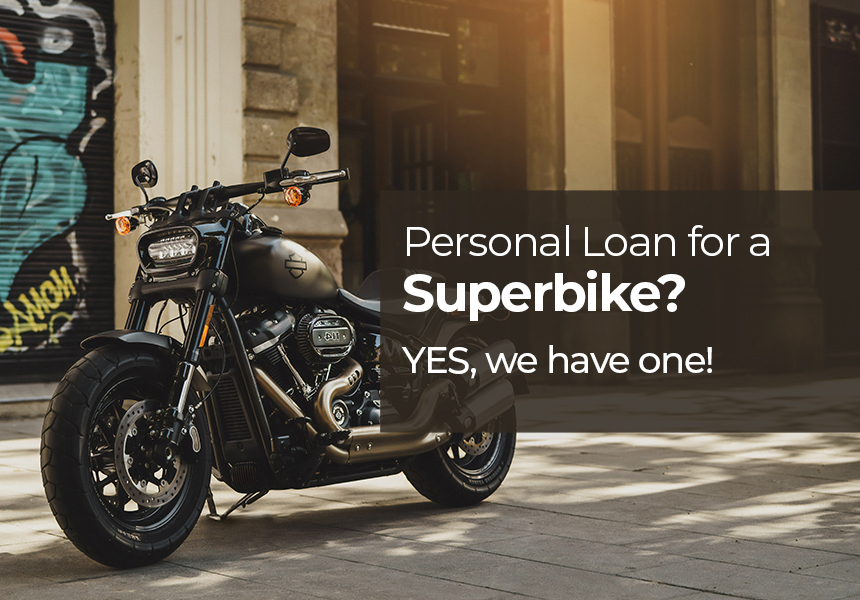 Published on : December 17, 2019
Think of the Harley Davidson, Royal Enfield, Ducati, Kawasaki, KTM, or Bajaj Pulsar. What if you could own and ride your dream bike in the next 36 hours! Yes, this is certainly possible if you want. You can get a superbike loan for the expensive and seemingly out-of-reach bike you've always wanted within the next couple of days. What's more, if you are eligible, you may even get a 100% finance on your superbike price!
Why a Superbike Loan?
Superbikes are a rage with millennials and generation Z-ers; they give the right blend of thrill, speed, convenience, and aspiration. These bikes are plush with amazing features like excellent acceleration, safe braking, anti-skidding technology, ergonomic design, and fuel economy. In a country such as ours, with traffic defining distances and parking spaces being scarce, bikes are the preferred mode of transport for the young and the energetic. With super bikes enjoying a loyal and ardent fan following, personal loan providers have designed specific products to cater to this segment of borrowers. These super bike loans can be availed for other new bikes as well, so pick what works for your requirements.
"Why are you buying a bike that's so expensive? You may as well buy a small car", is one of the several comments you will definitely get to hear. But, as any avid biker will tell you, no mundane hatchback or sedan can match the speed, thrill, performance, and style of a super bike. Bikers enjoy the power and speed that comes with a super bike, zipping through highways and enjoying the breeze as you whiz past. But, buying a superbike is not for the faint-hearted; it is a decision to be made with due diligence, considering the costs in investment and maintenance.
Here are some Tips to consider when buying a Super Bike:
1) What is the type of bike you want to buy?
List out your requirements in a bike. What will you use it most for, what are the specifications that are must-haves and the ones that are good to have (but not necessary). There are over a dozen types of super bikes available within the Indian market, and each super bike is designed with a purpose, for a specific rider segment. Gather information from friends, comparator sites, bike dealers, the internet, and then decide on what is it that you want to buy.
For instance, if you are a travel biker – love cruising the highways from Mumbai to Goa or Delhi to Manali, pick a cruiser. If you like rough riding, pick a dirt bike. It boils down to what you will use the bike for and what are your key priorities.
Make sure your dream bike is comfortable for you. Consider these aspects:
Seating Ergonomics: The seat needs to be well cushioned and comfortable for long rides. Check to ensure that you are able to rest your legs when the bike is standing. Make sure the weight of the bike (super bikes tend to be super heavy!) is manageable for you. If you are going to traveling with someone, ensure the comfort of the pillion seat.
Ease of maneuvering: Since the bike is typically large, and our lanes are not necessarily the ideal matches, check if you are able to navigate the lanes comfortably.
Time to Heat up: Since super bikes are meant for the highways and long rides, they tend to heat up when driving for short distances or on frequent braking. Check on your usage and the bike's heating up process to avoid getting roasted (quite literally).
Engine Capacity: A lot of super bikes have an engine capacity equivalent to that of cars; select your super bike based on the engine capacity or the capability to change riding modes, as per your usage.
2) How much money are you willing to spend?
Super bikes are typically priced at INR 5,00,000 onward . Based on the type of super bike that you wish to buy, chart out the expenditure and figure out what you want to spend on your dream ride. Also, check your loan eligibility by consulting a good financial lender, and check out the payment terms, tenure, and rate of interests that go with it.
Scan through the available lenders in the market and identify one that offers superbike loans at competitive terms. Do you research and pick a lender with a good reputation and financial stability and integrity. Screen the lenders as per their loan terms, applicable rate of interest, and loan tenure. Typically, banks would provide loans at much higher rates than other lending agencies. In addition, banks take more time to process your paperwork, review your application, and finally disburse the loan. You will also be asked to adhere to several clauses on foreclosure and lock-in periods in case you avail a bank loan.
However, lending agencies, such as LoanTap, are more focused on customer convenience and provide personal loan for superbike that cover up to 100% of the vehicle price. You have the option of paying monthly interest with bullet payments on six-monthly basis to repay the loan in a flexible manner.
3) How good is the servicing and/or maintenance facility offered by the bike company?
Ensure that the super bike that you have selected, has service centers or affiliates across locations to avoid getting stuck when maintenance challenges come up. Let's say your super bike has 11 service centers in India; confirm that there is a fully equipped service center in your city/town. Also, go through the online reviews on post-sales service and find out how well they honor their warranty contracts, whether they have trained mechanics, if they offer a pick-up and drop facility, and if there is an option to avail their services if you have a breakdown in the middle of the road. This is particularly important in case of super bikes because these are high-end models made with specific parts and methods, and not everyone in a local garage is able to repair and/or maintain such exclusive machines.
4) What other additional and incidental costs should you consider?
Budget well for maintaining your super bike. It is indeed your pride possession and taking care of your pride & joy is your responsibility! Consider the accessories to buy, the service costs, the insurance costs, and the fuel costs for the upkeep and running of your super bike. Diligence in caring for your speed machine will pay back many-fold when you get admiring and envious glances from people you zoom past on the roads.
From among the several hurdles you may need to cross before you can be the proud owner of your dream bike, we can certainly help you jump over an important one: finance. You might be on your own when it comes to convincing your family about this "huge expense", but when it comes to the money, we got you covered. Get in touch with us and state your requirement, and we will do our bit to get you on your dream machine sooner than you think!
Apply Now for a Superbike Loan with LoanTap
Download our Personal Loan App: Google Playstore / Apple App Store