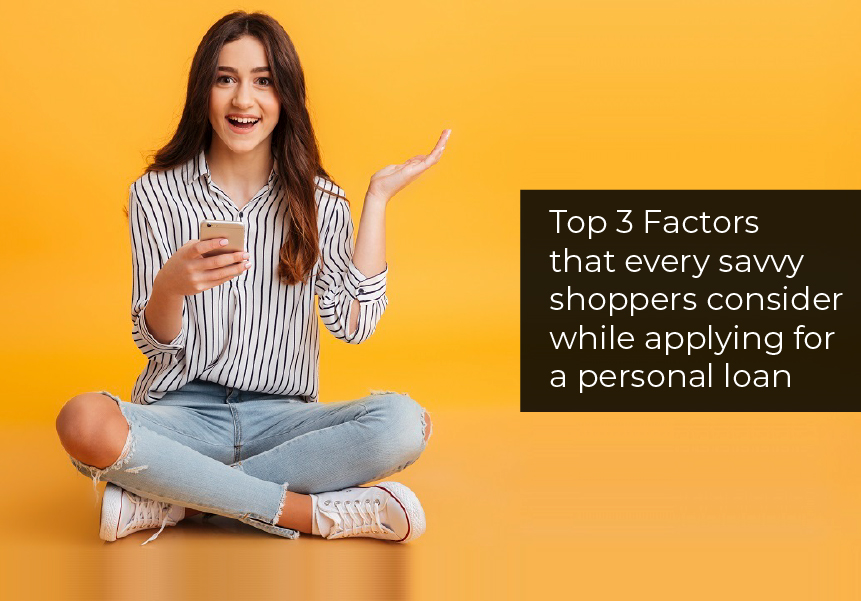 Published on : August 20, 2021
What do savvy shoppers love to do? They love to drive a hard bargain. They like looking for the best deals available. They use this approach even when they are faced with a financial emergency or a big-ticket purchase. They do not rush and reach out for their credit card. They explore the options available and make a financially prudent choice. If you consider the personal loan as a financial product, how would savvy shoppers approach it? What are the top 3 factors that they would consider when they look for a personal loan?
Interest Rate
The interest rate is the deciding factor for a personal loan. The cost of a personal loan is what will make it affordable. In India, lenders offer personal loans in the range of 11%-24%. A savvy shopper would compare different lenders to figure out the best rate. In today's information driven world, it is not difficult to get this information at the click of a button. Based on the interest rate and the amount of loan needed, the savvy shopper will use the Personal Loan EMI calculator to arrive at the optimum tenure for the loan. A savvy shopper understands the cost of capital. So their ideal approach would be to go for the maximum tenure available to reduce the EMI. After 6 months of servicing the loan, they would prefer to prepay the loan in full or in part to reduce the interest outgo.
Processing fees /Hidden charges
Most lenders charge a processing fee as a percentage of the loan amount. On a big-ticket loan, this would be a significant amount. Apart from processing fees, there could be other charges that vary from lender to lender. A savvy shopper would prefer to know all the costs and charges upfront to calculate the actual cost of the loan and base the decision accordingly.
Prepayment
All personal loans charge a prepayment fee in case the borrower wishes to prepay/ foreclose the loan. This is also an upfront cost that needs to be taken into account before entering a loan or making a prepayment. Usually, if the loan has been serviced for 6 months, most lenders waive the prepayment penalty. A savvy shopper would confirm the prepayment clause in advance and ensure that it is included in the personal loan agreement.
Ok, so now that you have understood the aspects that savvy shoppers would look for, let's understand what a personal loan is and how it works.
What is a personal loan?
A personal loan is an unsecured loan. Unlike purpose-specific loans like homes loans, vehicle loans, medical loans, business loans etc., a personal loan can be taken for any end purpose which makes it very popular among aspiring millennials.
What are the benefits of personal loans?
Personal loans have become very popular over the last decade because of the multiple benefits that peg them ahead of credit cards. It is one of the most convenient short-term flexible financing options available. Look at why personal loan rates are so highly preferred by borrowers.
Simple eligibility criteria
No collateral
Minimal paperwork
Quick processing
Cheaper than a credit card
No prepayment penalty after 6 months
Flexible repayment options
Simple eligibility criteria
Personal loans are meant to be accessible to most people. That is why the Personal loan eligibility criteria are really simple. At LoanTap, if you are an Indian citizen or resident over the age of 21 years and earning a monthly income of over Rs 30,000, you are eligible to apply for  personal loan. This makes it quite popular among the young generation on their first job.
No collateral
By nature, personal loans are unsecured or collateral-free. No asset needs to be pledged to take this loan. This makes it an extremely attractive financing option for youngsters because they find it difficult to find assets to pledge.
Minimal paperwork
The best part about taking a personal loan from LoanTap is that you have no paperwork at all. All you need to do is to fill an online application form and upload the following documents-
PAN card
Aadhaar card
Salary slips of last 3 months
Bank statement of salary account for the last 6 months
Once the loan is approved, it will be directly disbursed to the mandated account.
Quick processing
The processing of personal loans is extremely fast. For example, at LoanTap you can get a loan credited to your account within 24-36 hours of filling the online application. This makes it a convenient option even in case of an emergency.
Cheaper than a credit card
Credit cards charge anywhere between 2-2.5% per month on the outstanding balance which adds up to 24-30% annually. The annual interest rates on personal loans at LoanTap start from 18% which makes it much cheaper than credit cards. A personal loan is a more structured financing option.
No prepayment penalty after 6 months
Once the loan is serviced for 6 months, the borrower has the flexibility to repay the loan in part or full and foreclose the account without any prepayment penalty. This gives the borrower the flexibility of having a long tenure, in the beginning, to optimize EMIs with built-in flexibility to prepay after 6 months if he comes into funds.
Flexible repayment options
At LoanTap, a borrower can choose from multiple repayment options available depending on the tailored personal loan that he chooses. Based on his need and his constraints he can pick the repayment option of his choice like a step-up plan, interest-only EMI, Term and Overdraft.
If you fulfil the basic criteria and have a good credit score, you can choose the personal loan to tide over any short term financial issues. LoanTap offers personal loans in the range of Rs 50,000- Rs 10,00,000 for tenures ranging from six months to sixty months. No matter what your specific need, LoanTap can customize a personal loan to meet your requirements. Be a savvy shopper. When you need a good deal visit Loan Tap and find the personal loan that suits you.
Be smart and LoanTap your way to a personal loan instead of swiping the plastic.
Related Article – How LoanTap serves as a One Stop Solution for all your needs ?