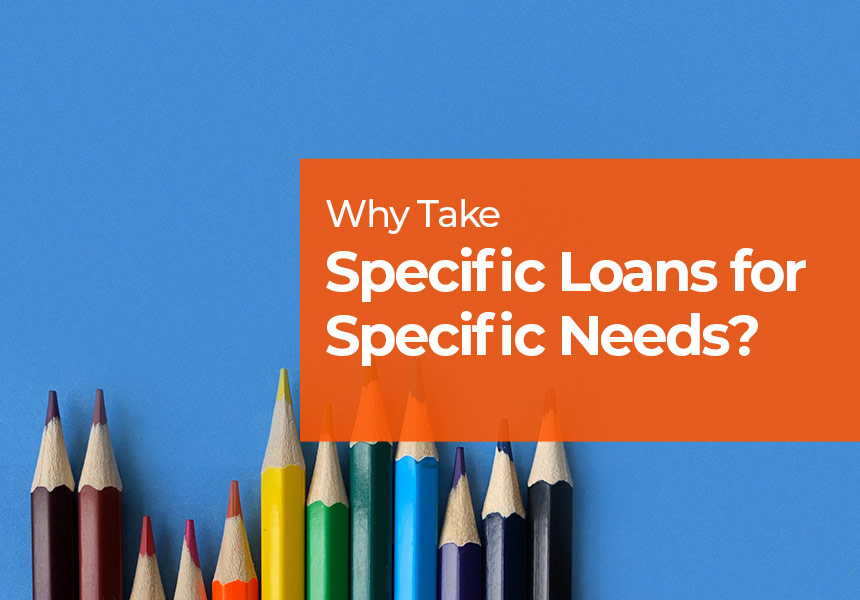 Published on : January 02, 2020
When you talk about loans, personal loans are among the first to come up. Personal loans generally include no special features; this is why they are also called "vanilla loans". A prime example of such a loan is "term loan". The classic definition of a term loan is a loan that is to be repaid over a fixed period with regular payments. Personal loans can be specifically customized to make them more suitable for specific needs, unplanned expenses, and/or emergencies.
Types of Term Loans
Short-term loans
These have a repayment period of less than one year. The interest rate for this type of loan is generally higher than that of other personal loans. The applicant has the liberty to opt for a loan amount and tenure as per their requirement. This type of personal loans can be availed by either salaried individual, self-employed individual or individual with a business. The terms of lending will lie solely at the discretion of the lender based on your eligibility. The paperwork is less and processing time is comparatively lower as some of the lenders allow submission of documents through online channels.
Long-term loans
These loans typically offer a higher loan amount and a considerably lower interest rate. With this type of loan, you may have the option to choose between floating and fixed rate of interest.
What are the different kinds of personal loans available in the market?
With people upgrading their lifestyle and changing their spending habits, the markets have paved the way for innovations in the personal loan segment. The previous generation believed in saving before spending. But today's generation dreams of enjoying a better lifestyle, luxurious cars, super bikes, and international holidays in the present. And they are more than happy to pay the price for these valuable experiences. To facilitate the growing market, banks and the financial institutes have carved out products to suit the specific needs of today's consumer.
Marriage Loan
The benefit of opting for personal loan for marriage is that you can make your expenses without disturbing your fixed or other deposits to avoid the penalty and loss of interest due to early withdrawal. These types of personal loans take in account the multiple expenses that you may incur for the wedding ceremony. Therefore, wedding loans range from ₹1,00,000 to ₹10,00,000, depending on your eligibility. These loans come with flexible repayment options at competitive interest rates.
For Marriage Loans with LoanTap, you have the option of paying off only the interest for the first 5 months and then start a fixed EMI for the rest of the loan tenure.
The reason for choosing a wedding loan over a standard personal loan is that you can track the wedding expense to this account. Also, the rates of interest may be lower, and you also have the flexible repayment options available with a wedding loan.
👉Explore Marriage Loan from LoanTap
Holiday & Travel Loan
Travel loans are a form of personal loan that is available specially for travel purposes. These loans are easily available in the market with all the major money lenders. They are available for both domestic and international travel expenses. The holiday loans range from ₹50,000 to ₹5,00,000 depending on your credibility and the terms of the lender. The rate of interest may vary from lender to lender. The repayment terms of this loan are flexible and customized. The customer must pay only the interest for the first three months and then the rest of the amount in EMIs. You can also make higher payments. There are no charges for higher payments or foreclosure applicable post 6 months.
Travel loans are becoming the preferred form of credit because of lower interest rates than those for personal loans or credit cards. Also, the loan disbursal has become much easier and faster compared to earlier times, and most lenders are now providing flexible repayment terms that make your holiday memorable and the repayment stress-free.
👉Explore Travel Loan from LoanTap
Credit Card Takeover Loan
There are times when your expenses have temporarily hiked, and the result is often seen in the form of a large credit card debt. Keeping such situations in mind, lending institutions have come up with credit card takeover loans that are specifically designed to rescue people buried under credit card debt. This is a kind of personal loan that will help you settle your credit card dues. The advantage of this loan is that the interest rates on this personal loan are lower than the credit card interest rates.
A credit card charges interest anywhere from 36%–40%, while loan to clear credit-card dues charges about 16%–20% interest. The loan amount ranges from ₹50,000 to ₹2,00,000, as per your eligibility. The tenure of the loan varies from 3–9 months. For credit card takeover loans, the interest needs to be paid every month and the principal amount needs to be paid in lump sum at the end of the loan tenure.
Opting for a credit card takeover loan as opposed to personal term loan makes sense because the takeover loan offers flexibility of repayment. It is also a good option if you are looking for debt consolidation.
👉Explore Credit Card Takeover Loan from LoanTap
Rental Deposit Loan
Shifting to a rental house can be overwhelming in terms of both effort and resources, including money. The shifting expenses or the rental deposit could put a hole in your pocket. It becomes a major constraint while choosing a rental house of your choice, and you may end up sacrificing your dream home simply because you can't shell out the large amount needed for the security deposit. The rental deposit loan allows you to rent a place without having to worry about the security deposit. Under this arrangement, the loan amount is paid directly to the landlord, and the tenant just needs to pay the interest amount calculated for the duration of the rental lease. The principal amount needs to be paid back to the lender on the termination of the lease or end of loan tenure.
This type of Personal Loan is different from EMI-free loan as you pay only interest on the rental deposit loan while the principal amount lies safely with the landlord. In the EMI-free loan also, you are only paying the monthly interest, but the bullet payment towards principal needs to be paid at regular intervals.
👉Explore Rental Deposit Loan from LoanTap
House Owner Loan
This is a type of personal loan for house owners who would either like to renovate their existing home or want to redo their interiors. The applicant pays the interest amount every month and a bullet amount need to be paid toward the outstanding principal amount at regular intervals. The interest amount gets revised after the bullet payment, and the interest amount reduces considerably. The house owner loan amount ranges from ₹1,00,000 to ₹10,00,000, depending upon your eligibility.
The house owner loan is better as the monthly outflow is almost 40% lower than that for a Vanilla personal loan.
👉Explore House Owner Loan from LoanTap
Premium Bike Loan
Super bikes are a dream for most speed-loving millennials. These bikes come with heavy price tags. But it is definitely possible to ride your dream bike in today's world that encourages living in the now. Several lenders are providing premium bike loans at competitive rates with a flexible repayment option. You have the option of choosing from flexible loans and regular EMI-based loans. Some lenders provide up to 100% of on road vehicle price depending upon your eligibility.
The applicant pays the interest amount every month and a bullet amount needs to be paid toward the outstanding principal amount at regular intervals. The interest amount gets revised after the bullet payment.
The flexible repayment feature of superbike loans makes it a better deal than regular personal loan as the monthly outflow of cash is comparatively lower.
👉Explore Premium Bike Loan from LoanTap
Conclusion
With multitudes of instant personal loans available in the market, you, as the end user, needs to be well informed of each product and its features. After weighing the options, you must be able to decide whether opting for lifestyle loans is more suited for your needs. These loans are variants or types of personal loans and are easily available online.
LoanTap is a one stop solution to all your financial needs. We provide all the above kinds of personal loans at competitive rates based on your eligibility. So why wait? Say goodbye to all your financial worries with our services. Get in touch with us for more details.
---
Download our Personal Loan App: Google Playstore / Apple App Store