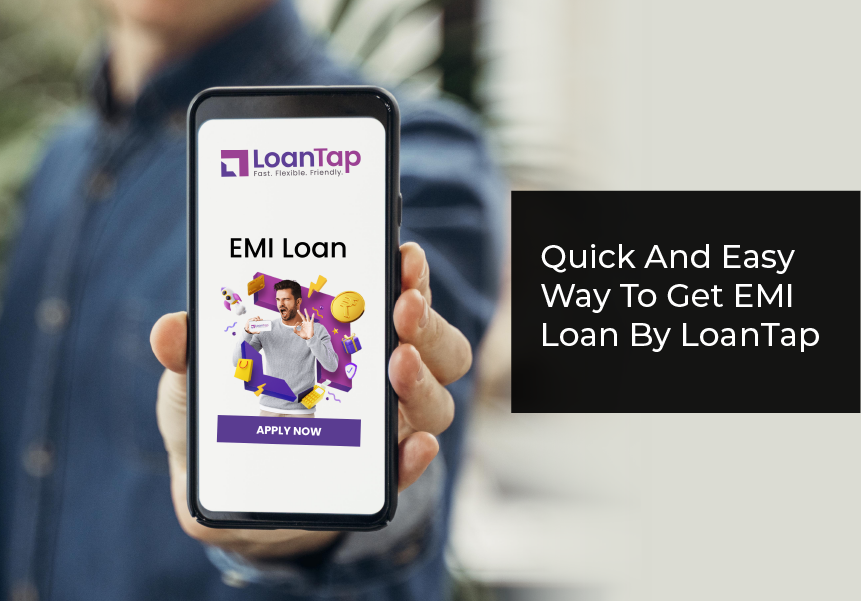 Published on : March 02, 2023
We never run out of expenses, instead, we run out of money, don't we? There are so many expenses that you cannot keep count of. Whether it is an essential or a luxury, everything requires funds. If you want to save up for every expense, you would have to defer your gratification for a very long time. Moreover, some expenses need to be funded right away and cannot be pushed back. Take, for example, funds for a medical emergency or a rental deposit that needs to be paid right away. Not all expenses can be pushed to the future. So, getting into a fund shortage situation is normal while you juggle your expenses in order of priority.
Personal loans are a great way to manage your fund shortages, especially when the need is great, and the expense cannot be deferred. So what in the world are personal loans? How do they help you to manage your expenses? Can anyone get an instant personal loan just like that? What do you mean by personal loan EMI? How are they repaid? If these and several other thoughts are crossing your mind, read on.
Personal loans are unsecured loans that can be used for any legal purpose without the need to pledge any assets. LoanTap offers tailored personal loans that can meet all your specific needs. You can get a personal loan for home renovation, holidays, weddings, personal gadgets, white goods, bikes, electric vehicles, debt consolidation, education, medical emergencies, rental deposits, relocation, dental expenses, hair transplants, home gyms and whatever else you may want to spend on.
Who is eligible for a personal loan?
Anyone who is an Indian citizen or a resident over the age of 21 years and earns a net monthly income of over INR 30,000 is eligible to apply for a personal loan from LoanTap. The simple eligibility conditions ensure that a lot of the earning population can qualify for the loan. In addition, it is preferable that you have a credit score in excess of 630.
How to apply for a personal loan?
The process of applying for a personal loan is very simple. Just download the LoanTap app on your smartphone and fill out an online application with the requisite details.
Next, upload the following documents towards proof of your identification and address-
PAN Card
Aadhaar Card
Salary slips for the last three months
Bank Statement for the last six months
Now, wait for the system to process your loan application while you relax and sip on your favourite beverage.
The system will check all the details provided by you, and if found correct, your loan application will be approved. 
The loan will be credited to your bank account within 24-36 hours.
LoanTap offers personal loans from INR 50000 to INR 10,00,000 for tenures ranging from 6 to 60 months at competitive rates. You can foreclose the loan any time after 6 months without any prepayment penalty.
Flexible Repayment Plans
LoanTap offers several repayment options to pay personal loan EMI. You can choose the one that suits you.
Term Loan- This is the plain vanilla option where you pay the principal and interest components via monthly EMIs. This is ideal for those with a steady stream of income.
Step-up Loan – This repayment option allows you to pay only the interest component for the first three months, after which the normal EMIs, including principal and interest start.
EMI-free Loan – This option allows you to pay only the interest component on a monthly basis. The principal is repaid in bullet payments on a quarterly or half-yearly basis. This is perfect for those who earn lumpy payments via incentives or bonuses on a periodical basis.
Overdraft Loan- This is ideal when you are not sure of how much you actually need or when the expense is going to be incurred on a staggered basis. You can get a pre-approved loan, but you will be charged interest based on actual usage.
Benefits of taking a personal loan
There are several benefits of taking out a personal loan. The EMIs don't drain your savings in one go. You can plan your outflows and spread them out over a period of time. You can choose to repay the loan in full after six months when you don't incur any prepayment penalty.
Quick disbursements – Unlike traditional loans, instant loans are disbursed within 24-36 hours. This provides you with great flexibility and convenience in times of emergency.
24/7 availability – Your plans are not disrupted by working hours, weekends or public holidays. You can apply and get your loan at any time since the process is completely digital.
Cheaper than credit cards – Credit cards charge 2.5-3% per month on outstanding balances, while personal loans are available at half the rates. It is prudent to plan your big-ticket purchases using a personal loan instead of swiping your plastic.
No physical paperwork – Since the process is online, there is no need for any paperwork. People who have taken traditional loans are aware of the endless forms they need to fill out. This comes as a welcome relief to borrowers.
No need to visit the bank – Say goodbye to those endless visits to the bank for a loan. You can complete the entire process without moving from your chair.
No collateral – Personal loans require no collateral, and you don't need to pledge any assets against the loan. This makes it easy for the younger generation to get a loan.
Conclusion
Getting a personal loan and paying it off in Equated Monthly Instalments is a very convenient method of getting funds whenever you are stuck with a huge expense. It reduces the burden of wiping off your savings by spreading your repayments over the tenure of the loan. The quick, efficient and seamless process ensures that you get your funds instantly while providing you with a superior customer experience.
There is nothing wrong with using a personal loan when you need extra funds. It helps you to plan your expenses better. You can choose your tenure wisely, along with the repayment plan to make sure your monthly budget is managed well.
What are you waiting for? Download the LoanTap app today and say goodbye to your financial woes the smart way!!