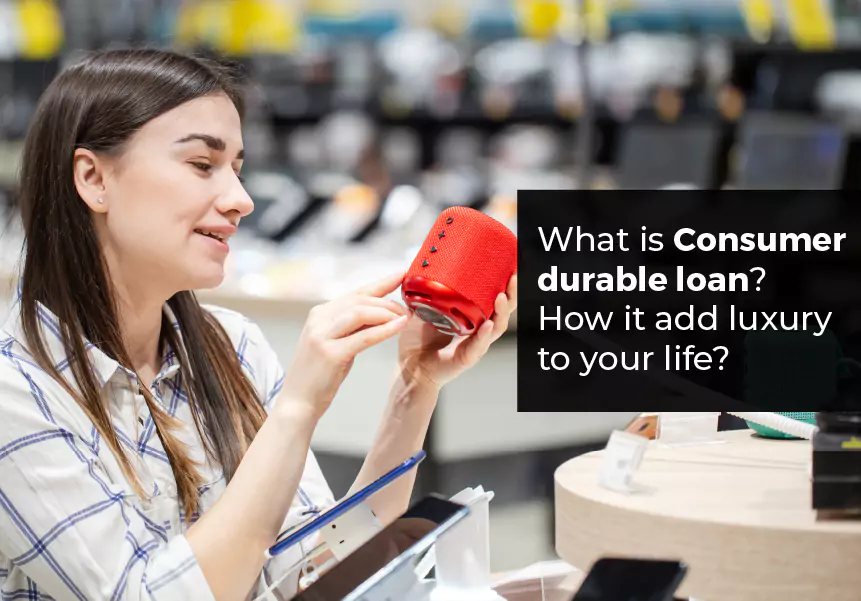 Published on : January 13, 2022
Running a household includes many aspects, setting up and maintaining the home being a vital part of the deal. This includes buying new appliances, especially electrical products of daily use. Whether you are going to set up the home for the first time or change certain worn-out devices from the home for renovation, you will need additional finances to make your home with components like gadgets and devices. We never intend to plan for such expenses, but living without consumer durables is also very difficult. In this fast-paced world, we all need the latest consumer durables to make our life easy and convenient and add a dash of luxury.
What is a Consumer Durable Loan?
A consumer durable loan is a loan taken for buying consumer durables. Some of the white goods that are included in this loan are a washing machine, refrigerator, television, cooking range, air conditioner, smartphones, generator, gym equipment, dishwasher, vacuum cleaner, water purifier, music or audio system, etc. One can easily figure out that it covers a broad range of products, right from the basic home components to luxury products.
A consumer durable loan needs to be repaid in EMIs over the tenure of the loan at a fixed interest rate. A consumer durable loan is a type of personal loan. The amount of loans can range from a few thousands to even lakhs. The reimbursement term generally ranges from 6 months to up to 5 years. You can get this loan whether you are a salaried person or self–employed. There is an additional loan processing amount, which is about 2% of the loan amount.
Is consumer durable loan "secured or unsecured"? It depends on which bank you avail of the loan offer, both alternatives are available.
What are the Benefits of Consumer Durable Loan
You can easily avail of a consumer durable loan offer just by fulfilling certain eligibility criteria and submitting basic identity and documentation proof. Several interesting offers are frequently available on such loans. Companies often give 100% financing for this type of loan, so there is no need to disburse any amount from your savings.
How to add luxury to your life with the Consumer Durable Loan
Here we have highlighted three ways to add luxury to your life with the Consumer Durable Loan.
1. Upgrade your electronic components
Electronic components can make your life comfortable. Sometimes, we often need them for our career aspirations. So, whether it is a laptop that will enable you to carry out all your office work or a mobile phone to get connected to your loved ones, you can easily upgrade your electric components with the Consumer Durable Loan.
2. Upgrade your home
You can easily purchase your basic home appliances for everyday use with the Consumer Durable Loan. You can now purchase the top brand microwave and oven grill. You can also buy a smart television or a new washing machine for laundry purposes. You can fulfill all your needs to upgrade your lifestyle more beautifully. You can enjoy the best life you have aspired for.
3. Upgrade your lifestyle
You can use Consumer Durable Loans to enjoy any fancy gadgets that you have set your eyes on. Whether it is adding equipment to your home gym or adding dishwashers and robot vacuum cleaners, you can use a consumer durable loan for the purpose.
LoanTap offers personal loans that can be used to buy consumer durables.
Normal Features of a LoanTap Personal loan that can be used as Consumer Durable Loan
1. Instant Approval of a loan
You don't need to wait for long to get your loan approval. With our instant loan approval, you can enjoy our loan process at the click of your fingertips. You can use the LoanTap website or download the LoanTap app on your smartphone.
2. Minimum Documentation requirement
There is no need for elaborate paperwork. All you need to do is upload some basic documents like PAN card, Aadhaar card, salary slips of the last three months and bank statements of the last six months.
3. Fast Loan disbursal
You can get the loan credited to your bank account within 24-36 hours of applying for the loan.
4. No Foreclosure Charges
You can foreclose your personal loan anytime after six months without any prepayment penalty.
5. No collateral
No assets need to be pledged as collateral to get a personal loan for consumer durables.
6 Cheaper than credit cards
Personal loans from LoanTap at 18% work out cheaper than credit cards that charge 24-36% on the outstanding balance on an annual basis.
How to Apply for Consumer Durable Loan from LoanTap
The basic eligibility criteria to apply for a personal loan from LoanTap include –
You must be between 21-60 years
You must be an Indian citizen or resident
You must have a net monthly income of over Rs 30,000
You will have to visit the LoanTap website or download the LoanTap app on your smartphone and fill out an online application form providing the details.
You will be required to upload the following documents –
PAN Card as Identification proof
Aadhar Card/Driving Licence/Passport as proof of residential address
Salary slips for the last three months
Bank statements of the last six months
In case you are self-employed –
PAN Card
Aadhaar Card/Driving Licence/Passport
Income Tax Returns of the last two years
Bank statements of the last six months
Profit and Loss Account and Balance Sheet of the business
The team from LoanTap will evaluate your application and if your credit score is good and you meet all the loan parameters, your loan will be approved. The loan amount will be credited to your bank account. The entire process will not take more than 24-36 hours.
LoanTap offers personal loans from Rs 50,000- Rs 10,00,000 for tenures ranging from 6 months to 60 months. Annual interest rates start from 18%. You can repay the loan in convenient installments by opting for any of the repayment options provided.
Buying consumer durables is essential to improve the quality of your living. They ease your daily life and provide you with a degree of comfort and luxury. When so many promotional offers are available, why lose the opportunity due to a shortage of funds? Use your LoanTap personal loan as a Consumer Durable Loan and give wings to your dreams.
Don't let anything come in the way between you and your aspirations for a better life. Go ahead and pick up all the consumer durables you need for a comfortable life. Personal loans from LoanTap will be with you all the way. Please visit https://loantap.in and we will be delighted to assist you.