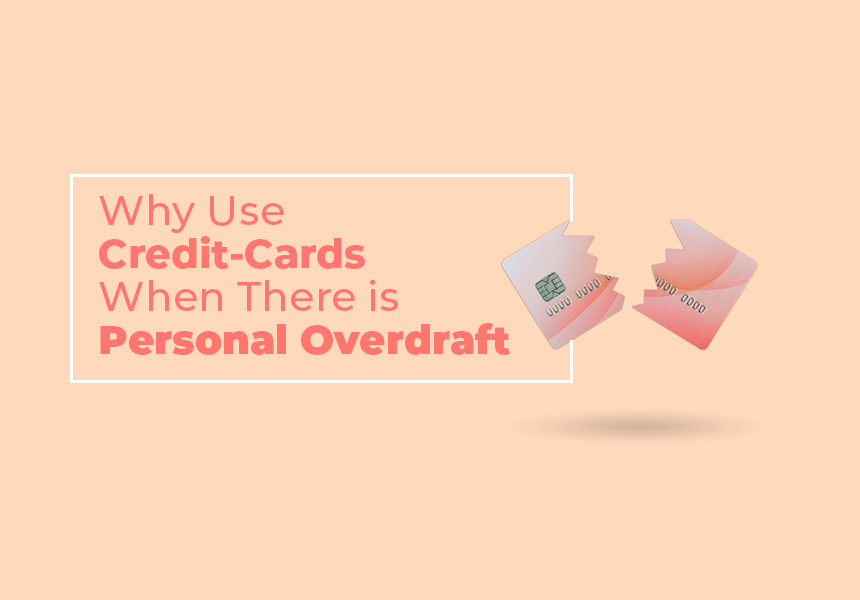 Published on : November 19, 2019
Applying for a credit card? Choose Personal Overdraft instead!
Among the different types of credit facilities available, most of the customers use credit cards or choose personal loans. While both of these credit options carry interest on the amount utilised, the usage of either of the two depends on the type of requirements an individual has.
One may wonder that how a personal loan can match the benefit of credit card. However, there are different kinds of personal loans that are available and Personal Overdraft, a line of credit facility for salaried professionals, comes closest to the way credit card is used.
In this blog post, we are going to explore how Overdraft Facility work. And when comparing Credit Card Vs Overdraft, which one is a better credit instrument for short term credit requirements.
Credit Cards – An easy instrument to manage monthly cash crunch
Primarily, credit cards are easy substitutes for cash. An excellent tool to manage finances as well as conveniently pay for the things you want to purchase are the major reasons why credit cards are preferred by many. Credit card is primarily used for day-to-day transactional requirements or small-ticket purchases in some cases.
The main benefit of the credit card is the interest-free period/grace period (for 30-60 days) under which an individual can avail credit up to the pre-approved credit limit, as set by the bank or the credit card issuing company. Post the grace period, a monthly interest is charged on the outstanding amount or unpaid credit that was utilized.
While most of the credit card holders pay more attention to the annual fees and other such charges while applying/using a credit card, it is actually the interest rate that's most crucial and can make your credit card ownership a costly affair, if not managed well.
How do credit cards work?
If the total utilized amount is not paid before the cycle, two options are given to the credit card holder. Either pay full amount due along with the interest or pay a minimum amount which is primarily the interest part. If one gets into the cycle of paying only minimum amount charges every month and keeps utilizing their credit card, then the overall outstanding on credit card and the interest to be paid becomes really high
The finance charges on most credit cards in India are based on a monthly percentage interest rate and is calculated on a daily basis
During the interest-free period or grace period, the balances on credit cards do not attract any finance charges
One of the other important rules of credit card spending is maintaining a healthy Credit Utilization Ratio at 30% or less of the total available credit limit. Not only it builds your credibility in the books of creditors as responsible borrower, but also keeps your financial liabilities in control.
Personal Overdraft Loan
The Personal Overdraft is a line of credit or loan facility that allows loan holders to make withdrawals in tranches from their pre-approved credit limit and pay interest on monthly basis. To put it simply, if you have an approved credit limit of ₹ 1,00,000 and you wish to use only Rs 30,000, you withdraw Rs 30,000 and pay interest on monthly basis only on the withdrawn amount.
But how does that help?
First, an overdraft for salaried comes with almost half the interest rate (1.2-1.8% per month) as compared to interest rate charged by credit cards (3-5%).
Second, it helps in building better financial discipline as compared to credit card. It's because the interest amount is paid in installment on monthly basis while you can repay the withdrawn amount anytime without any additional charges.
How Overdraft Loan works?
In the case of overdraft facility, the interest rate is charged only for the number of days for which the amount is used and only on the amount of cash withdrawn.
Here is a quick comparison table highlighting the pros and cons of both the above-discussed credit instruments along with their suitability-
Product
Pros
Cons
Most suitable for
Credit Card
● Quicker approval process as compared to OD
● The benefit of reward programs as per usage
● High-interest rates as compared to credit cards
● Easy access to funds often leads to overspending
● Piling up of debt due to a 'minimum repayment' option given to users
● Everyday spending
● Shopping
Personal Overdraft
● Cheaper interest rate as compared to a credit card
● Borrowers are only charged interest if they use funds from their overdraft
● OD facility allows you to manage your cash flow better in case of emergency credit requirements.
● End to end loan process can be time-consuming
● To clear short term debts
● To fund unexpected costs
Still not sure about the choice between credit cards and overdraft facility?
Here are some of the reasons why a personal overdraft can be a better credit option over a credit card.
3 Reasons that Make Overdraft Better than Credit Cards
1) Lower interest rate
With tailored interest rates, which are conducive to pay off the dues, personal overdraft is specifically designed with long-term payment option in mind. The annual interest rates on personal overdraft is generally in range of 15-20% unlike the high interest rate of 30-45% on credit cards. Hence, as a revolving credit facility, personal overdraft is definitely a better choice.
2) Availability of easy cash
A personal overdraft loan gives you immediate access to cash in times of need at no extra charges. OD facility is ideal for unexpected expenses, temporary financial issues or emergencies as it gives you the comfort of a solid financial back-up. Even though credit cards have cash withdrawal facility, it turns out to be more expensive as it often comes with additional charges.
3) You're in control of your spending
When you avail an overdraft loan, you agree on a maximum borrowing limit with the lender.  You pay monthly interest outgo towards the monies withdrawn. This helps build better credit score and is better than paying minimum due of credit card on monthly basis.
Such payments of interest on Personal Overdraft loan are seen as indicators of healthy financial discipline by the credit bureaus like CIBIL, Equifax or Crif. However, paying minimum amount due leads to pending outstanding payment on the card and may eventually lead to a debt trap.
Overdraft For Salaried from LoanTap
Even before you apply, you can check your loan eligibility by clicking on Check My Rate of Personal Overdraft page. This is unlike applying for credit card wherein you are not sure of the amount that the financial institution will approve of. LoanTap is one the digital NBFCs that helps you process loan within 24-36 hours.
In addition, for the products like Personal Overdraft, the tranches are disbursed within few hours of raising a request on your account – through phone, web or app. Apart from this quick processing, availing Personal Overdraft Loan from LoanTap has many advantages as listed below-
No charges on maintaining the credit line OD
No diminishing line of OD through the tenure of loan unlike other digital lenders
A comfortable and hassle-free process right from the online application until approved credit line amount in your OD account
Transparent processes and extremely responsive customer servicing team through the tenure of the loan
Flexible repayment schedule where you pay interest only when you withdraw. This is also better than EMI based personal loan as it reduces monthly cash go up to 40%
Minimum documents required and documents have to uploaded online through seamless web/app
📢Apply Now For LoanTap's Personal Overdraft for Salaried Professionals