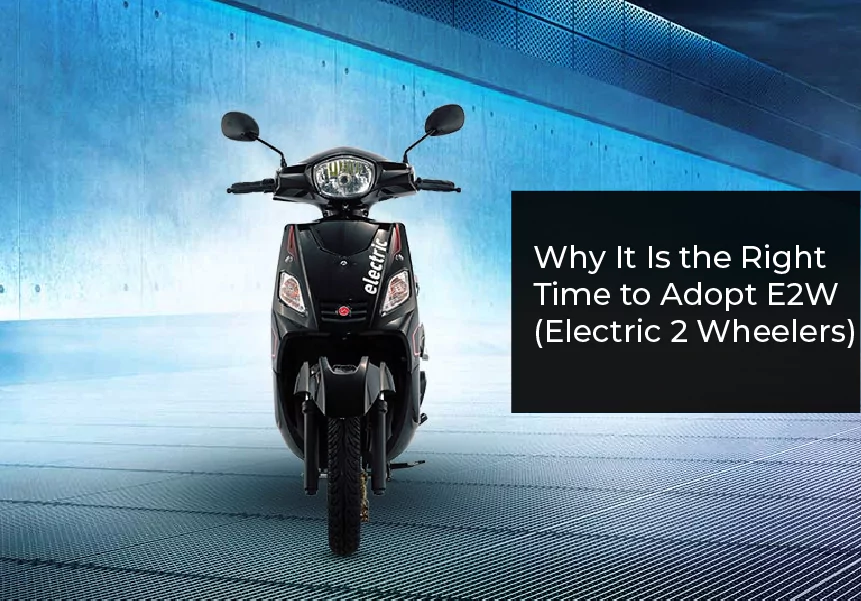 Published on : October 03, 2022
The shift to electric commutes will help India to save 1 Giga tonne of CO2 emissions by the year 2030. Every electric vehicle on the road will help to improve air quality for future generations. Isn't that reason enough to make a conscious move towards electric mobility? According to a study by McKinsey, the electric two-wheeler market in India can cross $4.5 million in the next 3 years. The falling battery prices, improved designs, pressing need for ecofriendly mobility solutions and the active intervention of the government by introducing initiatives like FAME II are all pointing to India moving towards electric mobility in the near future.
Let us explore why opting for EV bikes in India would be a great idea.
Great riding experience – Electric two-wheelers are being designed using innovative technology with the latest features which offer a great riding experience apart from being a clean and green one. Whether it is detachable batteries or USB charging ports, they are helping riders enjoy a comfortable commute.
Regenerative braking – This is a differentiator when you compare electric two-wheelers with fuel bikes. This is an energy recovery method that halts a moving vehicle by transferring its kinetic energy into the battery.
Aesthetics – The new designs have made electric scooters a piece of art that look so elegant and sleek on the road. Some brands use alloy wheels making it light weight and stable. Telescopic suspensions provide riders with a smooth ride on bumpy roads.
Cost advantage – The spiraling fuel prices burn a hole in the pockets of two-wheeler riders. Switching to EV bikes in India offers a cost advantage. The running cost of an EV bike is INR 0.15 per km while a fuel bike costs INR 4 per km. This makes EV bikes in India a no-brainer first choice. You can charge them at home so you save time as well.
Low maintenance – EV bikes in India are very convenient to maintain since they don't have too many moving parts. They run on replaceable lithium-ion batteries which are safe and don't weigh much. They are quite durable and have a long life.
Environmentally friendly – This is the basic idea behind switching to EV bikes in India. Over 60% of the total petrol consumption by vehicles in India is done by bikes/scooters. They are the major culprits adding to over 30% of the carbon emissions. Electric two-wheelers are the key to reducing carbon emissions and meeting India's national goal of zero carbon emissions by 2070. They are clean and green vehicles that cause neither air nor sound pollution.
Subsidies – Both central and state governments are actively promoting electric bikes by offering multiple incentives. The effort is to create a conducive environment where the majority of the population is incentivized to make the switch to electric vehicles.
Financing – Several lenders have come up with attractive schemes for financing electric vehicles. For example, LoanTap offers personal loans for electric two wheeler price from INR 30,000- INR 1,50,000. You can repay the same in easy EMIs over twelve to thirty six months.
How to apply for an electric vehicle loan?
The eligibility criteria is very simple and can be met by most people. You can get an electric bike loan if you are an Indian citizen or resident over 21 years of age and earn a minimum net monthly income of over INR 30,000. 
You will be required to download the LoanTap app on your smartphone and fill out an online application. A few mandatory documents like PAN Card, Aadhaar Card, Salary slip for the last month and bank statements for the last 3 months will need to be uploaded. 
The system will process your application and if all the required documents are perfect, your loan will be approved and the sanction letter will be issued. You can use this to buy your electric bike.
Conclusion
Electric two-wheelers are the future of personal transportation for the majority of people in India. It is time to make informed decisions as responsible citizens of the country and inhabitants of the planet and do the right thing. Switching to cleaner and greener transport that is also easy on the pocket is the smart way of adapting to the future. Forge ahead to a clean commute by opting for an electric two-wheeler today. LoanTap is here to support you with simple financing options. Say goodbye to delays, paperwork, multiple visits to banks and endless documentation. Clean and green transportation is the most sensible way to reduce carbon emissions and we should all do our bit to contribute to its reduction.
If you are looking for a bike, go electric. Download the LoanTap app today and ride away to a brighter future.