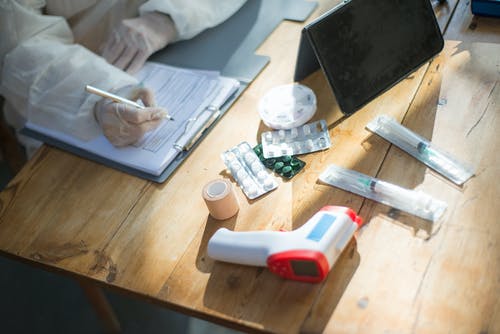 Managing monthly expenses can be nerve-wracking for salaried professionals. Medical emergencies do not come with warnings yet need immediate funds for recovery. It can be a daunting experience for anybody with limited cash resources. Many people still do not have any medical insurance to cover urgent medical expenses.
In such stressful circumstances, quick medical loans can become your savior. A Medical Loan is similar to a personal loan that offers financial support to cover medical expenses. You can pay for medical expenses, including hospitalization bills, medical prescription bills, surgeries, chemotherapy, and other treatments. In times like these, LoanTap offers you immediate funds at short notice.
But, How Does Medical Loan Work?
Life is uncertain and full of unforeseen circumstances like medical emergencies. At LoanTap, we are happy to assist our customers with instant personal loans for medical procedures. Medical Loans provide you with easy repayment options and long tenures at lower interest rates. These personal loans with EMI can reduce your stress during tough times and protect your family in any situation. LoanTap offers you medical loans in the range of INR 50,000 – INR 10,00,000 for tenure ranging between 6 months to 60 months. Your loan amount will depend on your salary and other eligibility criteria.
LoanTap Medical Loans Features and Benefits
If you don't have any medical policy or insurance,  medical loans can be your saving grace. A Medical Emergency Loan can save you from the embarrassment of borrowing money from family and friends. It also helps you decide the budget ahead and set the tenure depending on your profile and your consistent income. Medical loans from LoanTap come with the following features.
Instant Online Approval: If you are eligible and upload the valid documents, your loan application will be approved on the same day. LoanTap believes in instant disbursal and credits the loan amount within 24 hours. Get approved for a line of credit of up to 10 lakh in real-time.
Collateral-free Loan: Basically, Medical Loan is an unsecured loan, where you don't need to submit any collateral. LoanTap will not possess any security for availing of the loan. It is easy to get emergency funds for medical treatments at affordable interest rates.
Unique Personal Loan: Medical bills and surgical procedures are expensive and can dent your savings. That is another reason why taking a personal medical loan is necessary. It will not create any financial imbalance for you. Our monthly outflows are lower by up to 40% of regular loans.
Flexible Repayments: There are some customized repayment options available for you. For Unsecured Medical Loan, you can choose any convenient mode to repay the amount. There will be no foreclosure charges after six months. You can pay the interest-only amount for the first three months, followed by the fixed monthly installments.
Minimum Paperwork: You will get the applied amount without going through any lengthy paperwork. LoanTap will ask you for a few documents to confirm your credit score, income, and identity. Applying for a medical loan is a simple and paperless process.
Transparent Process: LoanTap follows a quick and simple process to avail of the emergency medical loan. There will be no hidden charges or prepayment charges before the tenure ends. Pay interest-only EMIs for the first three months followed by normal EMIs.
Choose your own Flexible Installment Option
A medical loan is a big help to cover doctor bills or surgery fees immediately. It is a cheaper option than using a credit card for covering medical bills. Credit cards could charge you 2-3% interest on a monthly basis. Unlike other fintech lenders, LoanTap offers you the three best final installment options to repay the loan. Customized repayment methods will be decided based on your profile and income.
EMI Free Installment
This affordable option is ideal for making an interest-only payment every month. You can repay in the form of bullet payments towards the principal outstanding every 3/6 months. You can pay off the entire amount with incentives you receive every 3-6 months.
Step-Up Installment
Are you looking for the perfect solution to control medical costs? You can choose Step-up installment methods to pay only interest for the first three months, followed by fixed EMI. This flexible installment solution will give you space to handle heavy expenditure post a big event like medical emergencies.
Term Loan Installment
Medical Term Loan can help you manage expenses in the form of fixed EMIs. You can repay the loan amount in monthly installments, where each installment reduces both interest and principal amount. You can decide the tenure based on the amount needed and your net monthly income.
Eligibility Criteria for Medical Loans
At LoanTap, we offer the fastest and simple digital lending platform to get financial products. Medical Loans will allow you to withdraw any amount you want. You can apply for a medical loan during emergencies and get a quick disbursal of the loan into your account. However, you should qualify all the conditions that we have listed below:-
Applicants should be 21 years or above.
You must have a minimum income of INR 30,000 per month. ( for both self-employed/ salaried employees).
Valid Bank statements of the last six months.
You must be an Indian Citizen or resident.
Payslip of the last three months.
If you clear all the eligibility criteria, you are applicable for the online loan application. You can apply for a medical loan by following the hassle-free process. Whether you are self-employed or a business owner, it is available for everyone to borrow money via a medical loan with easy monthly payment options.
Documents Required for Medical Loans Online
Medical procedures and bills take a big chunk from your monthly income. Sometimes, you run out of financial scope to clear all the medical costs. So, Medical Loans for surgery can spare your savings by taking care of heavy expenditure. But, to get the Medical Loans in India, we have prepared a list of the following documents that you need to submit:-
PAN Card Number
Address proof like valid driving license, Aadhar Card, Passport.
Identity proof like driving license, valid passport, voter's ID, Aadhar Card.
Salary slips for the last three months
Valid Bank Statements for the last six months
Also, the LoanTap team will verify the documents thoroughly to make sure they are valid and updated. You must bear in mind that your credit score should be decent. Otherwise, your profile can be rejected if the credit score is not good. Get a quick approval after matching all the parameters. Once the loan application is approved, your loan will be disbursed and a repayment tenure will be set up as per your preference.
Steps to get the Medical Loan from LoanTap
LoanTap understands that time is essential when you are facing difficult times. We have provided the best financial products using the fastest technology and easy-to-access digital platforms. All the documents should be prepared and updated with details to get the loan amount quickly. While applying for the loan, you need to line up the basic documents like Aadhar card, pan card, and income proof. If you are eligible to apply, follow this step-by-step guide to complete the process online:-
Step 1: Either download an app from Google Play Store or visit the LoanTap Website to fill out the application form with your valid details.
Step 2: With proper verification, you should submit the required documents online by attaching the signed copies. Wait patiently till the LoanTap team matches all the given parameters with your documents.
Step 3: As soon as they verify your profile, the Team will send you the instant approval. In some cases, your account gets validated within 24 -36 hours.
Step 4: Activate your account after fast approval and disburse the loan amount on the same day.
Make sure you follow all the steps accurately to get instant medical loans in India. You can also explore the personal loan options available on the LoanTap website and choose the best-suited one as per your personal needs. By using a tailored personal loan, you can provide the best medical care for yourself and your family. This way, you will be able to manage your credit score and keep your account balance healthy.
Medical Loan Interest Rate
Personal Loans for medical emergencies are available at an annual interest rate of 18%. The interest rates may vary depending on your credit score, medical needs, account balance, income proof, and tenure. Along with this, LoanTap charges only a 2.5 % processing fee on the loan amount. There will be no prepayment charges on the loan amount post six months.
LoanTap can become your financial savior in times of need by providing instant loans online. You can go for secured loan options if you require a higher amount. Our financial products are cheaper than credit cards, which charge 24-36% annually. Emergency Medical Loans help you in tough times by giving you access to funds within 24 hours. When you are in need, LoanTap can be your friend indeed. 
Medical loans from LoanTap can be a real support in case of medical emergencies.
LoanTap has developed a quick, efficient, paperless and contactless process so that
Anyone can get access to funds quickly, anytime, anywhere without worrying about banking hours.