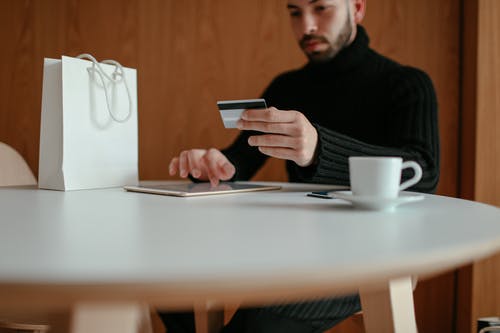 Credit Cards make an integral part of the younger generation. It has increased the efficiency of spending money, simplified shopping, and gives easy-to-access in times of emergency. High-interest rates on Credit Cards and missing card payments can escalate into outstanding debts. It can cause a bad credit score. So, LoanTap brings you a Credit Card Takeover Loan to manage the credit debt immediately. It provides you with an affordable solution to clear all your credit card dues.
Credit Consolidate Loan gives you the chance to take corrective measures quickly. Along with this, you will get other benefits for staying away from the high-interest rate of credit cards. This low-interest option will remove your worries related to credit card bills. It eases monthly expenses by offering up to five times your salary.
How to Clear Credit Card Debt without paying?
Whenever you go out shopping, it's fun to swipe your credit card. This convenient way attracts millennials to use credit cards accompanied by the growth of digital payments. Your credit bills pile up before you realize it. High-interest credit card dues can push you into cash crunches. The Credit Card Takeover Loans will offer you a loan amount ranging from INR 50,000 to INR 2 lakhs for the tenure in the range of 6 months – 24 months.
 It is similar to a personal loan, which lends you the loan amount to build financial discipline. You can take personal loans to pay the debt of more than one credit card. Step up loan gives you the freedom to enjoy interest-only payments for the first three months, followed by the low monthly installments in the remaining tenure. In the end, it will help you to improve your credit score. 
Benefits of Instant Loan for Credit Card Payment
Credit Card Debt Loan is a smarter and easy way that allows you to consolidate credit with the best consolidation providers. LoanTap will help you to beat high credit debt with low-interest consolidation loans. Consolidation loans allow you to pay them back at your convenience. Here are some features of getting instant credit card takeover loans:-
Instant Approval: Digital Lending Platforms are making the loan application process simple. LoanTap will activate instant disbursal of the loan after verifying your bank and personal details. With just a few clicks, we will credit the amount into your account on the same day of approval.
Minimum Documents: Debt Consolidation Loan Facility is not a lengthy process, where you only need to submit a few documents. We collect the required documentation to verify your application in less than 24 hours or you can upload them online.
Lower Interest Rates: This customizable loan facility will deduct monthly payments on your consolidation loan. It will charge a lower interest rate as compared to the credit card. Top financial products like personal loans are available to let you pay back with ease. It is available at an interest of 1.5% – 2% monthly compared to credit card interest of 2.5-3% on outstanding payments.
Improve Credit Score: While applying for a flexible consolidation loan, you can showcase financial discipline by paying off your debts. It will help you maintain the CIBIL Score and make you financially disciplined. The debt consolidation facility allows you to get over the vicious payments cycle and ensure a good credit history.
Collateral Free Loan: For availing personal debt consolidation loan, you don't need to stake your property or give assets as mortgage against the loan amount. Credit Card Takeover loans are essentially unsecured loans, where no bank or NBFCs ask you for any collateral as possession in exchange for the immediate funds.
No Hidden Cost: LoanTap offers you the best personal loans with a simple loan application process online. It is a zero prepayment facility where you get the quick disbursal of the loan. You can repay your credit card bills without any foreclosure or hidden charges.
Flexible Installment Options: We provide you with the two final installment options to repay the loan. You can decide the installment solution based on your profile and income source. Settle your credit card dues by filling out an application and applying for easy repayments at half the cost.
Eligibility Criteria for Credit Card Takeover Loan
Credit cards are a convenient way of borrowing. However, it charges much higher interest rates. Loans can be helpful in clearing credit card outstanding that will help you exit the vicious debt cycle at lower interest rates. This type of personal loan can make the repayments stress-free. To avail of the Credit Card Takeover Loan, you should qualify the mentioned eligibility conditions below:-
You should be above or 21 years of age.
You are an Indian citizen or resident
Your net monthly income should be over INR 30,000/-
Basic Documents Required for Instant Personal Loan
After checking all the eligibility criteria, you will get the loan amount with minimal documentation. Credit cards are one of the most expensive forms of debt. Any delay in payments can cause a poor credit score that will upset your loan taking ability.To know that you are eligible for this Personal Loan for Credit Card Bills, the LoanTap team will ask you to provide the following documents for further verification:-
PAN Card
Proof of residential address (Aadhaar card, Electricity bills, Passport)
Identity Proofs such as Driving License, Aadhar Card, Voter ID.
Salary slips of last three months
Bank statement of the salary account for the six months
ITR returns for last two years in case of self-employed
Steps to apply for Personal Loan for Credit Card Payments
You make sure these mentioned documents are verified. Every detail should be valid and updated. LoanTap assures you an efficient and seamless user experience by providing prompt loan service online in India. Our team may ask you for more documents during credit checks.
Install the LoanTap app from Google Play Store or visit the page https://LoanTap.in/apply to apply online.
Create your profile by filling out the basic details like email address and residential address.
After creating a profile, check out the offers and enter the desired loan amount.
Upload the basic documents or mail them to the team directly with proper validation.
Wait for the verification of the documents and scrutiny of the credit score.
Once the KYC is complete, the loan will be approved.
As soon as you match all the parameters, they will activate instant disbursal online and send an approval. You can withdraw as much as you need when the loan amount gets credited into your account. LoanTap offers you a higher amount loan in the range of INR50,000 – INR 10 lakhs for tenures of 5 years. Interest rates are charged starting from 18% based on the type of loan, customer profile, and other related factors.
Two Flexible Installment Options
Salaried professionals and employees always struggle with paying credit card bills on time. Sometimes, you may overspend on unusual expenses. At the end of the month, you will get a large credit card bill at your doorstep. It leads to stress and you end up spending more than you spend in the whole month. That's the reason why LoanTap has designed two customized easy repayment options for borrowers.
Step up Loan Installment: This is best suited for working professionals If you know the exact loan amount and tenure time. This Step Up Loan offers you to pay interest only on the outstanding principal for the three months, followed by the fixed EMIs in the remaining tenure. This loan will allow you to manage expenses the way you want. It is an ideal solution when you need money to pay the heavy expenditure bills on credit cards.
Term Loan: This Term Loan is suitable when you know the loan amount and your income is steady. It allows you to make the repayments via Fixed Equated Monthly Installments, where EMI is the sum of interest plus the principal amount. It helps to reduce the monthly payments and interest on the total loan amount.
Can I go for pre-closing the loan?
Yes, Absolutely! Borrowers are allowed to do prepayments after six months of disbursement. LoanTap will not ask for foreclosure charges post six months of loan completion. But, if you want to pay the entire loan amount before six months, there will be minimal charges applicable on the prepayments. Luckily, you can go for higher or partial payments towards your loan. There will be no hidden charges on higher payments.
Before applying for any debt consolidation loan in India, Credit Card Takeover Loan is available in cities where LoanTap is operational. Currently, we are providing our loans in Bangalore, Hyderabad, Chennai, Coimbatore, Mumbai, Pune, Ahmedabad, Vadodara, Raipur, Indore, Jaipur, Delhi-NCR, Chandigarh and many more locations.
If you are saddled with credit card debts, you can opt for the credit card takeover loan from LoanTap to get rid of your unmanageable debt and make a new beginning. This will help fix the damage to your credit score and open up a new line of credit in future. With LoanTap around, your future is in safe hands.