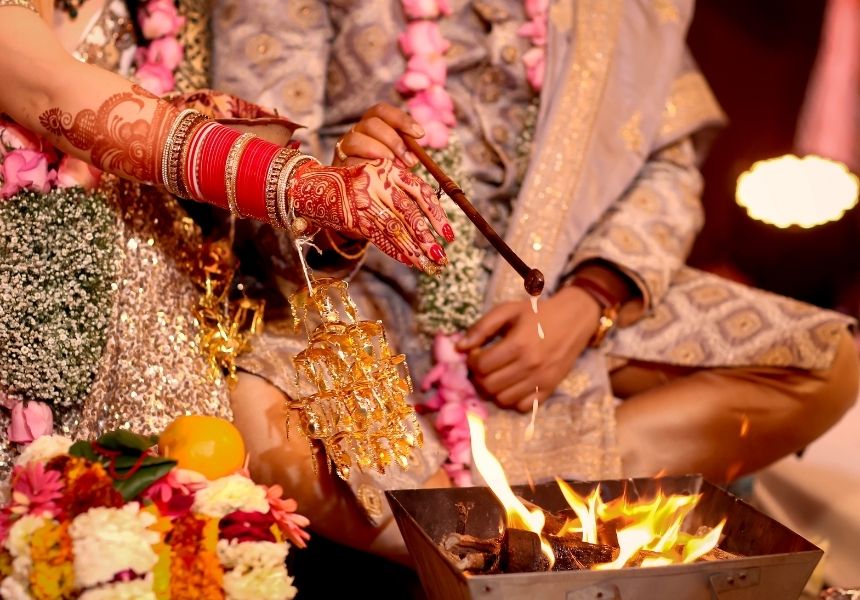 Marriages are made in heaven but the expenses have to be borne on earth! A wedding is a very significant event in a person's life and everyone attaches importance to it. The event, especially in the Indian context, is a grand and elaborate affair spread over multiple functions and a couple of days. As with all such grand events, they can cost an obnoxious amount of money. While you can't avoid the expense, it is in your hands to plan well in advance, drive a hard bargain and ensure that you get the best bang for your buck.
There are numerous expenses associated with a wedding. Some of the important ones that form a high percentage of the total cost include –
The rent of the venue – Depending on the budget, you can choose a venue that is in the same city or opt for a destination venue to keep things interesting.
Food – Food forms a very important part of the wedding expenses. Apart from the special banquets at the wedding and reception, there are several other events where meals will be served. In a destination wedding, the quoted rates usually cover both food and accommodation.
Wedding Decor – Deciding on a theme and arranging the decor with fresh flowers and other decorations is a separate expense. Venues usually have tie-ups with vendors who organise these services.
Wedding photography – Wedding photography and cinematography are a mandatory expense at weddings and can cost a handsome sum to cover all the events over 2-3 days.
Bridal Outfits – If you want to shine like a Bollywood Bride you must be willing to shell out a bomb on a designer outfit.
Pre-Wedding Shoot – This is the latest trend among young couples where they use a beautiful location to shoot some candid pictures as a teaser to the real event.
While you would dig into your savings or liquidate some investments for your wedding expenses, you may still be in need of more funds to make all your dreams come true. This is where friendly lenders like Loan Tap come in.
What is a personal loan?
A personal loan is essentially a no-collateral loan or a loan that is given without any assets being pledged. It can virtually be used for any legal purpose. This feature is what makes it popular among the younger generation for they are at the start of their career and usually do not have assets worth pledging. A personal loan is an unsecured loan that can be taken for any purpose whenever you are faced with a temporary fund crunch.
Who is eligible for a personal loan?
At LoanTap, the eligibility requirements for a personal loan are very simple.
Age and citizenship – If you are an Indian resident or citizen over the age of 21 years and below 58 years in case of salaried or 65 in case of a self-employed person, you are eligible to apply for a personal loan.
Minimum Salary – If you are earning a net monthly income of over Rs 30,000 per month, you can apply for a personal loan.
Employment Status – If you are in a permanent job with a reputed company, you have a higher chance of getting your loan approved.
No multiple loans – If you do not have multiple loans running at the same time, you are eligible to apply for a personal loan.
Good CIBIL Score – If you have a decent CIBIL score, you are likely to get your loan approved faster.
Does Marriage Loan come under a Personal Loan?
Yes. A marriage loan is a tailored personal loan. The eligibility criteria for a marriage loan are the same as for a personal loan.
Do you have a wedding wishlist? Have you picked the perfect wedding location, the engagement ring, the tantalising food, the dreamy theme, the perfectly matched wedding outfits etc? Now you can focus on drawing up that dream list and making it come true. You can leave the worry of funds to LoanTap. Our marriage loan will help you fund your dream wedding. The marriage loan comes with a slew of flexible repayment options and flexible tenures to meet your specific needs. A simple and seamless process combined with a quick disbursal will help you plan the perfect wedding.
How should one apply for a Marriage Loan?
The process is very simple.
Step 1: Visit the LoanTap website and fill up an online application form
Step 2: Upload the following documents –
PAN Card
Aadhaar Card
Salary slips of the last three months
Bank statements of the salary account for the last six months
Step 3: The team at LoanTap will evaluate your application and if everything is found in order, the loan application will be approved.
Step 4: The loan will be disbursed to your mandated account within 24-36 hours from the time of the online application.
What are the benefits of applying for a marriage loan?
Taking a marriage loan takes the pressure off a temporary fund crunch. The process being very simple can be handled with no paperwork. Only the minimum documents need to be uploaded.
The speed and ease of getting the loan approved will help you to focus on the wedding preparations instead of chasing the loan approval. Once the loan is serviced for six months you have the flexibility of foreclosing the loan without any prepayment penalty. As a matter of convenience to marriage loan borrowers, LoanTap offers an additional incentive of paying only the interest component of the EMI for the first three months and normal EMIs thereafter. The interest rates on marriage loans offered by Loan Tap are cheaper than the 24-30% charged by credit cards.
What is the size of the marriage loan offered by LoanTap?
You can avail of a marriage loan from LoanTap from Rs 50,000- Rs 10,00,000 for periods ranging from six months to sixty months. Annual Interest rates start from 18%. You can choose from a range of flexible repayment plans. You can fix the tenure according to the size of EMI you are comfortable with.
Applying for a personal loan for your wedding to make it the day you always dream of is a sensible thing to do instead of borrowing from friends and family and entering into unnecessary obligations. This is a formal agreement and will force you to manage your monthly budget so that you can pay off your EMIs.
Take the example of Sunita and Sushil who were planning to get married one year later. They scouted around for marriage venues, surfed the net, visited a few places and bargained for the best rates. They put down an advance and booked the place they liked in Goa 12 months in advance. That way, they managed to get a good discount. They managed to get the food and accommodation for 120 guests at Rs 12 lakh at a plush Goa resort and at that price, it was quite a steal. The next big-ticket expense was the decor and the wedding photography. They managed to get good deals by using their contacts. They followed the same logic for every head of expenses and managed to save quite a bit that could come in useful for other expenses.
They decided to apply separately for the marriage loan. That way, they could get double the amount based on their respective credit scores. Since both were eligible for the maximum loan of Rs 10 lakhs that LoanTap offers, they managed to raise Rs 20 lakh in total. This was a good sum to manage a destination wedding with all the pomp and show that the couple wanted. Loan Tap gave them the benefit of interest-only EMI for the first three months and the normal EMIs started later.
By managing their finances well and running a tight ship, they managed to pay off their EMIs without any delay or default. When a lot of planning goes in, the results are always beneficial for the parties concerned as they can make the most of the options available. 
Why should you prefer a Marriage Loan over a Credit Card?
Marriage Loans offered by LoanTap are offered at rates of 18% while credit cards charge 2.5-3% per month which works out to 24-36% on an annualized basis. This can make a huge difference over a tenure of 5 years. It is more prudent to take a marriage loan and repay the same via EMIs over the tenure of the loan instead of falling into a vicious debt trap with credit cards.
No matter which way you look at it, a marriage loan from LoanTap will help you enjoy the best day of your life without any worries. So, start planning right now and focus on the big day without bothering too much about the funding. LoanTap is just a few clicks away whenever you need it.