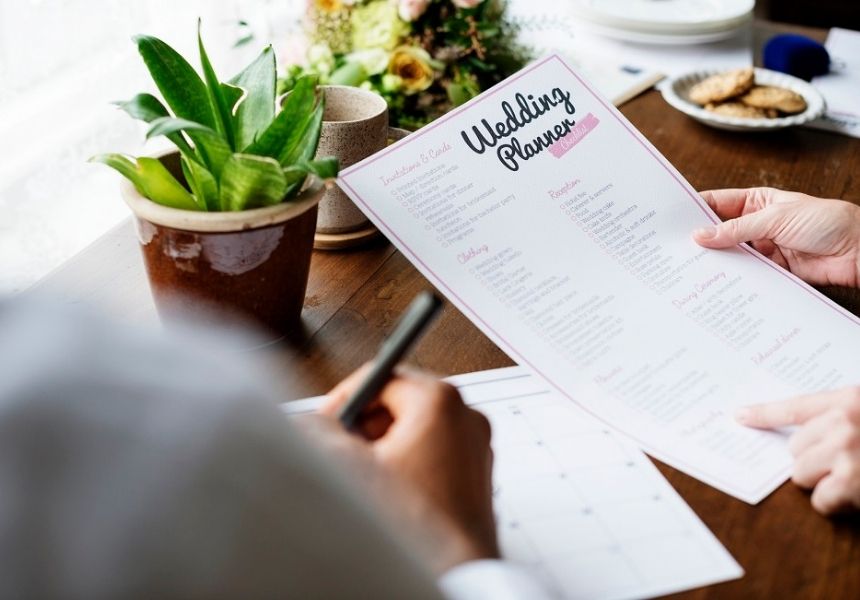 Marriages are one of the most significant moments in a couple's life as they take their first step forward together towards a new beginning. Everyone wants the day to be pitch-perfect and special in every way. In the days of the past, families used to take care of all the arrangements on their own. Be it the cooking and serving of food or arranging for the stay of the wedding guests, family members pitched in and personally supervised the activities. In today's technology-driven world, all these arrangements can be done at the click of a button. There are wedding packages for every budget. Every single need is taken care of and you do not need to lift a finger.
As they say, the more the sugar, the more the sweetness in the dish. If you have money to splurge you can go to any length to make your special day extra special. The best part is, you can have a wedding package according to your budget. You can keep it simple and close it within 5 lakhs or spend some more and take it up to 10 lakhs.
A wedding package includes all the costs that go into a wedding excluding the bridal jewellery of course! The cost would depend on a lot of factors-
Where are you holding the wedding?
How many guests are you inviting?
Will you be paying the transportation fare for the guests if it is a destination wedding?
How many days/nights will you be booking?
Will it be a 3- star venue or higher?
What is the cost of the food arrangement?
How much will you be spending on the theme and decor?
What amount will you budget for photography/cinematography?
What is the amount you are planning to spend on wedding outfits?
What about the return gifts for the invitees?
Will you be sending out personalised wedding invitations with gifts?
Once you find the answer to these questions, you will be able to arrive at a rough estimate of the wedding expenses.
Stay calm if you feel that the estimate is exceeding the ready funds you have. LoanTap is happy to assist you with a convenient wedding loan that you can pay off over the next five years instead of short changing yourself on your big occasion.
Wedding packages under Rs 5 lakh
A wedding package under Rs 5 lakh would be quite a crunch. If you want a destination wedding in this budget, the number of guests would have to be minimal. There are several naturally beautiful locations in India and if you choose one of them during the offseason, you are bound to get an attractive discount. Considering that bridal outfits are rarely used more than once, you can choose to hire bridal outfits which would work out much cheaper and have a trousseau of beautiful wearable outfits instead. A small intimate wedding with a reception and pre-wedding ceremony can be easily fitted into a budget of Rs 5,00,000 and your special day will still be one to remember. Don't scrimp on candid photography. After all, you don't get married every day!
Don't worry too much about the budget. If there is a shortfall, LoanTap is just a click away. A few clicks would help you get the fund you need. It is cheaper than a credit card and you can pay it off in convenient instalments.
Destination wedding packages under Rs 10 lakh
If your budget is around Rs 10 lakhs for your wedding, you can add a few more frills to your special day. You can add more guests for instance. You would be able to go for decent bridal outfits. Yes, and you can hire a professional for cinematography. They charge close to a lakh per day. If the location is beautiful, you can customise your theme and decor to fit in. If you are looking for a destination wedding, you can opt for a less-frequented location with great natural beauty or choose a date during the off-season. You will find the resort owners and the service providers offering smart discounts which could give you a chance to make your dream come true. Keeping in mind the cost of food, decor, music, accommodation, return gifts, photography, outfits, make up etc for three events- the Mehendi or pre-wedding event, the wedding and the reception, you will have to plan well to stick to the budget.
If you like something, just go ahead and do it. After all, you only get married once. For the finances, you can count on LoanTap's wedding loan to be the soothing balm.
Destination wedding packages under Rs 15 lakh
If you want a reasonable destination wedding package 15 lakh should be kind of okay. You can get several locations in India that will cover accommodation and food for 2 days for 150 guests.
The Royal Orchid Resort in Mussoorie has over 58 well-appointed rooms and serves excellent food and drinks. They can work with decorators, food providers and music arrangers. The food and accommodation for 150 guests for 2 days will set you back by Rs 14 lakhs.

The Pride Sun Village Resort and Spa in picturesque Goa could be another postcard setting for your special occasion. They have 127 rooms in an extravagant setting. Food and accommodation for 150 guests over 2 days would cost you around Rs 12.7 lakhs.

The Hari Mahal Palace Jaipur is a regal palace setting within the city that can be a magnificent venue for the wedding. WIth over 50 tastefully decorated rooms and tantalizing food, you can entertain 150 guests for 2 days at a cost of Rs 14 lakhs.

Bhairav Garh Resort, Udaipur and Bijolai Palace Jodhpur are both excellent settings. They would fall in the range of 14.3-14.5 lakhs for 150 guests over 2 days.

Hotel Rawalkot, Jaisalmer is an extravagant wedding location with over 32 tastefully decorated rooms. You can entertain 150 guests over 2 days of festivities for Rs 14.5 lakhs.

Umaid Haveli, Jaipur is another opulent setting with over 55 plush rooms and three areas for you to have various pre and post-wedding events. A two day stay with food for 150 guests will peg you back by Rs 14.6 lakhs.

Aaram Bagh, Udaipur is a quiet and serene setting for a destination wedding. Steeped in Mewar history, this could be a great place to walk the seven steps together. The place has 28 spacious rooms. You can invite 150 guests for 2 days for a price of Rs 13 lakhs.
Please remember that the wedding packages do not include travel costs to the destination. They do not include associated costs like decoration, music, photography, makeup, gifts, invites, bridal outfits etc. When you are on a budget, it is important to decide what you want to prioritize. There are no limits to how extravagant you can be on any of these heads of expenses. So, you would need to decide which head you would like to spend on the most and work accordingly. The suggested rates are for 150 guests. If you reduce it to 75, you would be halving the cost and you would find the money to spend on the other heads of expenditure. So if you really want a destination wedding on a budget, draw up your guest list carefully.
LoanTap is all for making dreams come true. What could be more beautiful than two young individuals wanting to spend the rest of their lives together by exchanging vows at a magical location of their choice? That's why they have given them an interest only EMI option for the first three months while they settle down in their new life.
Destination wedding packages under Rs 20 lakh
With a budget of Rs 20 lakh, you can breathe a little easy. You can find a destination venue for 2 days for 100-150 guests within Rs 12 lakhs. Theme and decoration would cost another 3 lakh for the Mehendi, Wedding and Reception. With this budget, you can get a designer bridal outfit to look like a Bollywood Diva on your wedding day. You can hire a cinematographer to cover the events at Rs 1 lakh a day. The DJ for the events could come at Rs 30000 and the makeup artist for around Rs 20,000.
With some smart planning, you can get a very good destination location and take care of the details just the way you always wanted. A destination wedding can be a small intimate affair with family and close friends and this is the style that is being much preferred, these days.
Here is another list of decent destination locations to fit your budget
Eden Green Resort Sonipat

It is a picturesque location with over 20 rooms, 3 banquet halls, 2 lawns and a pool. You can entertain 50-100 guests here over 2 days for Rs 10.5-12 lakhs.The Decoration costs are included in this package along with food and accommodation.

Tree House Bhiwadi

This location near Gurgaon will leave you mesmerised with its beauty. It has one banquet, a terrace, a pool and two well-maintained lawns for all your ceremonies. There are over 100 rooms to accommodate your guests. It will cost you Rs 12-15 lakhs for 100 guests. Only food and accommodation are included in the price.

The Great Callina, Sahibabad

This is a beautiful location near Sahibabad where you can have a perfect destination wedding.There are 20 deluxe rooms and 2 beautiful banquet halls. Food accommodation and decorations are included in the package. For 100 guests over 2 days it will set you back by Rs 15 lakhs.

Grand Hira Hotel and Resort, Neemrana

This hotel and resort is the perfect setting for a destination wedding. With over 70 cosy rooms packed with amenities, it offers 2 banquet halls , 2 beautiful lawns and a swimming pool. Food and accommodation for 100 guests over 2 days is covered at Rs 11-14 lakhs.

La Cabana Resort Goa

If you are planning a wedding ceremony on the beach, you can look at this property. If booked well in advance , you can book for a minimum of 120 guests at Rs 12 lakhs. It includes the food and accommodation but you will have to pay extra for the liquor.

Kovalam , Kerala

Kovalam can offer you several breathtaking venues and excellent food against the backdrop of the Arabian Sea. You can have plenty of options in the range of Rs 10- Rs 25 lakhs.

Alleppey, Kerala

If you are looking for a surreal houseboat wedding in the placid backwaters of Kerala, you should look no further than this. You would need a budget of Rs 15 lakhs to make this dream come true.

Lavasa

You can have a grand destination wedding against the ethereal backdrop in Lavasa. There are several resorts available and you can pick the one that fits your budget.

Bolgatty Palace, Kerala. Mahabaleshwar, Maharashtra and the Sula Vineyards, Nashik are other sought after destinations that would fit your wedding package of 20 lakhs criteria.
No matter what your budget, if you plan extremely well in advance, you are bound to get a good deal on every service. Be it the venue or the decoration or the food or even the DJ and photography, you can drive a hard bargain. Similarly, if you scout around, you will get excellent bridal outfits at good prices. You will not need to spend a  bomb. It is important to get your guest list ready and decide on a venue that is beautiful and convenient. If the guest list is limited, you will be able to cater to their comforts better.
Wedding packages are meant to be stress relievers. They take the burden off you of having to manage your guests by taking care of their comforts.It is best to start saving in advance to have the wedding of your dreams. For any shortfall in funds, wedding loans are available at LoaTap.
There is no need to give up on your dreams when you can work smartly to make them come true. Combine your savings with some smart planning, careful selection of vendors and a LoanTap wedding loan and you will be set for a dream destination wedding.
LoanTap offers wedding loans upto Rs 10 lakhs at interest rates starting from 18% p.a. It can be repaid over 6 months to 60 months.You can opt for an interest-only EMI for the first 3 months followed by normal EMIs thereafter. After you service the loan for 6 months, you can even choose to foreclose the loan without any prepayment penalty.
Don't let a shortfall of funds stop you from making your wedding less than what you dreamt of. LoanTap helps couples realise their dreams as they start their journey together.