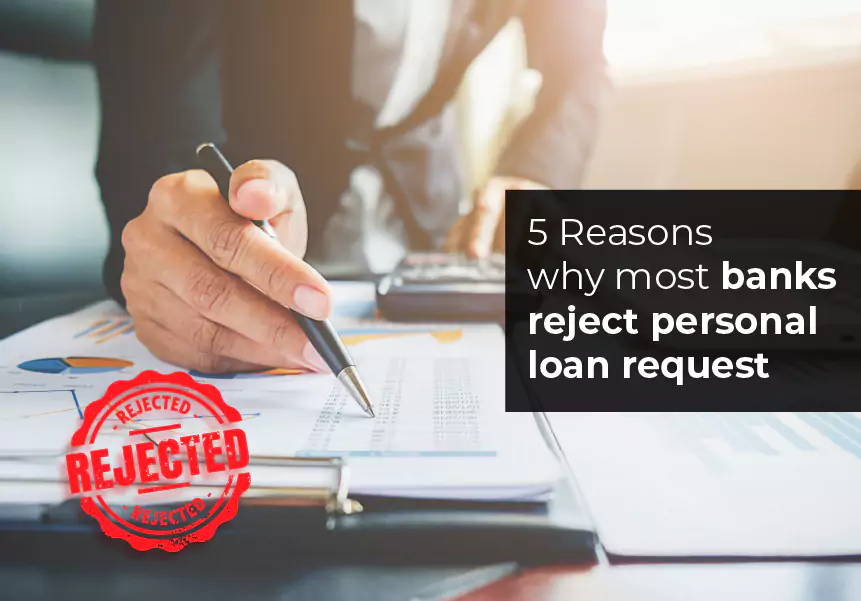 Published on : June 28, 2021
Have you applied for a personal loan and faced a loan rejection? Have you wondered why the loan was not approved? Let us examine five common reasons why personal loan applications are rejected by banks. Before we examine the reasons let us understand the features of a personal loan.
What is a personal loan?
A personal loan is an unsecured loan that can be applied for by any Indian citizen or resident who is over the age of twenty-one and earning a monthly income of over Rs 30,000. Unlike purpose specific loans like vehicle or home loan, you can take a personal loan for any purpose. Personal loans are popular for the following reasons –
Convenience
Short duration
Easy to process
Hassle-free
Minimum documentation required
Quick processing within 24-36 hours
At LoanTap, we offer personal loans in the range of Rs 50,000 – Rs 10,00,000 for a duration of six months to sixty months at interest rates starting from 18% per annum.
Why do banks reject some personal loan requests?
Since personal loans are collateral-free, it is important for lenders to evaluate the loan applications carefully based on the available documentation and ensure that the risk of default is minimised. Since they cannot take additional risks, they avoid granting loans when they find the application lacking in some respects.
Reasons for rejection could be –
Poor credit score
Low income
Job instability
Insufficient information
Multiple loans
Poor credit score
A credit score or CIBIl score is a numerical summary of your credit history derived by TransUnion CIBIL from your credit information report that it collects from all banks. You need to have a fixed earning for at least six months to have a credit history. A credit score is a number from 300-900 with 300 being the lowest and 900 being the highest. Usually, a score around 750 is considered good for loan approvals. If you have defaulted in your repayments in the past, it will show up in your poor credit score. This information is given primary importance by lenders. There is a very high chance of your loan application being rejected if you have a low credit score. Once rejected, you should wait for six months before applying again. The intervening period should be used to improve your credit score.
Low Income
The basic threshold for a personal loan application is around Rs 30,000 as net salary on a monthly basis. There is no point in applying for a personal loan if the income is below this level. The lender would consider it very risky and there is a high chance of the application being rejected.
Job Instability
The personal loan application requires salary slips for the last three months and the bank statement of the salary account for the last six months. Lenders prefer to give a loan to an individual who has been with the same organisation for a reasonable period. If the three salary slips belong to three different organisations or the bank statement indicates that you have switched jobs recently, the lender would be wary unless you can provide valid reasons. The quality and stability of the organisation are also considered. Individuals working with public sector units or blue-chip companies automatically get a preference over others because of the job stability.
Insufficient information
Personal loan applications require minimum documentation. It is important to fill up the application correctly and in line with the documents uploaded. Any mismatch or incomplete information could lead to the application being rejected. It is in the interest of the borrower to provide correct and complete information and upload all the mandatory documents to have a fair chance of the loan being approved.
Multiple Loans
If the lender observes from your bank statement that you are already servicing multiple loans, it is quite possible that your application will be rejected. The lender may be of the view that you will find it difficult to service an additional loan and the risk of default increases. It is better to ensure that the total of all EMIs does not exceed 50% of your net monthly income.
Conclusion
Now that we have discussed what can lead to the rejection of a loan application, please note how you can apply for a personal loan at LoanTap. The process is so simple that you will feel like applying right away. We have several customised personal loans for your various financial needs.
All you need to do is to visit the LoanTap website, fill up an online application and upload the following documents-
PAN Card
Aadhaar Card/Driving Licence/Passport for proof of residence
Salary slips of last three months
Bank Statement of Salary account for the last six months
Meet the below eligibility criteria –
You are over 21 years of age
You are an Indian citizen/ Resident
Your monthly net salary is over Rs 30,000
Congratulations! You stand a very good chance of getting your loan approved and disbursed within 24-36 hours. Trust us. The process is just a few taps away!