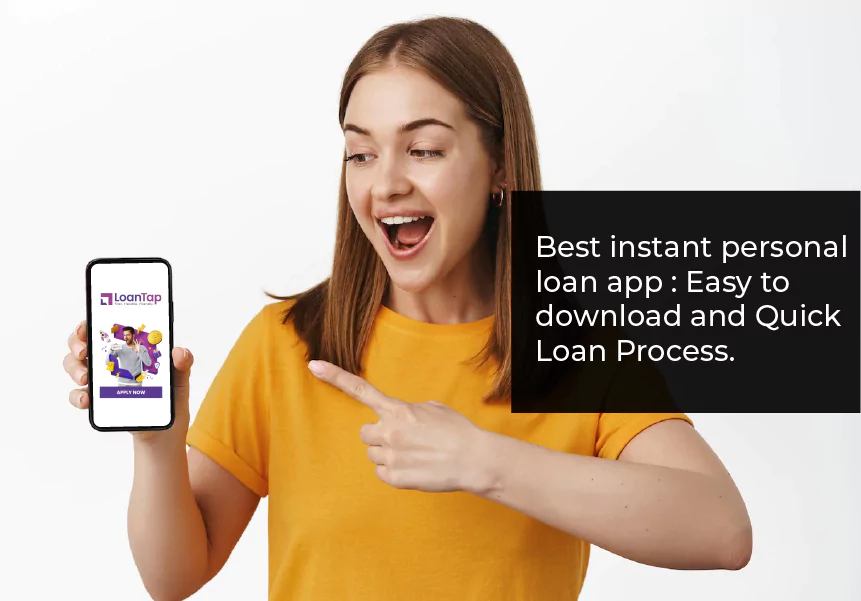 Published on : July 28, 2022
Do you have an instant solution for unexpected expenses? A personal loan is a perfect solution to tackle unplanned fund shortages. It is the best credit line facility that can provide immense help when you need funds on an urgent basis. For the past few years, personal loans have been gaining popularity in India especially to meet unexpected expenses. Lenders have seen a significant rise in demand for personal loans.
Banks and NBFCs are offering personal loans online through an app. Digitalization has bridged the gap between loan providers and borrowers who need instant cash. Getting a personal loan through online platforms is now an easy process. NBFCs like LoanTap have launched an instant personal loan app for borrowers to complete the entire loan process digitally, minimizing the scope for delays.
Today, this article will guide you about the best instant personal loan app and how you can get funds online at low-interest rates. 
Instant Loan App – Brief
With LoanTap, you can apply for a personal loan online in a few minutes. LoanTap offers personal loans from INR 50,000 to INR 10,00,000 with flexible tenure of 6 months to 60 months. If you are an Indian citizen or resident, it is easy to get a personal loan within 24 hours. You can avail of a quick loan by uploading a few documents for KYC verification. Although there are many personal loan apps, not every app offers high convenience and safety. It is better to stick with trustworthy leaders in the segment like LoanTap.
Features and Benefits of Instant Personal Loan App from LoanTap
Instant loan apps allow borrowers to obtain funds in a short period of time. All you need is a good internet connection and a smartphone to get a personal loan at your fingertips. Here are some features and benefits of the best personal loan app in India:
Paperless Documentation: There is no need to spend time on paperwork. You only need to upload the documentation while applying for a personal loan through the mobile app. The loan application will be verified quickly if the documents are authentic.
Transparent Process: The entire loan process is completely transparent, with no hidden costs. Everything is mentioned upfront. Borrowers will get full customer support during the loan process.
Secure Data System: The app keeps your data secured and encrypted providing complete protection for your personal data. Trust and security build a credible relationship between customers and lenders. Our loan app aims to provide a safe and secure loan process.
User-friendly: Personal loan app from LoanTap is easy and convenient to use. Go to the Google Play Store and download the mobile app. You only have to log in to apply for an online loan. The loan will be disbursed to your account seamlessly.
Track Digital Process: One of the best features is that you can track the loan application process. It makes it easier for customers to know their application status, including loan approval, document verification, and disbursement of funds.
No Restrictions on Usage: No one will ask where and how you want to spend money. After the loan is disbursed, neither the bank nor any representative will limit the purpose for which the funds are used as long as it is legal.
24*7 Financial Services: Customers have to go nowhere to get financial consultation. The loan app offers 24*7 financial help regardless of customers' location and time. It makes the journey of getting loans effortless and makes these apps versatile compared to traditional bank loans.
Customized Personal Loans: You can get instant loans for various purposes. There is a facility for borrowers that can customize loans as per their needs. You can select the loan amount, tenure, and EMI that lowers the financial burden on your shoulders by using the EMI Calculator.
Collateral-free Loan: Unlike secured loans, personal loans will not require any security or collateral to disburse the funds. This type of loan is essentially unsecured, so there is no requirement to pledge your asset against the loan amount.
Flexible Repayment Options: You can repay the loan quickly via EMIs. A personal loan can be repaid in monthly EMIs at reasonable interest rates that are cheaper than credit cards. If you wish to repay the loan, you can choose either an auto-debit or a manual repayment method. If you are choosing a manual repayment method, it is best to set up a reminder on your phone so that you don't miss any payments.
How to Apply for a Personal Loan through the LoanTap app?
By now, you may know that applying for a flexible personal loan is easy and quick. With the LoanTap app, you can get personal loans with unmatched experience in just a few steps. Here is the step-by-step guide to avail loan instantly:
Download the app from the app store and log in with your email address. 
Click on Apply Now and fill out the application form. 
Enter the details accurately for the fast approval of your application.
Upload Documents for the KYC process, including PAN card, Aadhar card, Income Proof, and Bank Statement.
Wait for the quick verification and loan approval. 
After the verification is complete, you will receive the money in your account within 24-36 hours.
Eligibility Criteria for Personal Loan from Instant App
To avail of funds online, you need to meet all the eligibility criteria as mentioned below:
Age should be at least 21years or above 
Your net monthly income should be at least INR 30,000.
You should be an Indian Citizen or Resident.
Salaried professionals, self-employed, and business owners can apply for the best personal loans. 
Your credit score should be 630 or above.
Self-employed and business owners submit registered business papers and ITR papers. 
If you pass all the conditions, your loan application will be approved smoothly. Getting an instant loan from LoanTap is a breeze right from download to disbursement, which explains why the app is getting so popular.
Wrapping Up
Instant personal loan apps can be a solace in any financial emergency. It is the life saviour kit when you have no savings to finance your unplanned expenses. An Instant loan app helps you consolidate all your debts quickly. No matter what your reason, personal loans can help you as a friend in need. If you are facing a shortage of funds, there is no need to worry. It saves you from the embarrassment of asking for money from family or friends. From buying a gadget to financing your wedding, going on a dream vacation, handling a medical emergency, consolidating your debts or doing up your home, you can get the funds and repay over the decided tenure.
The LoanTap instant loan app makes life easier with a wide range of financial products. You can get access to funds at rates cheaper than credit cards. So, relax and download the LoanTap app today and discover the easy way to raise funds on short notice.