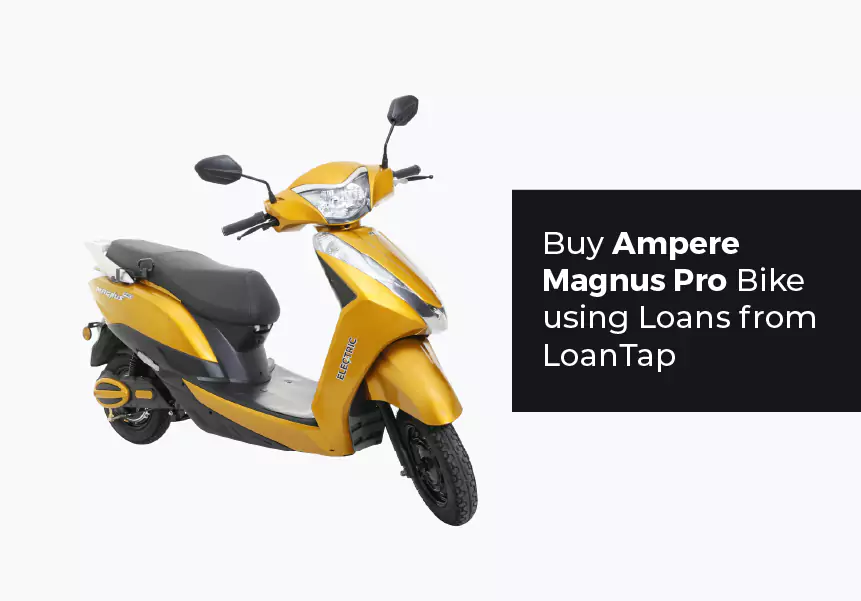 Published on : April 06, 2022
Electric Scooters have surpassed petrol scooters in terms of popularity over the past few months. It is an affordable and classic approach to lower the emission of carbon and save fuel expenses up to 96%. Electric bikes are buzzing as the first step towards making the world pollution-free. Electric Two-wheelers provide sustainable mobility solutions and also increase energy independence.
Buying an EV will clean the air and go a long way in encouraging eco-friendliness. You can get an electric scooter at the same value as petrol scooter price. However, if you have a low income and can't afford the vehicle from your savings, there's a quick and inexpensive solution to buy an e-bike – avail of an Ebike Loan from LoanTap.
How does the Electric Bike Loan work?
LoanTap offers you immediate funds for buying electric bikes ranging from INR 30,000 to INR 1,50,000. A loan for an electric scooter is easy to request online. You have to spend some minutes filling out an application online and completing the document verification process. Two-wheelers loans offer you flexible repayments methods which you can decide based on your profile, credit score, and income. You will get a quick personal loan of INR 20,000 – 2,00,000 for tenures ranging between 6 months – 60 months. Applying for a 2wheeler bike loan saves you from the embarrassment that you face when you borrow the money from family or friends. You don't need to follow lengthy documents and fill out numerous forms.
Features of LoanTap's Premium Bike Loans
Quick Loan Approval: Online bike loan takes a one-time registration process to get approved within 24 hours. It will provide you with an online application to fill in your personal and financial details. LoanTap is a trustworthy loan lender who disburses any personal loan on the same day of approval.
Collateral Free Loans: Ebikes loans are essentially unsecured loans, which don't require any security or assets to be mortgaged against the amount. This collateral-free loan is best suited for salaried professionals If you have a net monthly income of over INR 10,000.
Minimum Documentation: As mentioned, it is an easy online process that needs minimal documentation to verify the account. You don't need to struggle to collect the requisite documents. The required documents should be legal and valid, including identity proof, address proof, and bank statements.
Transparent Process: LoanTap's bike loans are offered with no hidden charges. There are no prepayment penalties if you foreclose the loan after 6 months. If you buy it on a credit card, it will cost 2-3% interest per month on the outstanding balance. LoanTap interest rates are much cheaper at 13-15% per annum.
Convenient Repayments: Electric scooter loans allow you to plan the loan amount and decide the method to repay. The convenient repayment methods make getting loans easier for the younger generation. It also encourages them to buy environmentally friendly and cheaper electric vehicles rather than fuel cars or motorcycles.
Easy Repayment Tenure: 2 wheeler loans offer you enough time to repay over a tenure of 6 months to 60 months. Online Bike Loans are personal loans that need to be repaid in EMIs over the agreed tenure. Bike EMI Calculator helps you calculate the repayments every month and what tenure to decide.
Eligibility Criteria to Apply for Bike Loan
Bike Finance Loan from LoanTap is similar to a personal loan, where you get the loan amount quickly. At LoanTap, you can complete the loan process hassle-free. It is the ideal choice to buy stylish and powerful electric bikes. So, we have listed below the eligibility criteria that you need to clear to get the loan online without any physical verification.
Applicants must be an Indian citizen or resident
You should be between 21 – 58 years of age.
You must have a minimum income of INR 10,000/-.
Valid six months bank statement of your account.
You must be a full-time salaried employee.
If you qualify all the parameters, it's time to get electric scooters with the loan amount. Check out the listed documents to upload on the LoanTap website. Before applying, you need to make sure all the basic documents are valid and updated.
PAN Card
Address Proof like Electricity Bill/Telephone Bill/Rental Agreement/Passport.
Identity Proofs like Driving License, Adhar Card/ Passport
Payslips of the last three months.
Latest bank statements of the last six months.
Having a decent credit score will always work in your favour when you apply for a loan. Bike loans will be sanctioned after checking your creditworthiness. It is defined by your CIBIL score. A two-wheeler loan provides you with easy solutions to get the vehicle you desire to buy.
How to apply for Electric Scooter Loan
LoanTap brings you a quick and easy-to-access personal loan to meet your needs. If you dream to have smart-looking e-bikes. You are at the right place. If you buy an electric scooter on EMI, it will avoid you from spending a lump sum all at once. The step-by-step guide for you to follow to finance electric scooters is given below.
Install the LoanTap app from Google Play Store or visit the page https://loantap.in/apply to apply online.
Create your profile by filling out the basic details like email address and residential address.
After creating a profile, check out the offers and enter the desired loan amount.
Upload the basic documents
Now, wait for the LoanTap team to complete the verification of your credit score and other details.
LoanTap will send an approval mail and activate the instant disbursal online seamlessly.
As soon as the process is done, the loan amount will be credited to your account. Try to repay the loan on the agreed repayment date. LoanTap offers you personal loans to manage the expenses and meet your urgent needs. We are partnered with reputed brands like Ampere Electric, which has a range of electric vehicles under INR 1 Lakh. Check out the most affordable electric bikes from Ampere Electric.
Ampere Electric Bikes – Best for Electric Scooters in India.
Ampere Electric Bikes are the best combination of comfort, performance, and speed. You can enjoy a fun and smooth ride with Ampere Scooters. They will redefine the way you rode the conventional scooters in the past. Ampere by Greaves has been giving electric mobility solutions to millions of people in India. It is leading the electric mobility industry with a vision of emission-free rides.
Ampere Electric Bikes are manufactured to encourage sustainable mobility in the country. The bike prices are available in a range of INR 30,000 to INR 80,000, depending on the model you choose. Popular models are Ampere Zeal, Ampere Reo Elite, Ampere Magnus Pro. It saves your money with a running cost of 15 paise/km. Ampere Scooter can become your right partner on a long ride.
Ampere Magnus Ex Scooter
Ampere introduces you to the magnificent variant – Ampere Magnus Ex. This scooter has been designed to meet your needs of speed, magnificence, and cost-effectiveness. It can provide you with the extra edge of convenience, safety, and performance. The Magnus Ex offers you multiple benefits at very affordable rates. You can enjoy a hassle-free ride with your electric scooters in cities.
Ampere Magnus Ex has an advanced lithium battery with a power of 60 volts | 30 Ah. The portable battery can get fully charged in 5 to 6 hours. Magnus electric scooter runs at a speed of 50 km/h. It has a maximum loading capacity of 150 Kg. Magnus Pro can run for a long distance of 121 km with a fully charged lithium battery. You get an extended warranty of 5 years. Magnus electric vehicles can beat any petrol scooter and save fuel expenses.
Key Features:
High-Speed: Magnus Ex Scooter is best-known for top-speed performance. It offers safe city driving with a top speed of 55km/hr. It can accelerate quickly from 0 to 55km/hr in just 10 seconds. With amazing torque power, you will have a smooth driving experience.
Stylish Seats: Feel the comfort while riding the Ampere Magnus in India. It has a smooth seat with durable shock absorbers which offers a comfortable sitting posture.
Comfortable Ride: Telescopic suspension provides a jerk-free ride when you hit bumps and rough roads. You get enough room to put your long-legs. This feature helps you with a memorable ride.
Security: With the remote keyless entry feature, you can enjoy a secure ride. Magnus Electric bike has an Anti-theft alarm that adds extra safety to the electric scooter and saves the bike from any potential thefts.
Safe Experience: Tubeless tires ensure you a smooth ride on bumpy, greasy, and wet roads. The combined braking system controls the scooter speed and decelerates it before obstacles.
Stylish Look: Sleek and elegant look of the Magnus Electric Scooter has attracted hundreds of people to buy it. It has four beautiful and glossy colours, which gives you multiple choices to choose from. This EV modern bike has a sporty headlight with day-light LEDs.
Convenient Scooter: Ampere Magnus has a portable battery that you can charge at home, office, or restaurant. Simple plug-in a USB port to charge your phone If you forgot to do that. The large boot space with LED light adds value to this Escooter.
Ampere Magnus Ex Price: INR 71,999/-
Colours Available: Galactic Gray, Graphite Black, and Metallic Red
Ampere Magnus Pro Scooter
Ampere Electric has another variant that comes with extra features. We introduce you to the chic style electric scooter, which is available in five glossy colours. With high power and acceleration, it can smoothly glide over slopes and flyovers. There's no other electric scooter like the Ampere Magnus Pro that meets the needs of convenience, safety, and performance. Let you enjoy a hassle-free ride with multiple benefits such as high power, low energy consumption, and high safety.
Ampere Magnus Scooter has an advanced lithium battery with a power of 60 volts | 30 Ah. It has a portable battery that can be fully charged in 5 to 6 hours. This Ampere Electric Scooter runs at a speed of 55 km/h. Magnus Pro has a loading capacity of up to 150 Kg. With a single charge, it can easily cover 121 km. Ampere vehicles are made with Higher Endurance which ensures higher vehicle life.
Key Features:
High-Speed: Magnus Pro Scooter runs at the maximum speed of 55km/hr. It offers you a scooter city driving speed from 0 to 40km/hr in 10 seconds. This high powerful hub scooter ensures you a smooth driving experience on flyovers and upslopes.
Stylish Seats: Magnus Electric Bike will provide you with a super comfortable ride. The Comfy seat is designed with durable shock absorbers and provides you with the right sitting posture. It has a high ground clearance feature to avoid obstacles on bumpy roads.
Comfortable Ride: Telescopic suspension ensures a jerk-free ride when you hit the rough roads. It has enough space for long-legs in the front. You will enjoy a memorable ride with an extra edge of comfort.
Security: Petrol scooters don't provide you with a remote keyless entry feature, as an Ampere electric scooter does. An anti-theft alarm system in Magnus Electric bike safeguards the electric scooter from any potential thefts.
Safe Experience: Tubeless tires assure you a smooth ride on bumpy, greasy, and wet roads. A combined braking system helps you to control the scooter on rough roads.
Stylish Look: Modern body design of the Magnus Pro Scooter has impressed millions of people. Stylish Rear View Mirrors will surely make you fall in love. This modern electric bike has a classy headlight with day-light LEDs to brighten the dark roads.
Convenient Scooter: Ampere Magnus has a detachable lithium battery that you can easily charge at the home, office, and restaurants. You can charge your phone using a USB port If it gets discharged in the middle of the ride. It has a large boot space with LED lights to keep things without missing out on anything. Digital Dashboard gives all the information you need.
Ampere Magnus Pro Price: INR 65,520/-
Colours Available: Bluish pearl white, Graphite Black, Golden Yellow, and Metallic Red