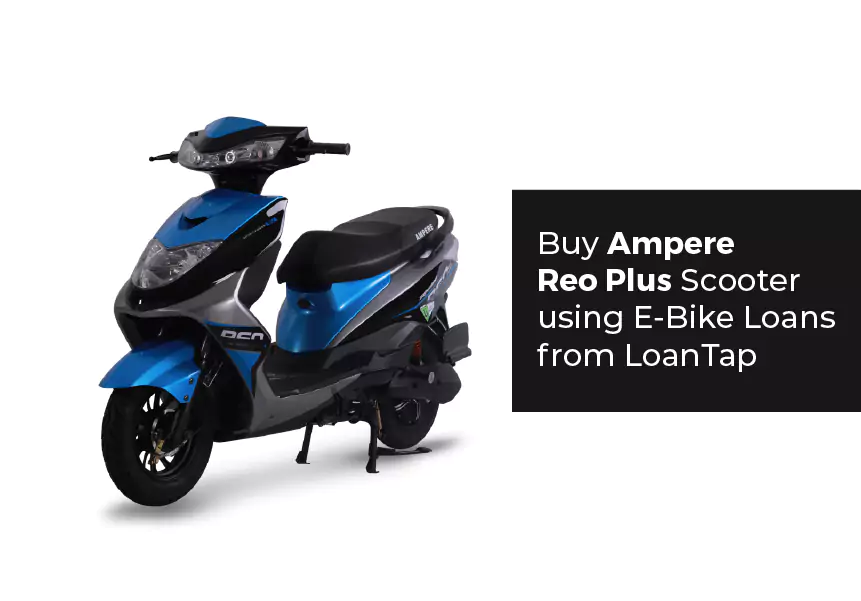 Published on : April 04, 2022
Do you want an exciting riding experience every time? We bring you an eco-friendly and affordable solution to commute, that's Electric Bikes. When you ride e-bikes on the roads, you are becoming socially responsible towards the climate and bringing positive change to the country. It also pushes you towards sustainable mobility and improves your energy independence. Electric vehicles are getting popular day by day amongst the millennials. It is an inexpensive commuting option for everyone.
However, taking a plunge to buy electric scooters can be expensive. There are attractive finance schemes to buy your first E-scooter online easily such as Ebikes Loans which are unsecured loans with convenient repayment options. At LoanTap, we offer you low-interest EMI Loans to repay the loan amount in a stress-free manner. With the Electric Bike Term Loans, you can ride away with the best electric vehicles at amazing road prices.
How does the Electric Bike Loan work?
Electric Bikes are the easiest approach to commute smoothly through gullies and traffic. A salaried professional can apply for a bike loan online to finance two-wheelers. LoanTap is the one-stop destination that understands your needs for getting loans. We offer you immediate funds to purchase electric vehicles ranging between INR 30,000 – INR 1,50,000. You can request online an electric scooter loan from LoanTap and be amazed by the convenient experience. There is the process of filling out an application form and submitting the documents online for the account verification process.
Two-wheelers loans provide you with comfortable repayments methods which you can decide based on your profile, credit score, and income. You can get an instant personal loan from INR 20,000 – 2,00,000 for tenures ranging between 6 months – 60 months. Applying for a two-wheeler loan saves you from spending your fixed deposits or savings. You don't need to go and ask for money from family members.
Features of LoanTap's Premium Bike Loans
Quick Loan Approval: Online bike loan requires a one-time application process to get approval within 24 hours. It will provide you with an online application to fill in your personal and financial details. LoanTap is a trustworthy loan lender who disburses any personal loan on the same day of approval.
Collateral Free Loans: Ebikes loans are essentially unsecured loans, which don't require any security or assets to be mortgaged against the amount. This collateral-free loan is best suited for salaried professionals if you have a net monthly income of over INR 10,000.
Minimum Documentation: As we have mentioned, it is an easy online process that needs minimal documentation to verify the account. You don't need to waste your time collecting the necessary papers. The required documents should be legal and valid, including identity proof, address proof, and bank statements.
Transparent Process: LoanTap's bike loans are offered with no hidden charges. You can foreclose the loan after 6 months without any prepayment penalty. If you use a credit card to make the purchase it will cost you 2-3% interest on a monthly basis on the outstanding balance. LoanTap interest rates are much cheaper at 13-15% per annum.
Comfortable Repayments: Electric scooter loans allow you to plan the loan amount and decide the method to repay. The convenient repayment methods make everything easier for the younger generation. It also encourages them to buy environmentally friendly and cheaper electric vehicles than fuel cars or motorcycles.
Easy Repayment Tenure: 2 wheeler loans offer you enough time to repay over a tenure of 6 months to 60 months. Online Bike Loan is simply a personal loan that you can avail of without collateral and repay over the agreed tenure. Bike EMI Calculator can help you calculate the repayments every month and what tenure to decide for a suitable EMI.
Eligibility Criteria to Apply for Bike Loan
Bike Finance Loans are essentially unsecured loans where you don't need any collateral. To request a loan, you need to follow the online application process. But, there are eligibility criteria to qualify for electric scooter finance in India. We have listed the conditions you need to fulfil to get the Electric scooter Loans.
Applicants must be an Indian citizen or resident
You should be between 21 – 58 years of age.
You must have a minimum income of INR 10,000/-.
Valid six months bank statement of your account.
You must be a full-time salaried employee.
Basic Documents for Availing E-Bike Loans
After qualifying all the criteria, you have just a few clicks to do. Further, you need to upload the basic documents for verifying your bank and personal details. If you are a salaried person, keep these documents ready for bike finance:
PAN Card
Aadhaar card/Driving license/Passport for proof of permanent address
Copy of latest utility bill/telephone bill/postpaid mobile bill/ registered rent agreement for current address proof
If you are self-employed, you should have the following documents:-
PAN Card
Aadhaar card/Driving license/Passport for proof of permanent address
Copy of latest utility bill/telephone bill/postpaid mobile bill/ registered rent agreement for current address proof
Business establishment proof
ITR for the last two years
House ownership proof like a property tax receipt, electricity bill, etc.
It is the right time to get an electric scooter on EMI. If you have all the valid documents, apply for instant bike loans. All the documents are verified after checking your creditworthiness. Bike loans will be approved within 24-36 hours and disbursed the loan amount into your bank account. A two-wheeler loan provides you with easy solutions to get the vehicle you desire to buy. However, if you are still confused with the process of applying for an E scooter loan online, you can check out the step-by-step guide before you proceed further.
How to apply for Electric Scooter Loan
LoanTap has designed an accessible platform for getting personal loans to meet your needs. You can also download the LoanTap app on your smartphone. Borrowers can repay the loan amount the way they want. You are ready to apply for two-wheeler loans online. Here are some steps for you to follow to finance electric vehicles.
Step 1: Visit the LoanTap website to fill out the application form with your personal and professional details. You can choose the KYC verification online process. You can also complete the online process by installing the LoanTap app from Google Play Store.
Step 2: Once you have filled out the application form, you should upload the required documents after proper verification.
Step 3: If you match all the parameters, your loan will be approved on the same day. We will credit the loan amount to your bank account.
As soon as the process is done, the loan amount will be credited to your account. To maintain a good credit score and keep the line of credit open, you should try to repay the loan on the agreed repayment date. LoanTap offers you personal loans to manage the expenses and meet your urgent needs. We are partnered with reputed brands like Ampere Electric, which has a range of electric vehicles under INR 1 Lakh. Check out the most affordable electric bikes from Ampere Electric.
Ampere Reo Plus Electric Scooter
Ampere Electric has a collection of the best electric scooters in India. Ampere Reo Plus was designed with modern body design and Style. It offers you a comfortable experience while riding on busy roads. You can take this Ampere electric scooter to the office, school, or college without any hassle. Electric scooter looks comfortable and stylish at the same time.
You will have a pleasurable and affordable riding experience with Reo plus. It has two variants which give you the option to choose. Ampere electric has stores in Bangalore, Delhi, Mumbai, Chennai, and other Metropolitan Cities in India. EVs are cheaper than petrol scooters.
Ampere Reo Plus Li Scooter:
Reo Plus Li Scooter offers you a maximum speed of 25 km/h. It can tackle the maximum weight of 120 kgs. You can charge the detachable lithium battery within 6 hours. The 250 watts motor power makes it more suitable for smooth and rough roads. Ampere Electric Vehicles are designed to last from heavy rains to potholes. Reo Plus Li can cover at least 58 km with a single charged battery. Ampere Reo Plus Li Electric Scooter costs you almost INR 58,990/-.
Ampere Reo Plus LA Scooter:
Reo Plus LA Scooter takes 5 to 6 hours for charging and can easily cover 60 km per charge. It runs with a maximum speed of up to 25 km per hour with a motor capacity of 250 watts. Ampere Reo Plus LA has an Advanced Lithium Battery with a capacity of 48v/24 Ah. It also provides you with two years of warranty on the battery and a 1-year warranty on the motor, controller, and converter. Ampere Reo Plus LA Scooter price in India is INR 44,990/-.
Key Features:
No License/ Registration Needed: You don't need to register the vehicle. Reo Electric scooters can be easily purchased without any license. However, Riders should be at least 16 years old.
Suitable for All Roads: Reo Plus Li had designed with modern design and technology. It ensures a safe ride during rainy days and a comfortable ride during warm summer days.
Portable Charging: Charge your electric scooter at home or office and ride comfortably stress-free. The Reo Lithium-Ion Battery is removable and can be charged with any power outlet.
Cost-effective: Ampere Reo Plus Prices will help you save fuel expenses that come with fuel-based vehicles. Charging electric vehicles' batteries costs you a fraction of the amount you spend on refuelling.
Eco-friendly Transportation: If you choose electric scooters over petrol vehicles, they will bring a change and clean the air. Ampere electric scooters will help in reducing the excessive air pollution around.
Multiple Colors: Ampere Reo LA offers you a comfortable commute for your daily routine. You get to enjoy all the safety and style at the same time. There are four stunning colours in which Reo scooters are available: Blue, Red, Yellow, and Orange.