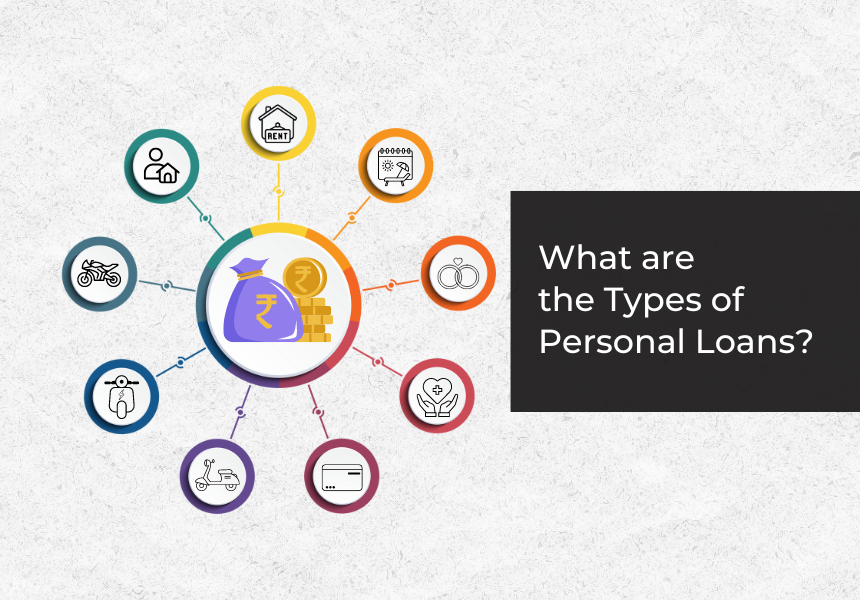 Published on : July 03, 2023
A personal loan is an unsecured loan taken by borrowers, usually to meet their short-term financial needs. It allows borrowers to use the funds for various purposes, including debt consolidation, home improvements, medical expenses, education costs, or any other personal expenses.
Individuals can bridge financial gaps, address immediate needs, or pursue opportunities that may have otherwise been financially challenging with the help of personal loans. Moreover, personal loans can also help build or improve credit history when used responsibly, contributing to a healthier overall financial profile.
What are the Different Types of Personal Loans?
When it comes to personal loans, there is no one-size-fits-all solution. Different individuals have varying financial needs and goals, so personal loans come in various forms to accommodate these diverse requirements. From secured loans to unsecured loans, fixed-rate to variable-rate loans, and specialised loans for specific purposes like debt consolidation, home improvements, education, or medical expenses, there is a wide range of personal loans to explore. Each type of personal loan has its own features, benefits, and considerations that borrowers should be aware of before making a choice. Let's look at some of the types of personal loans.
House Owner Loan
House owner loans are secured personal loans that allow homeowners to leverage the equity in their homes for various financial needs. These loans offer lower interest rates, flexible repayments, quick disbursals, and convenient online application processes. LoanTap's House owner loans help eligible borrowers to access funds based on their home's value and available equity.
Rental Deposit Loan
Rental deposit loans help tenants cover the upfront costs of renting a new property. LoanTap's rental deposit loans provide quick and hassle-free access to funds for tenants, with flexible repayment options and competitive interest rates. Evaluating your financial situation and ensuring you can comfortably repay the loan is important.
Holiday Loan
Holiday loans help individuals finance their vacations and travel expenses. LoanTap's holiday loans provide a quick and convenient application process, flexible repayment options, competitive interest rates, and transparent terms and conditions.
Wedding Loan
Wedding loans make it easy for couples to finance their wedding expenses. LoanTap's wedding loans provide a quick and convenient application process and flexible repayment options that provide attractive interest rates. You can pay interest for the first 3 months to ease your expenditure post-marriage and then continue with fixed EMIs for the rest of the tenure.
Medical Loans
Life is full of uncertainties, and medical emergencies, in particular, tend to arise without warning. While you may have medical insurance, it often falls short of covering certain illnesses, treatments, surgeries, and bills. That's where medical loans come in. At LoanTap, we provide comprehensive coverage for all the expenses you incur during these challenging times. You can avail of a higher loan amount of up to Rs. 10 lakhs and get a longer loan tenure of up to 60 months, making EMIs more affordable.
Credit Card Takeover Loan
A stack of overdue credit card bills can sound overwhelming, especially with the rising interest rates and the hassle of keeping track of multiple payment due dates. With LoanTap's Credit Card Takeover Loan, you can consolidate your credit card bills into one convenient payment, helping you clear your debts in one go. By consolidating your credit card bills, you save on interest charges, avoid late payment penalties, and safeguard your CIBIL score. Our Credit Card Takeover loan offers a streamlined solution to help you regain control over your finances and move towards a debt-free future.
Two-Wheeler Loan
If you are planning to purchase a two-wheeler, you can use our pre-approved two-wheeler loans. LoanTap offers up to 80% of the vehicle's on-road price, ensuring that you have substantial financial support for your purchase. All you need to do is present the loan sanction letter at the showroom of your choice. Enjoy the flexibility of paying back the loan through small and manageable installments over tenures ranging from 12 to 36 months.
Electric Bike Loan
Embrace a cost-effective and environment-friendly solution with your very own electric bike! Electric bikes offer numerous advantages, including low maintenance requirements, zero emissions, no petrol consumption, and convenient charging options. With LoanTap's pre-approved Electric Bike Loans, financing your e-bike purchase has never been easier. Our repayment tenures are affordable and designed to suit your financial needs.
Premium Bike Loan
You can use the money from a personal loan to buy your dream bike. LoanTap provides premium two-wheeler loans with flexible repayment options, allowing you to choose from a range of options based on your current financial obligations. You can choose from either flexible loans or regular EMI-based loans.
Conclusion
Personal loans can be a valuable financial tool when used responsibly and thoughtfully. Assessing your needs, comparing options, and selecting the right loan can help you meet your short term finance needs. It is important to know about the different types of personal loans so that you can choose one that suits your use case.