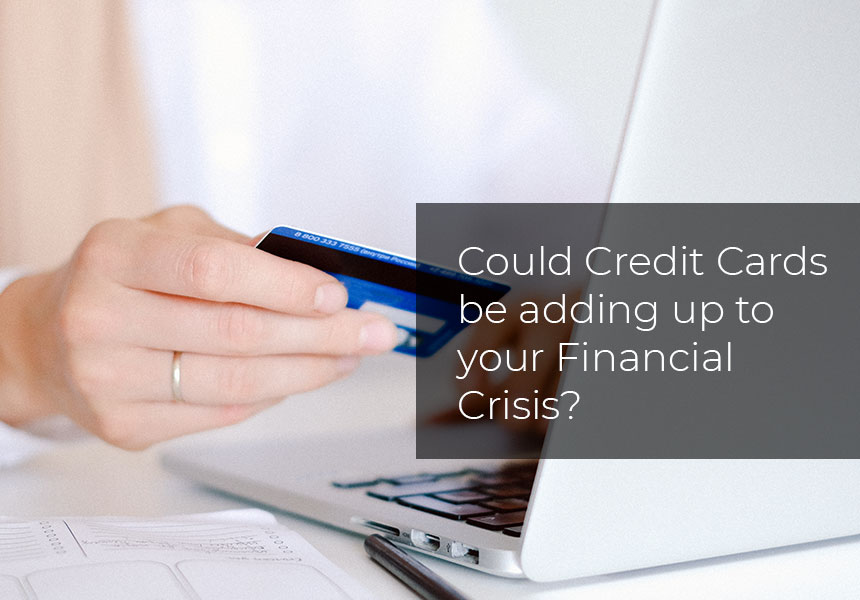 Published on : July 18, 2020
The onset of the Covid-19 pandemic resulted in a gradual shutdown of the entire economy across the globe. The Government imposed a lockdown to stop the spread of the virus in almost all the states in India. This adversely affected the economy as most corporate companies and businesses went non-operational. For most of the working professionals, cash flows witnessed a major hit putting finances in a jeopardy.

Thus, the situation poses the question – how to manage the financial shortfall in such scenarios? If you have piled up debts and are concerned about how to sail through the further upcoming expenses, you may resort to swiping your credit cards to meet the ends. That's exactly what could lead you into a bigger financial crisis.

Why should you reduce relying on Credit cards during such uncertain times?
Credit cards, undoubtedly, are the most convenient credit instrument available today. They give you the liberty to swipe now and pay later. However, with this flexibility comes a price to pay. Credit cards do offer you a grace period of 45 to 60 days to pay the outstanding balance due without bearing any interest. Also, they offer you the benefit of making a minimum payment towards the outstanding amount. However, the amount you leave unpaid gets carried forward to the following month and interest rate is charged on it making the sum payable higher. If this cycle continues, you would have a denominator of high accumulated outstanding dues and Interest. The interest outgo towards credit cards is 24 to 36 % annually as compared to 18 to 24% charged by lenders offering personal loans.

You might be under the notion that the moratorium would be a blessing that will relieve you from the burden of these heavy payments. This notion could prove to be absolutely misleading.
Why Opting for a Moratorium on Credit card payments could prove to be a harmful affair?
As declared by RBI, credit card dues are also eligible for a moratorium. Individuals who opt for a moratorium for their credit card dues would not be liable to pay any amount towards the outstanding dues till August 31. Neither will the credit score take a hit, nor would the institutes charge you any late payment fees. That certainly might be a temporary relief at the moment but the torment is yet to come.

What you need to understand is that it is a deferment and not a waiver that the banks and financial institutions will offer. The interest will accumulate on the outstanding amounts. As credit cards demand a higher interest rate, it is wise to clear all the credit card outstanding bills if your cash flows are uninterrupted during this period. If these bills go neglected, it will result in a debt trap situation because of the accumulated interest on the inflating bills that are due for payment.
How to avoid the snowball effect of these credit card outstanding bills and high interest rates? How to avoid getting into a Debt Trap situation?
Debt consolidation is your best resort in such a scenario. Debt Consolidation helps you compile debts arising out of multiple credit cards into one single loan. It enables you to choose a low interest loan and better terms of service. This way you can clear off all the credit card outstanding bills at once! Credit Card Takeover Loan is one such personal loan designed specially to enable borrowers to consolidate their credit card bills and save on heavy interest outgo.
What is the best Credit Option in Uncertain Scenarios?
When expenses arise in uncertain times, you would want to opt for a credit solution that is most affordable and that offers flexible repayment options. A Personal Overdraft facility offers you the flexibility of keeping provision of funds and using it as and when you need it. It is a credit line that allows you to withdraw multiple times. You are charged interest only on the amount you use and for the number of days you utilize. What makes the overdraft facility most favorable is the 'Zero Usage Zero Interest' feature i.e., you do not have to pay interest on the amount that is lying unused in the bank.

It is of primary importance to be financially prudent at all times. Debt instruments may assist you when in times of uncertainty, but you must ensure that they do not become unmanageable.

Related Articles –
How to Deal with Credit Card Debt – Managing Debt (Part 2)
Why You Should Consider Debt Consolidation – Managing Debt (Part 1)
Why Choosing Personal Overdraft over Credit Card is a good idea?