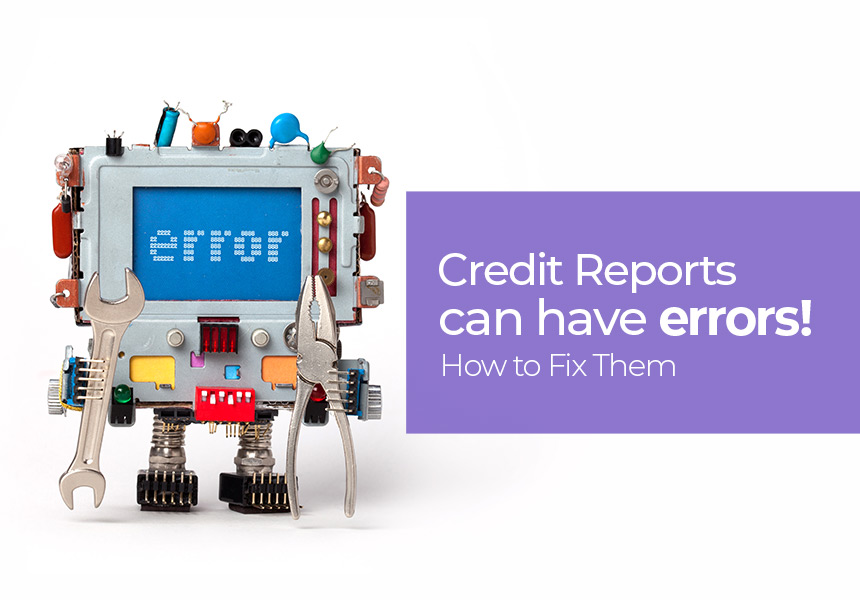 Published on : December 21, 2019
Report cards have always been integral to our growth; showing our strengths and weak spots, indicative of our wellbeing and performance. Credit Reports are quite like that – highlighting our money management skills and financial fitness.
What is a Credit Report?
A Credit Report is a list of your financial transactions and credit records – everything that pertains to how you are managing your financial credit now and how you have managed it in the past. These records are collated using the data from different banks and financial institutions that you have interacted with, to borrow money. These institutions share the report of your fiscal enquiries, approvals, and rejections through the years, and a credit rating agency uses this information to run a complex analytical algorithm to come up with your credit score. This score represents your credit report briefly and is a critical input for most loan providers to evaluate your credit worthiness. Approval of loan application, loan amount, loan tenure, interest rates to be charged, etc. all depend on your credit report and credit score.
Credit Report is NOT the same as Credit Score
Your credit report does not comprise your credit score; it just lists your past and current credit & loan account information that is shared by various financial institutions.
A credit score, on the other hand, is a number that the credit rating agency derives using their scoring formulae. Every agency has a different method of calculation, but the net outcome is a number that encapsulates the essence of the credit report.
Since your credit report (Like ones from CIBIL, Equifax, Experian, CRIF) is a summary of your credit history, including credit cards, personal loans, secured loans and other financial transactions, it is essential to ensure that each record that goes into the report is accurate and error-free. If there are red flags in a credit report; it is natural for the loan provider to review the associated lending risk . For your financial wellbeing, it is recommended that you ensure that the records are immaculately maintained, and the score calculated therefrom is error-free.
But what if there are discrepancies or errors in the credit report? What if the red flags in your report are not yours at all? What if you are being penalized for an error in the report? Yes, this can and does happen, although relatively rarely.
To ensure that such instances do not happen, you must review your credit reports every year, especially before you apply for a personal loan or a credit card. If you find any errors, you must bring it to the notice of the credit-rating agencies. If the error is genuine, they will readily correct it and make the relevant changes to your report and score. Also, since there are more than one credit rating agencies in the country, make sure you review the reports of the top three since they are the ones referred to by the loan providers.
Related Article : 8 Habits for a High Credit (CIBIL) Score
What are the common errors that occur in a Credit Report?
Let us look at the common errors that occur in a Credit Report; it is important to note the ones for which you are responsible, to make sure you avoid making these.
Incorrect name or personal information:
If you have applied for a loan or credit card using different formats of your own name, say, R. Kumar or Ram Kumar or Ram Mohan Kumar, your records could get mixed up. Be consistent in spelling your name in all financial documents. You will need to exercise similar diligence when putting up your address or PAN details or Aadhar Card details; make sure you put in the right digits and numbers.
Sometimes the error could occur because of insufficient data, that is, if you have missed a couple of entries in your forms. It could also be a typographical error during data entry in the systems; especially in case of hand-written forms. Whatever be the source of error, it is important to get it corrected urgently.
Closed or cancelled account:
Sometimes, even after you have closed a loan account or cancelled a credit card, the account may show as operational, owing to operational inefficiencies or clarifications that are required. If this happens with your credit card, this could impact your credit utilization ratio and hurt your credit scores.
For an account that is closed or cancelled, ensure that the record captures clearly who has closed/cancelled it, else it may reflect poorly on your credit record.
Records of accounts that do not belong to you:
When checking your credit report, if you see a transaction or information that you don't recognize as your own, inspect it. It could be a case of stolen or lost credit card transaction that is showing up on your account; alternatively, this could be an entry from someone else's account that's mistakenly placed in your record.
Double-reporting or duplication:
If the same account or records are reported more than once, the credit report may contain duplicate entries; these could eat into your credit utilization. Double check all the records and accounts in your report.
Waiver on late fee or inaccurate record:
If you have made your payments on time or your overdue payment was waived off owing to your overall consistency in payment, make sure that this is reflected in your credit report. If any inaccurate, late or missed payments are marked on the account, it could lower your credit score.
Past written-off debts:
Ensure that your past bad debts, if any, are cleared off from your credit report since the reports are renewed at regular intervals (7 or 10 years). The financial history that is way back in the past should not come to haunt your records in present.
Others:
If you are now separated/divorced and held joint accounts, ensure that your ex's debt do not appear in your credit report. Of course, this will entail a review of the terms of credit for that loan or credit card.
How to fix the errors in Credit Report?
To make sure you have an error-free credit report, the most important part is to KNOW that there is an error by reviewing your credit reports regularly.
There are three parts to fixing the error:
Identify the error and elaborate why it is an error.
Attach documents or state facts that back your claim.
Specify the action expected: Correction or deletion.
The first step is to connect with the concerned Credit Rating Agency (credit bureau); you will get the contact details and the process to dispute and/or report an error on your Credit Report. Register your dispute on phone or on the website or by email – make sure you have a receipt of delivery or reference number for it. Include your contact details as well to help the receiver get back to you.
Specify the error succinctly and attach documents (if applicable) to attest that it indeed is an error. For instance, if you have cancelled a credit card and it still shows outstanding amount on your report, attach a copy of the mail from the credit card company stating closure.
The next step is to connect with the financial institution from which the erroneous record has emanated. Send the same details that you sent to the credit bureau. Request them to rectify the records within their own ambit and with the credit bureau.
In case you believe there is fraud of any kind, place relevant alert on your account and report it to the authorities at the credit bureau and the financial institution.
You will receive official communication that your dispute has been acknowledged; the steps taken by the regulatory authority will also be described in this communication. In case the response is delayed beyond 45 days, escalate the matter. If you have raised a dispute, the loan providers who request for your report during this time, are duly notified of the same so that your credit score is evaluated accordingly.
After submitting the dispute, your claim will get investigated for authentication and correction. You will be sent a findings report and a corrected credit report. Keep a check on the reports submitted by the concerned financial institution for the subsequent period to ensure that the inaccuracies are corrected. The credit bureau updates the credit report as per their reporting cycle; but it is your responsibility to ensure that it does. In case the update does not feature after several months, escalate the matter.
In case you are unhappy with the resolution provided by the credit bureau(s), you can request the inclusion of a statement in your credit report which can be accessed by your loan providers as an additional input. You may also take legal recourse, in case required.
Conclusion:
As a financially well-read individual, it is your responsibility to review your credit report regularly and keep it error-free. If you happen to identify any discrepancies or errors in your credit report, get them fixed on priority, even if it is just the spelling of your name/address. A seemingly insignificant error in your credit report could bring down your credit score significantly and impact your creditworthiness in the market, thereby reducing the chance of getting a Personal Loan.
The process of dispute may seem lengthy, but it is worth it, to keep your credit report spick and span.
---
Download our Personal Loan App: Google Playstore / Apple App Store