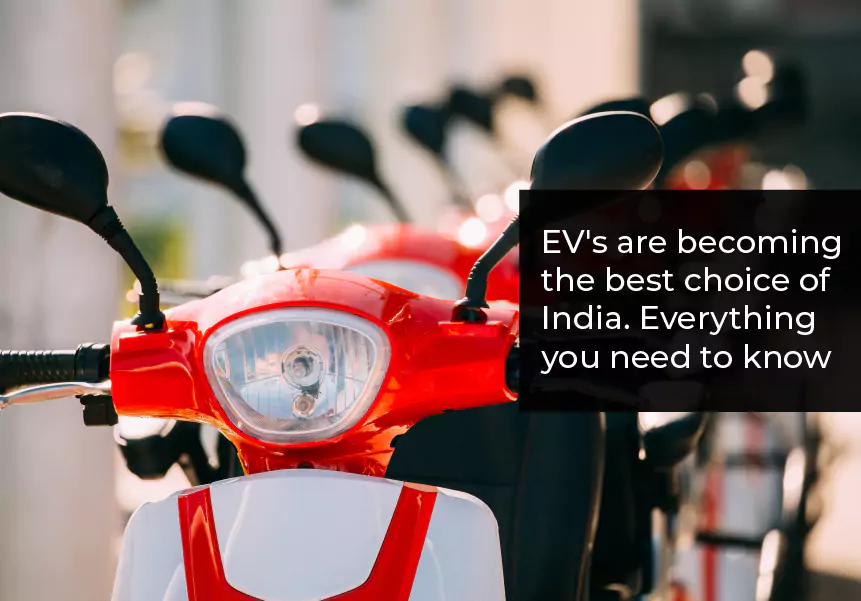 Published on : January 24, 2022
Electric vehicles (EVs) are at a fast pace of becoming the future of automobiles. Buying an electric car shields you from the rising oil prices. These green vehicles are also considered better for the environment. The Indian government gives various benefits under the FAME scheme (Faster Adoption and Manufacturing of Hybrid & Electric Vehicles in India), encouraging people to adopt EVs over conventional vehicles.
The future of mobility is at a critical point of evaluation. Every time oil prices rise or climate change is discussed, Electric Vehicles (EVs) are inevitably discussed as a part of the solution. In spite of several new Indian companies focusing on various parts of the EV value chain, significant funds are inculcated in the space, and large-scale implementation efforts, EVs are not conventional yet. It is 2022 and it seems that we have reached the critical point for EVs to finally take.
An electric bicycle (e-bike, eBike, etc.) is a motorized bicycle integrated with an electric motor that helps propulsion. There are several types of e-bikes that are available worldwide, but they are generally categorized into two types: bikes that aid the rider's pedal-power (i.e. pedelecs) and bikes that use a moped-style throttle, integrating functionality. Both hold on to the ability to be pedaled by the rider.
E-bikes use rechargeable batteries and typically can travel up to the distance of 25 to 32 km/h (16 to 20 mph). High-powered electric- bikes can often travel a distance of more than 45 km/h (28 mph).
6 things to consider when buying an electric vehicle in India
To protect your EV from damages from accidents, car insurance is a key. Apart from considering the car insurance rates, here are some points you should consider before you prefer an EV.
1. Driving Range– If you are buying a vehicle that you can drive covering cities, then an EV is not the best choice. An EV can run as long as its battery life exists. And as you can easily refill the petrol tank of a normal vehicle, you may face struggling in locating a charging point station for your EV.
2. Price– The price of an EV and its car insurance rates are high. This is because of the vehicle's battery. And while manufacturers are working hard to replace cobalt with nickel to lessen the final cost of an EV, it will take a few years before any important improvement comes into effect.
3. Variants– You have a wide range of options available for all types of EV you want to purchase. If you looking forward to going with an eco-friendly EV, you can choose a fully electric car. But if you want to keep going with some conventionality that causes less harm to the environment, then you can consider a hybrid vehicle. Hybrid electric/gas automobiles operate on both electricity and fuel.
4. Maintenance– It is a very well-known fact that electrical equipment is hard to maintain. The same applies to an EV. The battery of an EV is the costliest part. Any harm caused to the battery will attract a lot of expenses for repair or replacement of the part. Repairing or replacing any other parts of the EV vehicle is also very expensive.
*5. Battery Life and Warranty– *As an EV maintains on battery, you need to carefully handle the battery quality. Manufacturers usually give a warranty on the battery's charging capacity. But before permitting any replacement or free service, the manufacturer will inspect the duration of vehicle ownership as well as the total mileage is driven.
6. Tax benefits– You can utilize the benefit of tax deductions for interest payments up to Rs 1,50,000 under section 80EEB of the Income Tax Act on auto loans taken to buy EVs. This tax benefit is an excellent reason to highlight while shifting to this environment-friendly vehicle alternative.
Specifications of EV
Consider the following specification of EV while purchasing it.
● Charging Specifications– All EVs can be charged with a defined standard, also called Level 1, and fast, also called Level 2, chargers. But the DC fast chargers or the Level 3 chargers can operate only on selected EVs. You can use a standard charger, but not the fast and DC fast chargers at home. Therefore, it's better to ask about the charging options that are suggested by the manufacturer. Also, inquire about the cabling requirements, connector type, and charging time.
● Battery Capacity– EVs of the plug-in hybrid (PHEV) variants can operate with small capacity batteries of 4-15 kWh. PHEVS and BEV (battery electric vehicle), can operate on batteries of medium capacities. However, if you are buying bigger EVs like those manufactured by Tesla or Nissan, then you need to purchase batteries that operate at the capacity of 40-100 kWh.
● Energy Consumption-The energy consumption of EVs is measured by eGallon, miles per gallon (MPGe), and kilowatt-hours (kWh) per mile. KWh indicates the electricity required per mile. MPGe differentiates an EV's running capacity against one gallon of gasoline. eGallon differentiate the price of driving an EV as opposed to a conventional vehicle for the same distance.
● Regenerative Braking– Energy loss occurs when an EV or a hybrid-powered vehicle is flick on brakes or deceleration. Regenerative brakes assist the energy to move back to the battery again. This makes certain that your EV has more charge left for untroubled running.
● Acceleration– A very important feature of EVs is their acceleration. EVs can reach fast the defined standard for checking the acceleration power of vehicles. Consider this quality of EV while purchasing it.
● State of Charge (SOC) – This is a meter that is designed on the instrument panel of an EV. It shows the level of current battery power in your vehicle s. The indication is defined in terms of percentage.
Do not forget to take insurance for electric cars with 4-wheeler insurance online
Like all other vehicles, vehicle insurance for your EV is important for your financial safety against unexpected accidents on the road. Yet, before buying coverage, you need to focus on car insurance rates that the insurance company offers and look into the benefits you can avail of on this offer to search for the best insurance provider for your vehicle.
So, get in touch with car insurance companies to decide the most suitable safety plan for your EV.
You can easily get an online personal loan from LoanTap to buy your e-bike or electric car. LoanTap offers personal loans from Rs 50,000-Rs 10,00,000 for tenures ranging from six months to sixty months at reasonable interest rates. LoanTap has also set up India's largest online marketplace for e-bikes where you can choose from a variety of brands and get your online loan sanctioned conveniently.
If you are an Indian citizen or resident over the age of 21 years and have a net monthly income of Rs 10,000, you can apply for the e-bike loan. All you need to do is fill up an online application and upload the mandatory documents like
PAN Card
Aadhaar Card
Salary slips of the last three months
Bank statements of the last six months
ITR of last 2 years in case of self-employed
Balance Sheet and Profit and Loss Account
Any other documents that may be requested
Once the documents are verified and it is confirmed that you have a decent credit score, your loan application will be approved. The loan will be credited to your bank account. The entire process will be completed within 24 -36 hours.
ConclusionNations worldwide are encouraging people to adopt eco-friendly electric vehicles to cope with the prevailing global warming concerns. In this situation, the best way to ensure road safety while driving these expensive vehicles is through car insurance. Buy an insurance policy today and drive on the accident-prone Indian roads without worries. With LoanTap to finance your loan, you can easily purchase your electric vehicle or bike and get a sustainable solution for yourself and make a positive contribution to the planet.