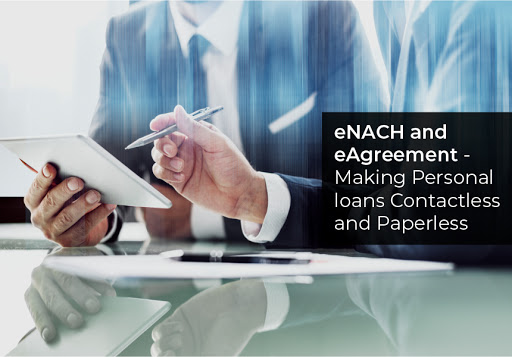 Published on : March 31, 2021
India has seen a spurt in digitalisation over the past 2 decades.The Government has been taking consistent initiatives to make all the possible services available electronically by providing an improved online infrastructure and enhanced internet penetration.
Likewise, the banking industry is empowered with digitally automated services for their customers like net banking and mobile banking services. Most banks and financial institutions have made every process available at the tip of your fingers.
This article is going to precisely provide an overview of eNACH, eSign and eAgreement processes giving in depth knowledge to current and potential borrowers.
Now, Aadhaar is providing the basis for giving over 1 billion Indians undeniable access to not just government benefits but also various services provided by banks and other NBFCs.
What is eNACH?
eNACH is an electronic process that helps government bodies, banks and financial institutions to provide automated payment services to their customers. In this process, customers give permission to the concerned authorities to auto-debit the EMI from their bank on a fixed date every month.
Traditionally, the banks/NBFCs would manually carry out the NACH processes by visiting customers and moving to and fro to get signatures and get NACH registered. The entire process would take a daunting 7 to 10 days. Contrary to this, the eNACH process can be completed within a few hours. This is possible because of limited human intervention and low dependency on manual processes.
So, if you wish to activate your eNACH to simplify the payments in future, here are a few simple steps.
What are the Steps to Enable my eNACH ?
The steps may minutely vary from lender to lender, however, most banks and NBFCs follow a similar process as listed below when one is availing a personal loan –
Once your loan is sanctioned by a lender, you shall receive a link on your registered mobile number or Email Id.
You must click on the link to verify your KYC details.
Once confirmed, you will be redirected to your bank page. Here you must select the account type and proceed.
You must then choose the desired authorization mode i.e. net banking or debit card.
Review all your details before proceeding. You will receive an OPT to verify all the details provided.
Once verified, you shall receive a confirmation on your screen and an Email notifying you that your eNACH is Active.
By activating your eNACH, you can enjoy a safe and automated payment service. Post the entire process, as instructed, your bank will automatically deduct your EMIs on the agreed upon date, every month.
Watch the Steps to activate eNACH
What is eSign and e-Agreement?
eSign is an online electronic signature service that can facilitate an Aadhaar holder to digitally sign a document. eSign enables customers and loan applicants to sign agreements as well as documents online using an Aadhar OTP or digital signature. Here are the steps for signing agreements digitally –
Once your personal loan is sanctioned, loan e-Agreement is generated and shared with the borrower via email.
You must click the link in the email to sign the e-Agreement using Aadhaar OTP.
Enter your Aadhar card number in the box provided.
Before processing, you must read and accept all terms and conditions.
You must input the OPT received and click on Submit.
A final signed agreement is sent to the Email Id and the e-Agreement process is successfully complete.
The eSign and eAgreement enables lenders to fasten the process. It makes the loan process contactless, convenient and more secure.
Watch the Steps to sign eAgreement
Opting for these automated processes helps lenders process your loan applications much faster, making funds available to you in less time. Digital lenders have made it possible to deliver a personal loan to borrowers instantly improving the customer experience. The process right from application to disbursement can take less than 24 hours, with the help of these electronic services.