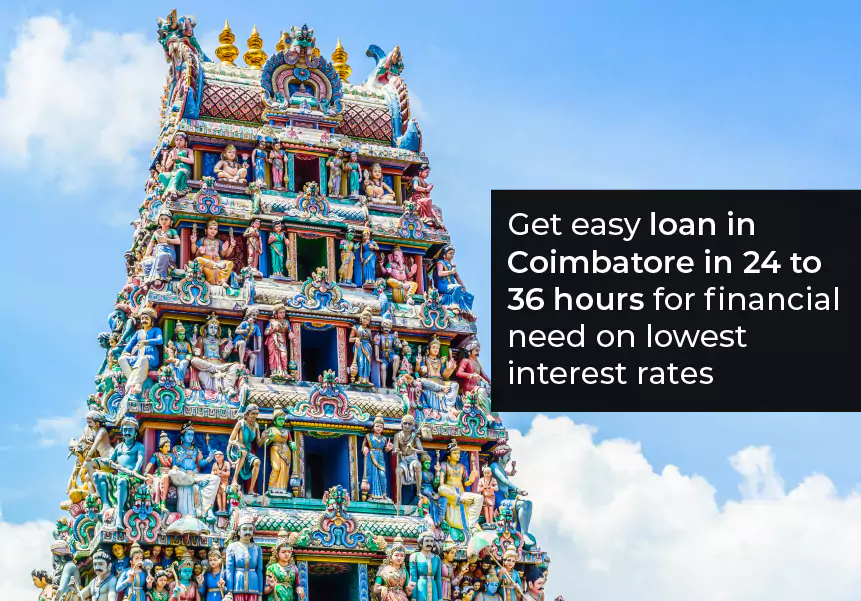 Published on : March 14, 2022
Coimbatore, the beautiful city of South India, is one of the high-priced cities to live in. Right? As a young professional, you might be shifting to Coimbatore for your job purpose. In that case, you may have several expenses to cope with. It could be getting a home on rent, buying an electric vehicle, or buying electronics. Any sudden expenses can burn a hole in your pocket. However, it does not mean that you will go to sacrifice your dreams. You need to understand the prudent and convenient way to pay your bills.
As a new job holder, you might be tempted to swipe the piece of plastic in your wallet, but it is smart to keep it in your pocket, as the interest on outstanding balances on your credit card can charge you 36% interest on an annual basis. Would you want to pay such high interest?
Instead, it's the right time to enter the world of personal loans, the innovative product designed and customised for the startup businessman or salaried person with a low-interest rate. A personal loan will help you out in every way and will not let you sacrifice your dreams.
What is a personal loan?
A personal loan is an unsecured loan that can be used to accomplish different purposes as long as they are legal. That means you need not keep any collateral to get this product. This amazing feature has made personal loans a big necessity of life. This product is designed for youngsters who are just starting their life and have not accumulated assets. This can be used in various ways that include things like buying electronics, purchasing a new PC, buying a bike and so on.
Personal loans can be easily paid off between 6 months-5 years, they are known to be both short-term and long -term financial options. When a financial crisis crops up, personal loans are the best you can have. They bridge the gap between your financial problems and your dreams.
How can one avail of a personal loan in Coimbatore?
Getting a personal loan in a new place like Coimbatore is easy with LoanTap. But before applying for a personal loan, you must be eligible for it. If you have cleared the below eligibility parameters, you are good to get the loan within 24-36 hours :
You must be an Indian resident or citizen.
Your age should be 21 or above.
Your net monthly earnings must be above INR 30,000 per month.
Your credit score must be at least between 680-730.
Are Personal Loans beneficial to have?
You might be thinking, is it advisable to have personal loans! Yes, if you want to have a loan between 24 to 36 hours, LoanTap personal loans are the best. Check out the below pointers and get to know some of the advantages of personal loans.
Higher loan amount: LoanTap is a financial buddy that supports you by providing loans from Rs 50,000 to Rs 10,00,000, depending upon your income and eligibility. For instance, if you are shifting to another city and want to have a loan for your house deposit, a personal loan will be good to go with that, too, with minimum interest.
Quick approval: The most important thing that people want to have is -Quick Approval of their loan. Right? Connect with LoanTap and get a personal loan in 24 to 36 hours with minimum documentation. What else can you wish for?
Competitive interest rates: Affordable interest rates will be charged when you get a personal loan via LoanTap, compared to the interest you are charged on your credit card. So, it's a win-win situation. Connect with LoanTap and get the loan at the most affordable interest rates.
Simple eligibility process: The eligibility process is simple. Most people can fulfil it easily.
Collateral-free: The best part is – no collateral security is needed. The personal loans are unsecured, and the lender does not want any collateral against your loan.
Minimal documentation: Minimum documentation is required to kick-start the process of personal loans.
Easy Process: The digital process to get a personal loan is quick and simple, and you need to follow some steps and get loan approval and disbursal.
What is the advantage of choosing LoanTap as your financial buddy?
LoanTap is the one-stop platform for all your financial issues. We offer loans as per your requirement and with low interest so that you can easily pay back the interest amount without getting worried. We offer customised personal loans, starting from 50,000 to Rs 10,00,000 for a period ranging from six months to five years. The interest on loans begins from 18% per anum. You can choose from a range of easy repayment options. You can go with a flexible EMI or term repayment option. Once you have serviced the personal loan for six months, you are eligible to prepay the loan without paying any penalty. Grab the opportunity and get a loan for yourself.
LoanTap is considered the one-stop solution to fulfil your financial needs. We believe personal loans are not a luxury; it is a necessity that one can have easily within 24 to 36 hours. You need to fulfil the eligibility criteria and can get a much-awaited loan to bear your expenses. So are you ready to coordinate with LoanTap?
What is the process to apply for a personal loan in Coimbatore?
We know getting a loan in a new state makes you worried! But not anymore! LoanTap offers you loans in just a few simple steps. Check out the steps given below:
Step 1: Land on the LoanTap official website and check out which personal loan can suit your requirements. You need to fill up the online application and upload your personal and professional documents. The documents are as follows :
PAN Card
Aadhar Card/ Passport/ Driving License
Salary slips are required for the last three months
Income account/Bank statement for the last six months
Step 2: Wait for the LoanTap representative to check your uploaded documents and revert.
Step 3: KYC & Fund Transfer
The LoanTap representative will check all your documents, verify them one by one, and activate the instant disbursal.
The above steps will assure you that you will get everything you deserve! We know sometimes we do not want to spend on our luxuries! But with LoanTap, you have the power to spend on your necessities and luxuries. What do you want to do? Paying rent, travelling to your loved destination, or anything, all your problems end here at LoanTap.
Final Takeaway
Personal loans from LoanTap are what you need, and they will help you rescue on a rainy day. They are easy to process, quick, and require minimum documentation. So if you are shifting to Coimbatore for your job purpose, Via LoanTap, you will get the cheapest personal loan in Coimbatore. We are there to help you out. At LoanTap, we promise to make your loans a very memorable experience. Next time you need any loan, you will visit https://loantap.in/ and we will love to assist you in sorting out your financial needs. Our main aim is to fulfill your dreams, that is why we are the leading players so far as customised personal loans are concerned. Our personal loans are designed to help you out in accomplishing your dreams. Whether you are shifting to a new place, buying a new car, or making any expenses, we are there to support you financially. Coordinate with LoanTap representatives and get the loan today within 24 to 36 hours.